Most Breathtaking Places To Visit In Thailand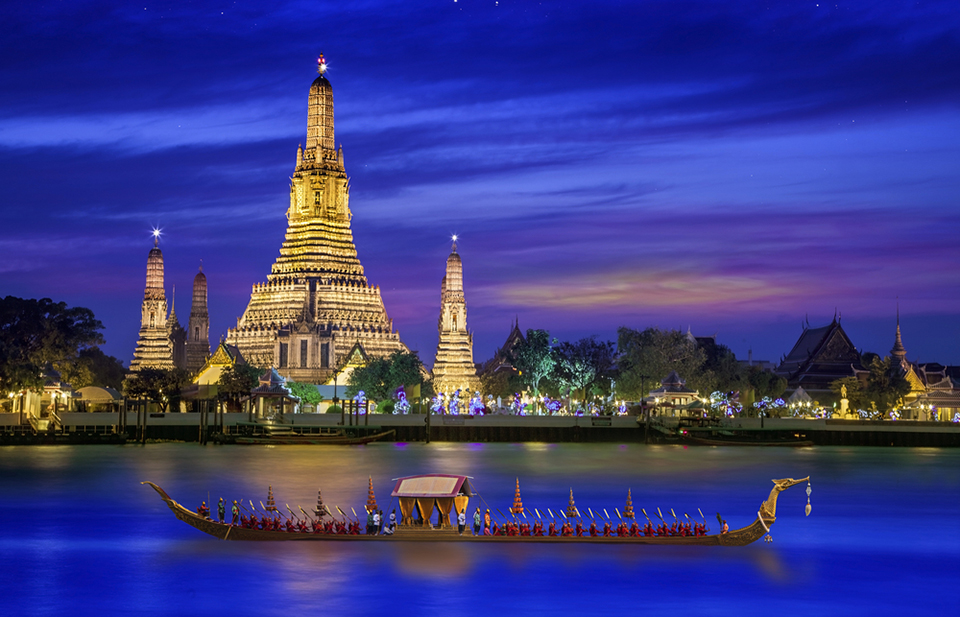 Wat arun under new year selebration time, Thailand
Thailand is widely known for its gorgeous beaches, serene Buddhist temples, exuberant nightlife, and countless shopping options. It also is a very pocket-friendly travel destination. The food in Thailand is unique yet tasty. You shouldbring backsouvenirs like handicraft, silk products, spa products, spices, trinkets.
Here's our list of the best places to visit in Thailand:
Phuket
Phuket is famous mainly because of its charming beaches. You can laze around in the white sands or do water sports. You must visit Patong Beach for its scenic views and vibrant nightlife. Phuket is also known as a relaxation destination. From beachside massage tents to luxurious spas, you can loosen up at any budget.
Kanchanaburi
Kanchanaburi is renowned for its natural and wartime attractions. Make sure you can spend good family time at the national parks near Kanchanaburi. Most of them have caves and waterfalls. The Erawan Falls at Erawan National Park is majestic. The Tiger Temple is the most popular among the temples in Kanchanaburi. The Death Railway and the railroad bridge depicted in "The Bridge on the River Kwai" are the must-visit wartime attractions.
Chiang Rai
Chiang Rai is famed for its architectural marvels. Wat Rong Khun (the White Temple) is the standout attraction. Baan Dam (Black House) Museum is home to works of contemporary Thai artists like ThawanDuchanee.

Chiang Rai is quiet during the day as tourists are away trekking. But it springs to life at night because of the illuminated souvenir stalls and restaurants.

Ayutthaya
Tourists mainly visit Ayutthaya for the ruins of monasteries, palaces, and temples destroyed during the Burmese invasion in 1767. You must visit the Wat Phra Mahathat to witness the famous sandstone Buddha head surrounded by the roots of a Bodhi tree. You'll be able to see the golden Buddha at Wat PhananChoeng. Known as Phra Buddha Trirtana Nayok, it is almost 6 meters tall. You can also pick up some souvenirs from the floating markets and savor the lip-smacking local food.
Sukhothai
Sukhothai is another tourist destination famed for its architectural ruins. These ruins are much older than the ones you'll find at Ayutthaya.

Most of them are situated in the Sukhothai Historical Park. The park is divided into zones featuring Buddha figures, chedis, excavated temples, and other monuments.

You can spend quality time with your family at the nearby Ramkhamhaeng National Park and Sri Satchanalai National Park.

Similan Islands
These islands off the coast of Phang Nga are blessed with beautiful and diverse marine life. That's why the Similan Islands are highly-sought for scuba-diving and snorkeling.
Apart from diving, you can also spend your time fishing and trekking in dense forests. These islands are usually closed from mid-May to mid-October. So, plan your visit accordingly.
Koh Chang
Despite the increasing tourists, this small island has maintained its peaceful and private identity. White sand beaches adjacent to abundant tropical forests take you back to the Thai islands of the yesteryears.

You can explore several beaches, mountains, nearby islands, and waterfalls and then unwind with a traditional Thai massage.

From sophisticated luxury resorts to the low-cost dorm, accommodations for all budgets are available. A wide range of cuisines are available, but you must try the tasty seafood.

Bangkok
The capital city is known for its ancient temples, spirited nightlife, street food, and shopping opportunities. The Wat PhraKaew is home to the Emerald Buddha. Amusement parks, water parks, and zoos offer a lovely day out with your family.

You must visit the Khao San Road for souvenir shopping, lip-smacking street food, and buzzing nightlife.  Dining options suitable for every budget can be found in Bangkok. Boat rides on the canals offer an unforgettable experience.

Chiang Mai
Millions of tourists visit Chiang Mai. It is known for its ancient temples, botanical gardens, delicious food, handicraft markets, and mountain trekking.

You must visit Wat Phrathat Doi Suthep. It is the most famous of the 24 Buddhist temples in and around Chiang Mai.

Chiang Dao and Mae Kampong offer adequate trekking opportunities. Doi Inthanon is a must-do trek. You'll be rewarded with spectacular panoramic views from the highest mountain in Thailand. The Mae Ya waterfall is also nearby.
The adventure seeker in you will also relish the opportunity to go mountain biking, river rafting, and zip-lining. And don't miss out on the night bazaar!
---
Have you read?
World's Best Universities.
World's Best Fashion Schools.