What The "Business Travel Bubble" Means for Foreign Direct Investment in Thailand
COVID-19 has had a devastating impact on the Thai economy, which is heavily reliant on tourism both for GDP and for stimulating international trade. The Bank of Thailand expects the economy to contract 8.1% this year following a ban on non-essential international and domestic travel imposed in March in an effort to contain the spread of the virus.
On July 8, an expert from the Thai Ministry of Public Health's Department of Disease Control confirmed that the first wave of the outbreak had come to an end, as Thailand has not recorded any new local COVID-19 cases for 44 days.
"Therefore what the Thai government has done so far has been correct all the way," commented Dr. Anupong Sujariyakul. "Despite reporting zero cases for over a month, the government has been very cautious in reopening the country to inbound travelers."
As the country prepares to re-open, albeit bearing in mind the possibility of a second wave of infections, reviving travel in the safest way possible to re-invigorate the country's economy is an absolute priority for the Thai government.
Part of this plan involves 'travel bubbles' for business and tourism. Find out more about why the Thai government is taking this approach and how this impacts foreign investors with insight from global corporate law firm Kudun & Partners.
What are travel bubbles?
Travel bubbles are a controlled way of reopening international travel in countries that have been on lockdown due to COVID-19 through an exclusive partnership between territories allowing restricted travel of certain individuals. They're not exclusive to Thailand—in fact, they are planned or being discussed in countries including Spain, the UK, Australia, Indonesia and China.
According to Dr Taweesilp Visanuyothin from Thailand's Centre for Covid-19 Situation Administration (CCSA), around 20,000 people have so far registered to travel to Thailand. "They are not general tourists and will be given priority," he explained. "If the number is around 20,000-30,000, we will be able to manage."
Countries that have expressed an interest in entering into a travel bubble with Thailand include Singapore, South Korea, Japan, Hong Kong and China—all of whom are important trading partners.
Why does Thailand need them?
Tourism—both for business and pleasure—is a significant contributor to the Thai economy. Bangkok has been the most visited destination in the world for five consecutive years, attracting 22.78 million of the country's 39.8 million foreign tourists last year. Overall, tourism accounted for 11% of Thai GDP in 2019.
International travel in Thailand was heavily affected during the first few weeks of COVID-19 in January and February, which is peak season for Thai tourism. It was then suspended entirely as part of an emergency decree in March.
The value of travel to Thailand's economy isn't just the spending power of its visitors—it also supports a rapidly-growing aviation sector and facilitates foreign direct investment, which is crucial for realising the government's ambitious economic growth strategy.
This strategy, known as Thailand 4.0, was in full effect prior to the pandemic. Foreign investment applications totalled 203.4 billion baht in 2019, a 69% year-on-year increase, with 65% of planned investments going towards Thailand 4.0's target industries.
It's hoped that re-opening for some inbound travel will enable Thailand to preserve this growth as well as re-invigorate one of its core industries.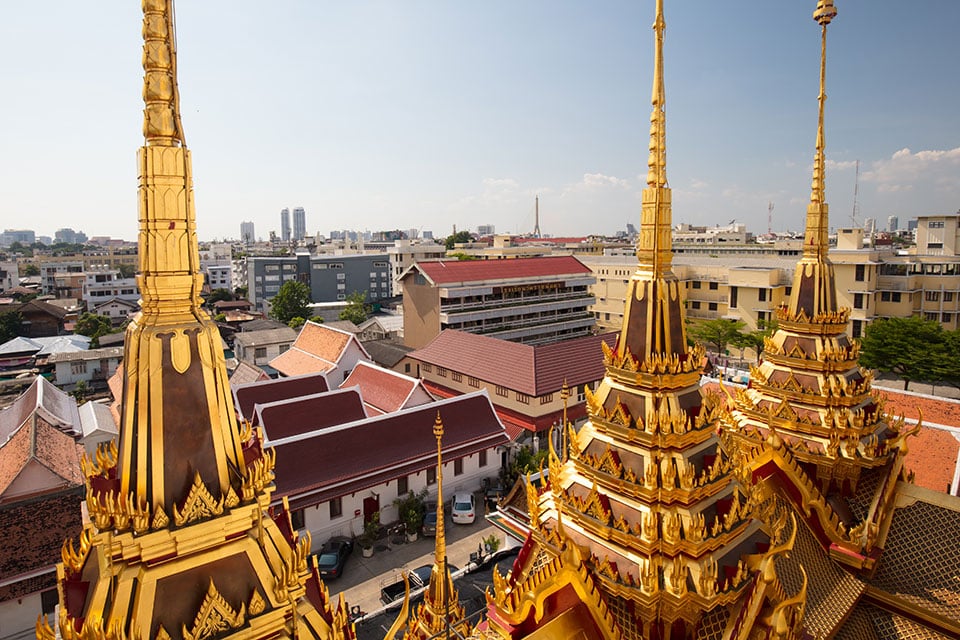 What will the travel bubbles look like?
Understandably, there will be a number of restrictions in place to prioritise Thailand's highest-value foreign visitors from countries that have effectively contained the virus to prevent causing or aggravating a second wave of infections. These visitors will likely need a business "non B" or medical "non O" 90-day visa from their local embassy or an official letter from the Thai authorities.
Business travel
Foreign businesspeople travelling to Thailand must either have a work permit or apply for permission to travel through the Ministry of Foreign Affairs or the Office of the Board of Investment.  They must be experts with a job or duty in Thailand and must be tested for COVID-19 before they travel, acquire a medical certificate and have insurance covering the cost of treatment in Thailand. In case of infection, the person travelling will be responsible for medical expenses. Those on short visits of between two and four days who cannot quarantine for 14 days will be put under special surveillance.
Tourism bubble
The Thai government's approach to re-opening its tourism sector is to prioritise high-income travellers seeking privacy and refuge in the country's luxury resort islands of Phuket, Samui, Phangan and Phi Phi. This will inject more cash per person and help revive the sector more quickly.
"One person can easily spend as much as five by staying at the finest hotels," commented Phiphat Ratchakitprakarn, Tourism Minister.  Visitors will have to quarantine for 14 days as is standard, but once this period has passed, will be able to travel freely across the islands.
Thailand's high-growth medical tourism industry—a target sector of Thailand 4.0—is also open for business, but not for the treatment of COVID-19. Medical tourists will need to follow the same rules as those using the business bubble.
Plans for the fourth quarter
It is still an uncertain time for every economy that has been affected by COVID-19 and Thailand is no exception. The government is working hard to balance its dual responsibilities of securing public health and stimulating an economic restart.
Recent outbreaks in some planned partner countries have caused rumours that the travel bubble strategy—earmarked for the fourth quarter of 2020—could be delayed. The government has adjusted its forecast for foreign arrivals accordingly, from 10-12 million to 8.2 million.
It's more than likely that the travel bubbles will play a crucial role in re-opening the country for tourism and foreign investment, but Thailand will only partner with countries where the virus has been and is being well-contained.
Meanwhile, Thailand ranked No. 9 in the CEOWORLD magazine's ranking of the world's best countries for investment in travel and tourism sector, No. 33 in the ranking of the world's most entrepreneurial economies, and No. 45 in the ranking of the world's best countries for business expats.
---
Commentary by Troy Schooneman. Here's what you've missed?
World's Best Universities.
World's Best Fashion Schools.
World's Best Medical Schools.
Luxury Superyacht Charter with Aegean Luxury Yachting.
Track Latest News Live on CEOWORLD magazine and get news updates from the United States and around the world. The views expressed are those of the author and are not necessarily those of the CEOWORLD magazine.
Follow CEOWORLD magazine headlines on:
Google News
,
LinkedIn
,
Twitter
, and
Facebook
.
Thank you for supporting our journalism. Subscribe here.
For media queries, please contact:
info@ceoworld.biz