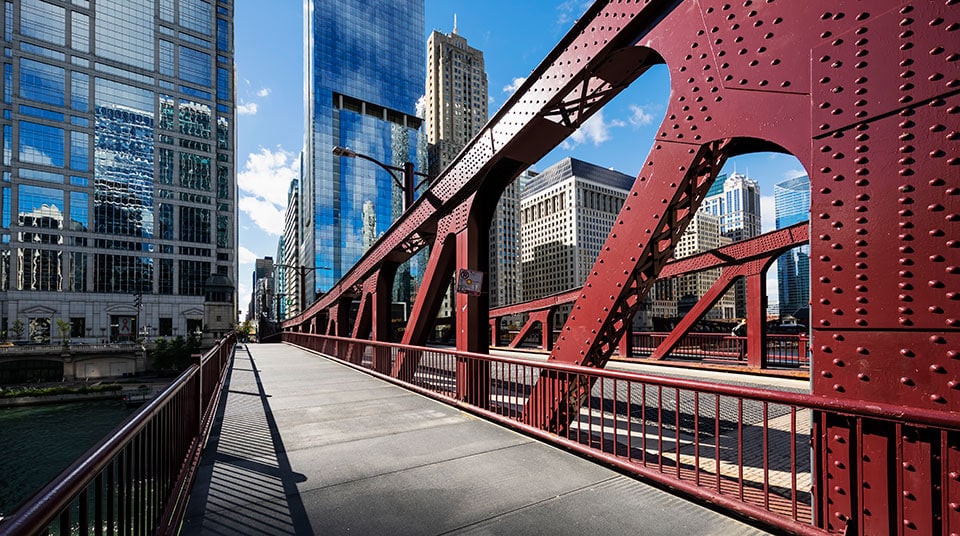 I spent Memorial Day weekend this year in Indiana, a stone's throw away from hustling, bustling, packed Chicago. Thousands of Chicagoans fled to Indiana's beaches; it was one of the busiest Memorial Day weekends locals can remember. We visited restaurants, drank coffee at cafes, and sat on the beach without disruption. It was a fairly "normal" experience. At the grocery store, some folks elected to wear masks. The crowd seemed younger though, like many elderly residents stayed home and sent others to shop on their behalf. Indiana re-opened bars and restaurants on May 11th and allowed church services to begin May 8th. At the same time, official guidance cautioned people 65 and older to continue staying home and remain cautious (Indiana.gov, 2020).
Illinois took a different approach and isn't letting restaurants open until the end of May. Even when they open, they'll be forced only to serve meals outdoors. Chicago will not be part of this partial re-opening. Illinois is still limiting gatherings to 10 or fewer people, churches won't be able to operate until "phase-five" of Governor Pritzker's plan. Phase five requires a vaccine or highly effective treatment be available (WGN, 2020).
Politicians across the country said they are taking a data driven approach to re-opening the economy for business. However, their actions largely don't support this claim. As of May 27th, Illinois reported 388 deaths per 1 million residents. At the same time, Indiana reported 302 deaths per 1 million residents. To date, Illinois's reported death rate is 30% lower than Indiana's. Indiana's daily new cases are down over 60% since their peak on April 26th, Illinois's are down over 70% since their peak on May 12th (Illinois.gov, 2020). Daily new deaths have followed similar patterns in each state. Excluding Chicago, Indiana and Illinois are quite similar. Geography is relatively the same, and population density is a close match. The ways governors handled lockdowns have been very different. Pritzker continues to say he's taking a data driven approach to handling the virus; but if that were true, Illinois would be back open for business like Indiana is.
Instead of using data, we think many politicians have fallen into a group think trap. They're worried about being wrong, so they've stopped thinking critically. The good news is, neighboring states re-opening has pressured closed states to open sooner. People headed to the lake for the weekend can't understand why they can go to church across the border, but can't do so at home.
Like we've written in the past, the silver lining of the lockdowns has been increased reliance on technology. Many companies that never thought they could cut office space are re-thinking everything. They've found, people are almost as productive at home as they were at work and can save millions with remote computing.
Long term, residents in Illinois, New York, New Jersey, and California may see an exodus far greater than they've seen in the past. Workers who are told they never have to come back to the office might decide high taxes, cold weather, and lower standards of living don't make sense.
After all, remote computing when you live a few minutes from the Gulf's beautiful beaches sounds, to me, far more enjoyable than being stuck in a tiny apartment downtown New York City. The lasting effects of this virus, we believe, will be positive over the long run. In the short run, more pain will lie ahead for residents of high tax states that continue to stay closed, despite data that suggest they open (The Hill, 2020).
---
Written by Nicholas Stenger. Here's what you've missed?
World's Best Cities For Food Lovers.
World's Best Destinations For Business Travelers.
World's Most Stressed-Out Cities For Employees.
World's Most (And Least) Expensive Cities For Taxis.
The views expressed herein are those of the author and do not necessarily reflect the views of Morgan Stanley Wealth Management or its affiliates. All opinions are subject to change without notice. Neither the information provided nor any opinion expressed constitutes a solicitation for the purchase or sale of any security.  Morgan Stanley Smith Barney, LLC member SIPC 2211 York Road Suite 100 Oak Brook, IL 60523 CRC 3103172 05/2020