Did Our Companies Fare Well During This Unique Period?
In early March, we all started our Safer-At-Home experiences. In our two plus months, we all have also learned new experiences that we hope we never have to relearn.  But then, there were some learning that may have been valuable.
As we seem to be heading towards a recovery of sorts, all of us are busy considering the next actions we take with our companies to move them forward with the hope of regaining the momentum we had before the COVID-19 outbreak.
With all this in mind, it may be useful to assess how our companies fared and the lessons we apply going forward. There are positives that we experienced during this period, along with some downsides that we hope we don't have to repeat.
Positive Aspects
Although the popular press focuses on the negative aspects of this unique situation, there were definite benefits and positive insights developed.  Following is a list of those aspects that we as individuals or teams benefited from in no specific priority order.
Time to think strategically
It becomes easy to forget the hectic nature of the office or travel environment.  There are lots of input coming randomly that make it difficult to focus on single issues, particularly company strategy. There have been opportunities by being in a single location with limited distractions to spend time reviewing where the enterprise is and where it needs to go.
Admittedly, some of us have families and other unique distractions that don't normally occur in the workplace, but even then, the opportunity to focus has been good.  So, the question is; have you been able to take that thought process and work with the leadership to determine what your company should do differently, if at all?
Routine allows some luxuries
Having a predictable routine in our home environments has some luxuries that can be advantageous on several fronts.
Exercise – the ability to have routine means there is an opportunity for a regular exercise regime that demands such as extensive travel or long office hours simply do not allow. Not only do we benefit from fitness, but side benefits such as stress reduction can result.
Diet – routine also allows more control over the foods we eat that travel or constrained schedules at the office do not enable.  Certainly, not going out to restaurants as much but focusing on preparing meals at home forces some degree of focus on the items we consume.
Routine – the fact is, we all had hectic schedules with travel, varied meetings in disparate locations, interruptions and anything else one can think of to not allow a routine before this unique period.  But this unique period allowed some semblance of routine that we have not had the luxury oi for a while.  I am not sure we all want long-turn predictable routine, but it's nice to have this break!
Having meetings that need a meeting
We are all now used to the new norm around meetings.  Video conference meetings are common with all of us suffering internet bandwidth limitations that effects video/audio quality.  We have seen overloaded corporate VPNs that need to decrease bandwidth and subsequently focus on voice only.
The resultant effects are two-fold.  One is that meetings don't last longer than they need to. Somehow a schedule one-hour meeting at the office tends to last that hour.  A video conference call will tend to finish when the topic has been discussed and not extended unless there is more relevant discussion.
Further, calling routine meetings that haven't filled a specific purpose for a while is less of a habit once we have been working from home.  This leads to more efficient use of the time we have available for work.
Is the travel necessary?
One very stark result of this unique time is the reduction in travel by all.  Going to zero travel allows an assessment of what trips, meetings, conferences, and site visits are really required.  The gain is obvious as all our travel expense for this period of time have dropped dramatically and most are re-evaluating how much travel should be spent for the rest of 2020.
This period has been a challenging period for conference organizers and support organizations.  However, it has allowed all of us to asses, what events do my team need to participate in vs. the good to do but not as clear on the intangible benefits from speaker information or networking.  Likely, the nature of conferences has been modified for the foreseeable future in terms of participant densities and interactions given social distancing is required.  The notion of virtual speakers has been introduced during this period and they have been effective.
Similarly, customer meetings will take a different tone given the social distancing necessary.  The rules of engagement here are still being defined, but engagement will be occurring.  What our teams need to asses is which customer activities we need to continue to support vs. those that have established relationships and tools such as video conferencing actually were effective to some extent.  Possibly, there will be intervals of customer direct interactions with those using the tools available to use.  The one area that remains challenging is networking and efficient customer meetings with all parties in a common location.
Video conferencing as a way of meeting
We all have our opinions of how the video conference experience has been with the common denominator being that it's been mixed.  However, with remote working there have been some inadvertent enhancing experiences. Having interactions with employees and getting to know more dimensions around the employee has been useful to build relationships.  Whether it is the children that enter video conference meetings or the pets; all add more depth to our appreciation of our teammates. Even common experiences around varied products shortages have been team bonding.  And the variations of the rooms we all work in add that much more uniqueness to the experience that after we are all back to the office, we won't forget.
Virtual social gatherings
We all adopted some semblance of gatherings that were only established for social reasons for the team.  Whether it was lunch, happy hours or other meetings, this allowed team building with the virtual tools that we had available to us.  The social gatherings had varied effectiveness depending on the teams involved, but all have some of them be rewarding.
What is of interest is that after we all go back to the office, some degree of virtual gatherings will be maintained as there are still geographically disparate teams that found the new social normal of these meetings to do team building that was not happening before.
All teammates determined their level of productivity in the remote work environment
A byproduct of all of us practicing remote work was the ability to for us to evaluate our individual productivity.  In an office, the activity level and interaction can mask an assessment of productivity.  However, in the remote work environment, individuals develop a sense of how productive they perceive themselves to be. It's not clear if there is an actionable response to this byproduct, but awareness is valuable.
The Downsides
There were clear negative aspects to remote work and restricted external activities that affected our teams.  The following are some of them in no particular order.
Staff reductions
Some of our companies needed to do staff reductions in order the financial viability.  This is the most negative aspect of what has happened.  Hopefully, those companies affected can rehire that staff during the recovery period.
Cash runway reduction
For the early-stage community, we all focus on cash runway as many of us are dependent on developments of products and services before a full revenue model can be realized.  With few exceptions, we all experienced delays in deliverable, lower productivity, slower supply chains, inability to collaborate with staff and a myriad of other effects that resulted in larger and longer spends than we expected.
Productivity hits
As mentioned above, productivity was also an impact on all of us.  Certainly, the early days of remote work necessitated adjustments to accommodate revised work habits and interactions for the teams. Some percent of our teams were not ready for a fulltime office at home or having the tools to support that work.  Our enterprises may have had the applications ready for supporting communications and revised information sharing, but if not, those adjustments had to be made.  Very challenging for many in our teams was having school children at home at the same time as adjusting to a revised work life.  The children receive the priority and hence work productivity suffered.
Collaboration suffered
One of the key benefits of teams being in a common environment is collaboration that helps decision making, idea generation, consensus building, and interpersonal relationships.  All provide the social "glue" that enables our teams to realize more than what team members could do individually.
Tools such as video conferencing helps to some degree, but lack depth in interaction and worse, with bandwidth issues, became frustrating at times.  Many companies gave up on the video portion of their meetings as lack of bandwidth could not be dealt with.  So, voice meeting lacked any depth other than transmitting information.  Simple facets of the video conferencing tool just don't allow that more personal interaction such as not being able to peer directly into eyes of who you are conversing with.
It's the snippets of physical interactions that feed relationships and other activities like ideation.  Dedicated meeting times can result in decision making but coffee discussions in the office, hallway chats, or brainstorming on the fly require a group environment. These are some of the key activities we all are not able to enjoy with remote work.
Some organizations evaluated virtual reality tools that can add more depth to interactions.
Sales and business development limited
One of the casualties of this unique period was the restricted activities on developing new business.  For existing accounts where relationships already existed, there was some ability to continue interactions and work sales.  However, any new programs or accounts were challenged as the tools available from a remote location limit relationship building. All our teams sent presentations to customers and did video calls to maximize the interaction, but the experience lacked what an in-person meeting can do to pick up subtle clues about the engagement.
If there is a silver lining to this experience, the willingness of customers and partners to accept video conferencing as a method of continuing business has increased due to broader exposure.
A Scorecard
Summarizing all the pluses and minuses of the experiences our teams have had may be useful as it allows us all to consider our next steps in managing our enterprises.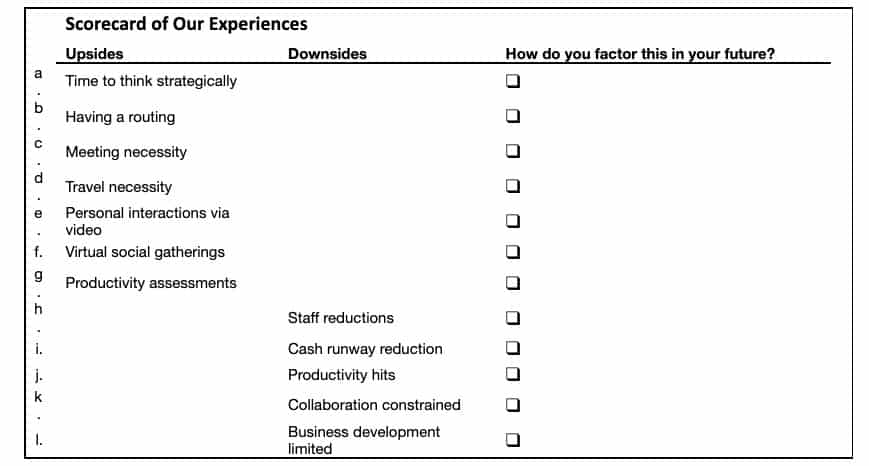 Is There More to Consider?
With this assessment and new insights, what do we do as leaders going forward?  Are there other areas that we should review?  As it were, many of the questions that an enterprise could ask apply regardless of the uniqueness of external events.  Some examples follow.
Product planning
Has the market and customer base changed as a result of the unique operating environment we have worked in these past months?  Certainly, those enterprises in service businesses are rethinking the addressable market, but that question applies to all of us.
Marketing
Does the company's presence in the marketplace need an update for current circumstances?  Is the current messaging adjusted for sensitivities that did not exist before?  This principle applies internally as team members and partners also need to be considered as those sensitive to the messaging a company delivers.  Therefore, direct influence on advertising and industry presence in articles, conferences, or any other public pieces.
Social distancing
We are all very aware of the principle and for the time being, it is part of the new normal.  How does social distancing influence operations both internal and external?  Many companies are already addressing this, so no surprise here that the principle impacts operations.  However, those impacts on operations will have results on financial returns in the long term that need to be understood sooner than later.
For the office environment, we have learned to some extent how to do remote work.  Is remote work part of normal business that also supports social distancing in office operations? So consider that there may be core days where team collaboration is a must but there may be other optional office days.
Parting Thoughts
There have been significant challenges to all our organizations and individuals throughout this period. These challenges were difficult, but further exacerbated by the uniqueness of many of them. All this said, there were silver linings that were beneficial and provided a learning experience.  A look to the future will take advantage of an agile organization and use the learnings to grow the enterprise and as well as the individual team members.
3 Key Takeaways:
Time at home during COVID-19 enabled us to reflect on is what is essential in life and in business, with positives and negatives to consider as we prepare to return to an uncertain environment.
Market shifts will require leaders to re-evaluate staffing, collaboration, productivity and costs.
Using a scorecard may be useful in allowing executives to consider next steps in managing their enterprises.
---
Written by Barry A. Matsumori. Have you read?
# These are the richest actors in Hollywood, 2020
# Ranking of the World's richest CEOs, 2020
# Ranking of the World's Richest Women, 2020
# Most luxurious hotels in the United States for CEOs and business leaders, 2020
---
Add CEOWORLD magazine to your Google News feed.
---
Follow CEOWORLD magazine headlines on:
Google News
,
LinkedIn
,
Twitter
, and
Facebook
.
---
Thank you for supporting our journalism. Subscribe here.
---
For media queries, please contact:
info@ceoworld.biz
---