Social Media For CEOs: Using Your Personal Page To Power Your Brand
Today, promotion on social media is an integral part of any PR campaign. It's a great way to tell millions of subscribers about your project, for free or for a fraction of cost. Yet, the personal pages of the C-level executives and other key employees can often get much less attention – quite undeservedly.
Through developing your personal pages, you can create more trust on the side of clients, partners and media; establish new business contacts; network, and build a loyal community around your product. In this guide, I will give you some advice on how to use social media to refine your image and support your business.
Choosing relevant networks
First, define which platforms will be most useful for you. There are a good few dozens of social network services: the ones most universally used are Facebook, LinkedIn, Twitter, and Medium. (Note that in some regions, for example, in China and North Korea, where these are banned, you will need a different strategy.)
Each social media has its own features – and knowing them will help you decide which ones to focus on.
Facebook
Facebook, the world's most popular platform, lets you reach out to more than 2,5 billion people with ease. Hence, this is a great tool you should not neglect, especially if your business is associated with consulting, – but it works for any industry.
This platform is perfect for sharing your experience and giving tips, posting and discussing industry news, and leading conversations in the comments, while tagging people is a great way to increase reach.
Twitter
With character limit set at 280, Twitter is a bit more fast-scrolled, allowing for no longer reads. It's a popular platform for posting news and exchanging ideas. Make sure you use hashtags in your posts, but no more than 1-2 for each.
Working on material about your company, journalists and editors will be checking the top management's social media history – especially if your company is new to the media space. Your Twitter profile will most likely be one of the first resources they check, so don't leave it out either.
LinkedIn
Originally created as a website for professional networking, today LinkedIn has grown to become a great tool for authentic B2B marketing. Same as on Facebook, here you can write your own posts, share content, and connect with other professionals.
Connect to your company's page and add as many relevant specialties to your profile as you can – this way it will be easier to find you.
Medium
Creating a free blog on Medium, a social journalism platform with more than 60 millions of content creators and consumers, is another way to reach out to your clients and showcase your expertise.
Quality content gets a chance to be picked by curators and reach more people from the platform who may be interested in buying your product or service or partnering with you.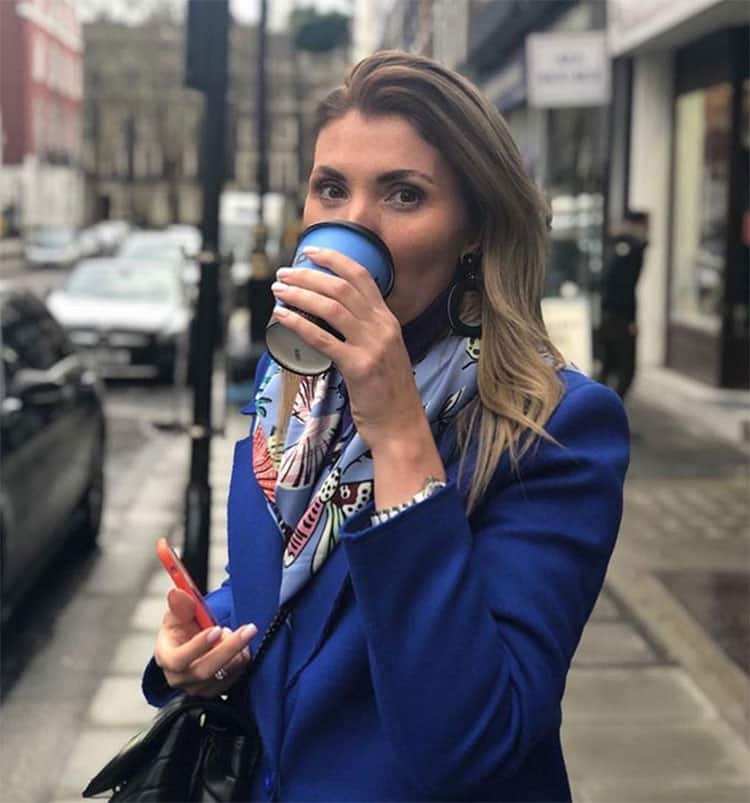 Creating more online presence
Trust is vital for your business, whether we are talking about your actual or potential clients, media, investors or partners. One of the best ways to win it is to increase your online presence and create a compelling image in social networks.
First, check the "About" section of your corporate website. Ideally, it should contain both general information about the company and information about its key employees. Then fill the biography section in each social network of your choice. List your position, and give link to your company's page. Then add a bio to showcase your expertise: the rule of thumb is to use relevant keywords, keep it short and informative, but avoid being too formal.
Don't forget to use hashtags for your posts – they will increase your reach. You can use websites like  RiteTag to search for the most relevant hashtags by keyword.
Being mindful about what you are sharing
As a CEO, you are the face of your company – so you should pay special attention to what you post on your personal page. Aim for sharing reliable, quality information.
Double check every fact, don't spam or self-promote too much, be polite, and allow no discrimination – even in the form of a joke. There is a fine line between being yourself and sharing too much personal things – be aware of it. A good question to ask yourself is: can this content have a negative impact on my business? If you have any doubts, then don't share it.
Building connections
Communicate actively to build authentic connections with your clients, partners and other professionals in your field. Talk to your followers: engage them whenever possible, post polls and answer their questions. Leave your comments to other people's posts and reply those others leave in yours. Tag others where relevant – in other words, keep the conversation going.
And, lastly, remember that working with social media is more about quality, not quantity of connections. The number of your followers doesn't matter as much as the level of their engagement. Putting some hard work in developing your social media lets you create a loyal community around your product – and strengthen your business.
---
Have you read?
# Largest crude steel-producing countries in the world, 2020.
# Most expensive hotels in the world for high net worth individuals, 2020
# Most traffic-congested cities in the world, 2020
# Cities around the world with the most and least stressed-out employees, 2020
# Countries most and least prepared to deal with an epidemic or pandemic like the Coronavirus
Track Latest News Live on CEOWORLD magazine and get news updates from the United States and around the world. The views expressed are those of the author and are not necessarily those of the CEOWORLD magazine.
Follow CEOWORLD magazine headlines on:
Google News
,
LinkedIn
,
Twitter
, and
Facebook
.
Thank you for supporting our journalism. Subscribe here.
For media queries, please contact:
info@ceoworld.biz