16 hours, 5 trekkers and a snowstorm – Kedarkantha Trek (Uttarakhand)
'With every sound of crashing, we could sense a cloud of snow bursting over our tents and with every snow burst there was a fear of snow being stacked alongside these minuscule rooms and we getting stuck at 11,800 feet for an immeasurable time' But did we get into this situation? When you leave for a trek, you also leave behind the thoughts of being too safe, but you aren't prepared for a storm either, so was I when I left Hyderabad.
It all started in October when I thought of doing a winter trek to Kedarkantha situated in Govind Wildlife Sanctuary in Uttarkashi district of Uttrakhand. Yes, I knew it is going to be extreme cold, but who doesn't like to take challenges. To fight the adverse conditions, I booked my trek with Just Wravel and was scanned for my fitness level to do a winter trek.
After all the preparations, I left Hyderabad and reached Dehradun, who chose to stay there for a day to acclimatize and be prepared to bear cold of the north. Staying in Kokhliyal village in Haut Monde Resort already added a flavor of being close to nature and far from the hustle of the urbanity, but the best was yet to come.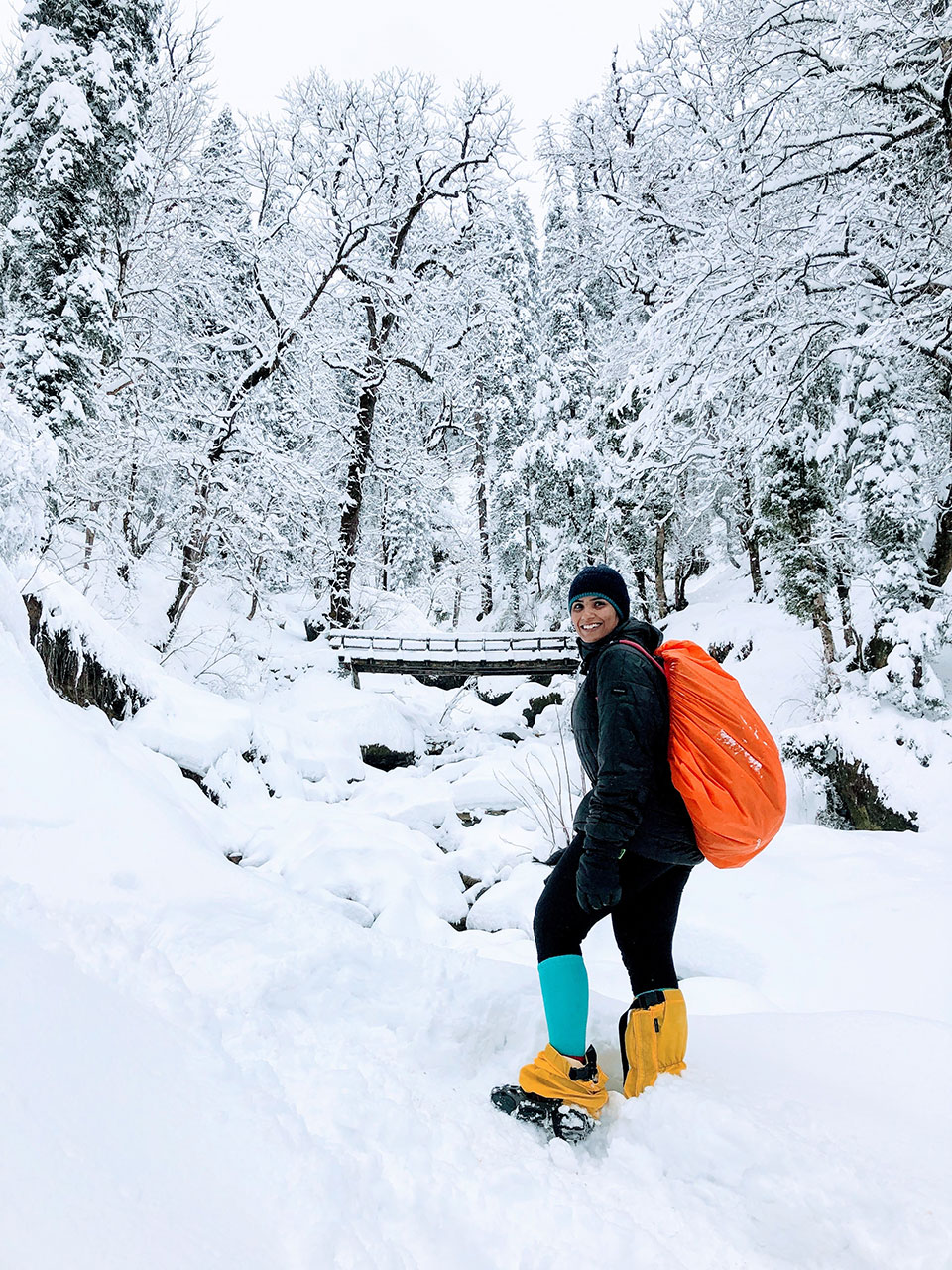 10 hours of transition-Dehradun To Sankri: When they say, make your way memorable even before you reach the destination, they are right in all sense. One after the other, we left behind our city-specific things, such as mobile network, polluted air, traffic jams, mineral water, and ready to eat food, why because it's the time when nature gave us time to connect, food we ate was locally grown, air we breathed was pure, and streams' offered water enriched with Himalayas minerals (Oh does it sound like a mineral water commercial? Yes probably this region incited this idea) You know you're having a great time when River Bhagirathi is seen swirling along the road, and making its way amidst the mighty Himalayas.
After crossing tiny villages of Uttarkashi District, we reached Sankri- The Base Camp. If I am playing the game of Pictionary and given a word 'Solitude', I would sketch Sankri and I am sure, it would mean the rest. A rustic guest house was our abode for that night, well the roof of this place gave our eyes enough of a feast with a mountainous view. After check-in, we were thrilled to be back to the road, but this time on foot to explore the town. I was trying to capture the landscape brimming with cider trees, Rupin Valley giving way to the stream and pointed Swargarohini Peak covered with snow being golden-washed by the sun.
Walking down the only metalled road, we realized that this is life, with real struggles such weather and getting things needed for survival, but abundant with nature and happiness.
Bags, sticks, and shoes- with these companions and other 5 trekkers, we headed to our next point- JUDA KA TALAAB. We left every sign of civilization back there at Sankri. Started with hiking on soil, but soon we realized that just shoes won't work, so we had to gear up with crampons to be able to hike on snow. 2 hours, narrow paths, and excitement to reach the camp, took us to our next site.
And, guess what it was a snow-covered campsite, with tiny colorful tents that awaited us to make them our home for a day. We were welcomed with hot lunch and changing weather, we started on a sunny day but it was cloudy by the time it was the time for high tea. There we were hit with real challenges, faraway washrooms, dry pit, and cold breeze hitting us.
By the time, we finished our dinner, snowflakes started brushing us with cold and thrill, after all, it was my first ever snowfall. Slowly, we could see layers of snow on our tents changing our plan of doing summit at 2 am. Morning gave us a whiter blanket to walk on, and we started for Kedarkantha Base Camp with continuous snow hitting us.
The grand finale was here with 2 hours in snow and falling of snow- 11800 feet and sub-zero temperature were our welcome drinks. Our eyes had visual stimuli, a plain bedsheet of snow and nothing else. We were advised to relax and retire for the day, as the following day was the day of the Kedarkantha summit, which was planned to start around 4 am. Right when we all were sitting in one tent, and feeling cozier. We realized that mild snowflakes were converted into a heavy snowfall, and snowfall gradually transformed into a snowstorm. With toes all numb, and bodies requiring more heat, we tried sleeping but you can't really sleep in the mountains, snow started piling up on our tents and we had to clean it off every 15-minutes. Someone had to shovel it off from the sides of the tents as well, but they say you have angels working for you if you're fast asleep. While I slept off peacefully that night, my companion did this for me and was no less than my savior. It snowed more than 2 feet that night, the temperature dropped with -17 degrees, and chances of doing the summit were lost.
Morning came with a strong message if nature is not in the mood, your excitement is of no use. No summit and only the down trek were planned for us. Who said it's easy to come down? It's even more demanding sometimes. The lost trail made us learn how to make your way and walk while your knees are dug in the snow, now this was one of the most exhilarating experience. As much as you can feel tranquility while dive deep in the sea, the same you feel when the only sound your ears could get is of your breathing nodes. Sometimes it's good to be a pioneer, you make way for others and find meaning to your journey. Some paths are just difficult that stamina says no, and some are so enticing that you just slide through them. Yes, it holds good for both, life and mountains. We enjoyed snow slides, fumbled and twisted our ankles, experienced snow accumulation in our gators, but what stops a traveler? Nothing, and simply nothing.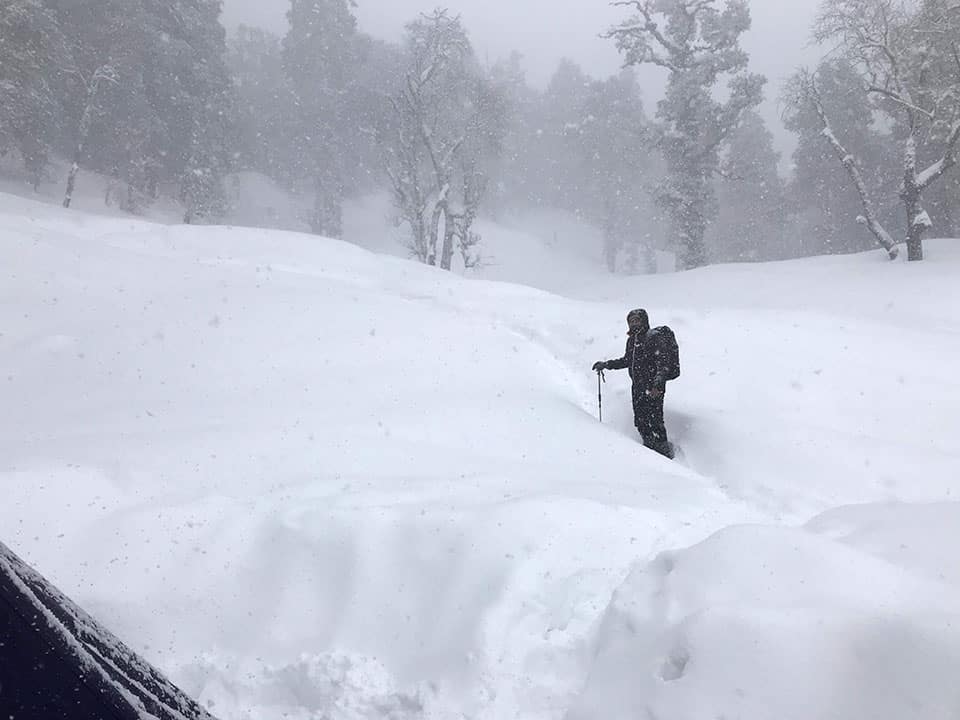 Filled with a lot of thrill, we crossed Juda Ka Taal, and it was a novelty. Completely submerged under the snow, that frozen lake looked even more gorgeous. To escape that cold, we walked briskly towards Sankri and ended our trek with the same zeal.
---
Have you read?
# Largest crude steel-producing countries in the world, 2020.
# Most expensive hotels in the world for high net worth individuals, 2020
# Most traffic-congested cities in the world, 2020
# Cities around the world with the most and least stressed-out employees, 2020
# Countries most and least prepared to deal with an epidemic or pandemic like the Coronavirus
Respond