Black History Month Spotlight: Hope-Noelle Davenport, Founder of HauteTrader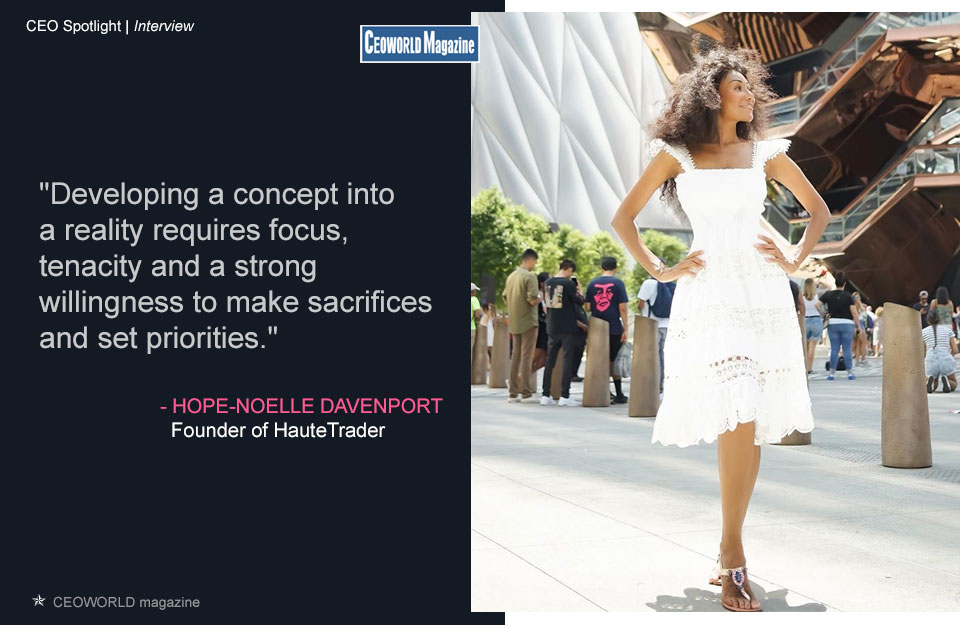 Hope-Noelle Davenport
This month is Black History Month, a time when the nation recalls the victories, inventions, and strides of African Americans in United States history, so what better way to honor Black History Month this month (and all year long) then to spotlight black entrepreneurs and those distributing multi-million (and billion) dollar businesses.
Black-owned businesses have grown at an exponential rate in the 21st Century, and Black women tend to start more businesses on average, according to data. However, although there is a steady growth in black-owned businesses in recent years, the rate of success among black-owned businesses is low due to gentrification, big corporations, lack of awareness, access to capital, and more.
"Without a standard supply of capital—both human and financial—I had to be resourceful," states Hope-Noelle Davenport, an African American Woman and Founder of HauteTrader. "As a result, I taught myself how to code and other technical skills needed to keep the operation low-budget and self-fundable. Once I proved the service's potential and that there was a market and a demand for my service, I was then able to build and raise capital," Hope continues, this type of adversity, however, provided me with the grit and determination to grow my business and make it successful.
HauteTrader is the brainchild of former designer and stylist, Hope-Noelle Davenport. A graduate of the Fashion Institute of Technology, Hope-Noelle has designed for leading labels, including Jill Stuart and Oscar de la Renta. She is as passionate about art as she is about design. Her inspiration for HauteTrader found its roots in her entrepreneurial family background, as well as in her personal experience of trading designer clothes with her friends.
"My ambition was to create something that women will truly enjoy," she says. Having no prior experience in tech and being a single founder, Hope-Noelle endured many long nights and overcame numerous development-related obstacles. "Developing a concept into a reality requires focus, tenacity and a strong willingness to make sacrifices and set priorities." says Davenport.
In place of continuing her bustling New York social life, she worked 18 hours a day, from home and learned software development, business management, agile project methodologies and essentially everything else required to further the development of HauteTrader. The majority of the work needed to create the site was foreign to her training as a fashion designer. Still, she seized the opportunity and embraced HauteTrader as an excellent opportunity to utilize both her analytical and creative capabilities.
Today, HauteTrader boosts over 10,000 users nationwide, and in establishing HauteTrader, Davenport has succeeded in creating a stylish, cost-savvy marketplace where women can do exactly what they love…trade fashions and socialize with friends.
---
Have you read?
# Global Passport Ranking, 2020
# World's Best Cities For Millennials In 2020
# Richest Actors In Hollywood For 2020
# Richest CEOs In The World For 2020
# Countries with the largest household size
---
Add CEOWORLD magazine to your Google News feed.
---
Follow CEOWORLD magazine headlines on:
Google News
,
LinkedIn
,
Twitter
, and
Facebook
.
---
Thank you for supporting our journalism. Subscribe here.
---
For media queries, please contact:
info@ceoworld.biz
---