150 Years and Going Strong: How Graeter's Ice Cream Continues to Sweeten the Pot Year after Year, With Unprecedented Success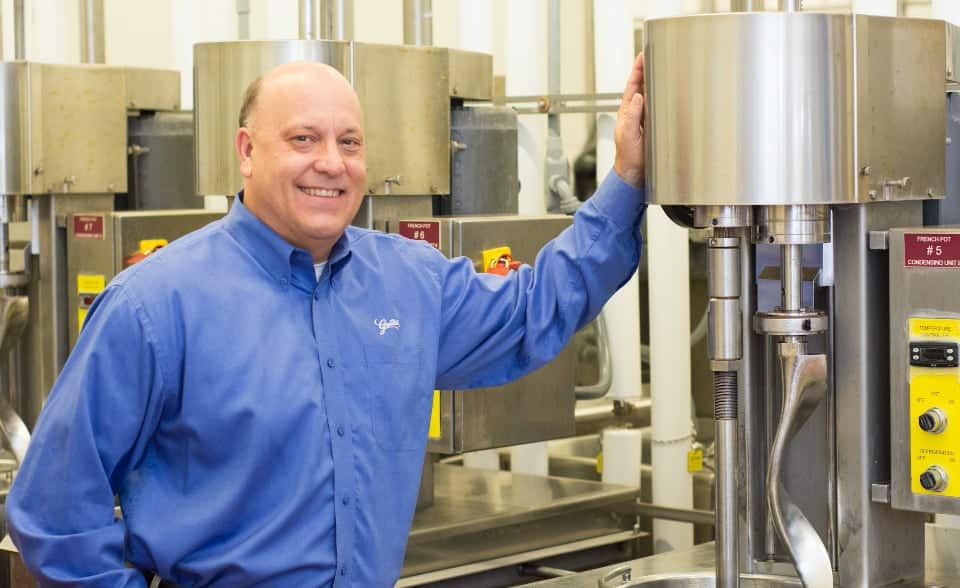 Richard Graeter
At one time, ice cream was a neighborhood affair. Family proprietors froze ice cream in back rooms, sold it in front parlors, and lived upstairs. Then modern technology revolutionized, and in my opinion, ruined, ice cream. By 1920, new modern factories had flooded the market with mass produced ice cream. But mass production, while much easier and far cheaper than artisanal methods, came with a cost. Today, modern ice cream is made by whipping cold air into a mix, resulting in a lightweight product best described as "fluffy." In fact, by Federal law, modern ice cream can be up to 50% air, weighing as little as half as much as the same volume of traditional ice cream. Have you noticed that ice cream, unlike other solid dairy products like butter that are sold by net weight, is sold by volume? This is in part to hide the fact that modern ice cream is full of air. But looks can be deceiving, especially in the freezer aisle!
Modern ice cream technology literally enables companies to sell air. Soon after the new technology took hold, "fluffy" ice cream became the norm. Its only semblance to traditional ice cream is that it is cold and sweet. In a sad dairy version of Gresham's law, bad ice cream drove out good ice cream. Neighborhoods that once had many family-owned ice cream parlors soon had none. Except in Cincinnati, Ohio, where one family refused to compromise.
Today, Graeter's is the last commercial ice cream company that uses the artisanal small-batch French Pot method to freeze traditional ice cream. This small batch process makes ice cream that is uniquely dense and delicious. Each French Pot spins slowly for 15 minutes to transform sweet cream into delicious ice cream, just 2 ½ gallons at a time. But unlike modern methods, French Pots do not whip air into the finished product. The difference between Graeter's and other ice cream brands is that the slower, more methodical speed at which we make our ice cream results in a product that is so thick that when it comes out of the French Pot, each one of the five million pints we sell every year, must packed by hand.
Why did Graeter's stick with the antiquated French Pot process in the face of new technology? The answer rests with one woman: Regina Graeter. Regina, our formidable family matriarch, stubbornly refused to compromise for the sake of profit. A rare independent businesswoman in 1920, she took orders from no one. She knew that the new "fluffy" ice cream was a pale imitation of the real thing and she was not about to put her family name on an inferior product. Not daring to challenge her wisdom, each succeeding generation of the Graeter Family has honored her decision.
The preservation of this unique artisanal way to make ice cream is our family triumph as we celebrate 150 years. Founded in 1870, Graeter's is America's oldest, continuously operated family craft ice cream maker. Many brands try to claim a veneer of being "crafted" but they are more about crafty marketing and social media hype than making a true artisan product. The truth is that most of these brands do not even make their own ice cream, outsourcing the hard work to large co-packers. Fancy marketing and high prices fool many people, but Graeter's is for those who know the difference. One taste is all it takes to learn how real, old-fashioned traditional ice cream is meant to be like.
In a few years we will bring the 5th generation of the Graeter family into the business. Only a family would remain as stubborn as the Graeter family has been in sticking with such a crazy way to make ice cream. Each generation has done its part to grow the business. We now have 55 stores in nine cities in five states. If you look hard enough, you can find pints of Graeter's from New York to California. In 2010, we opened a new ice cream plant that can produce over a million gallons of ice cream and satisfy today's stringent food safety protocols. As we look forward to the next 150 years, I expect that many more things will change. Vegan ice cream, anyone? Maybe someday. But we will only put the Graeter's name on it if it tastes as rich and as indulgent as what Regina made over a century ago. As we grow and introduce new flavors and products, we delicately balance between innovation and tradition, holding true to Regina's legacy of quality: the French Pot process.
One hundred and fifty years ago, everything was hand-crafted. Now "craft" and "artisanal" are not much more than trendy marketing buzzwords. But take time to look beyond the hype. Not all claims are authentic. I am very fortunate to be the heir to an authentic family business, process and product. I look forward to passing that legacy on to the next generation. How have we survived for 150 years? The answer is simple: family. And our family stubbornly stays true to who we are: America's original craft ice cream maker.
---
Have you read?
# Best (and worst) countries in the world for old people to live in, 2020
# Countries with the highest life expectancy in the world, 2020
# Most expensive countries in the world to live in, 2020
# Most Popular Places To Birdwatch In Each US State
# Best Countries For Investment In Ecommerce And Digital Sector, 2020