The 3-Minute Rule: How Hollywood Storytelling Can Help Your Business
I could almost hear the scoffs and muted laughter as I traversed the stage, asking for their perception of the entertainment industry. I was giving a keynote to an audience filled with public company CEOs and investors about how Hollywood could help their business. I enjoyed letting the stereotype of a Hollywood producer marinade with this crowd. Vapid, superficial, promotional, pompous, all words (and worse) they tossed out when prompted. I clicked to a picture of the Titanic and asked, "what happens to this boat?" They all know. Then I show a YouTube video with that little banner that says 'skip this ad in 5…4…' and ask, "who's clicked impatiently before the 5 seconds is up?" They all have.
My tone changes. "How can James Cameron get you to watch a 3-hour movie, without speaking or looking at your phone, about a boat that you know sinks? But ad agencies on Madison Avenue can't get you to watch a 5-second commercial?" They knew that was rhetorical. "Because one is telling you a story and the other is trying to sell you something. Nobody wants to be sold anything. Ever." I let that sink in. "Hollywood storytelling is just the process of leading an audience with information, piece by piece, to build to a mutually desired conclusion. And I can show you how to do that with your business, product, or service." Nobody scoffed at that.
I've been producing film and television in Hollywood for nearly two decades. Over the last five years, I've taken my storytelling methods and producing experience into the business community to help people across all industries simplify their message. I've successfully taught these methods to hundreds, from Fortune 100 CEOs and politicians to professional athletes and PTA presidents.
In my new book, The 3-Minute Rule, I've developed a system that can show anyone how to use these techniques to say less and get more from any pitch or presentation.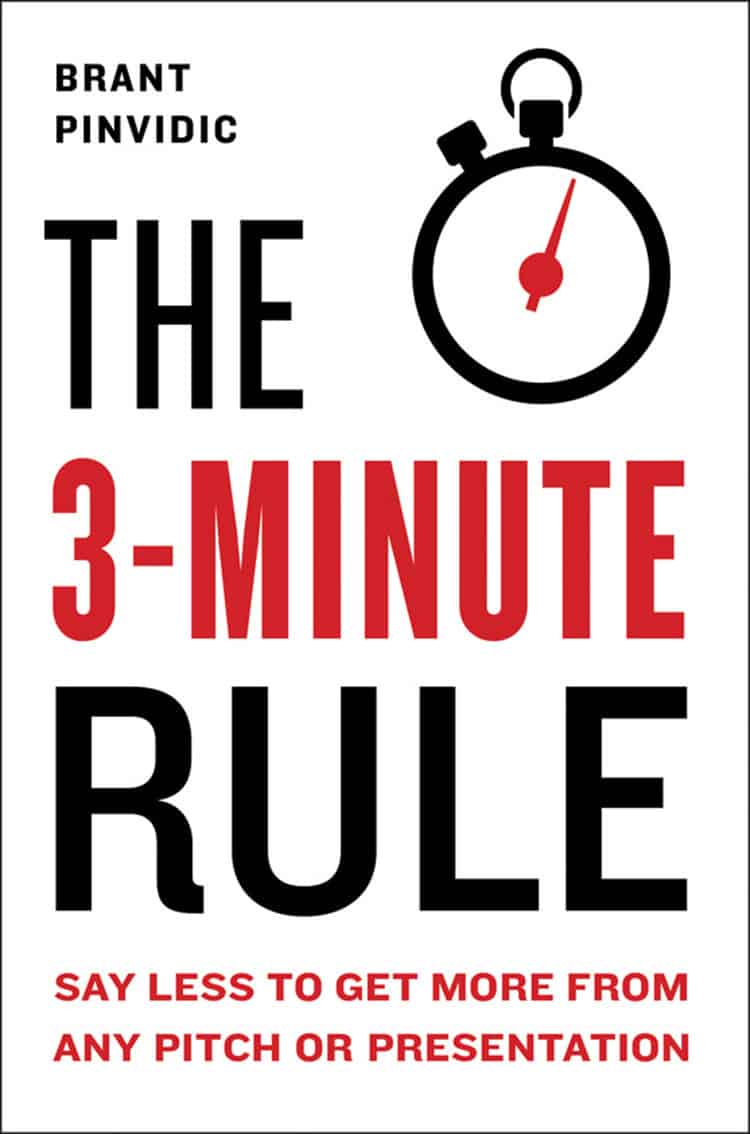 What is the 3-Minute Rule?
It simply states: Everything about your business, product, or service has to be conveyed clearly, concisely, and accurately in three minutes or less.
In those first three minutes, you must capture and maintain your audience's attention, clearly illustrate value, and create their desire to engage.
Why is that so important?
Because anytime you try to influence anyone to do anything, their first impression is fully formed in less than three minutes (much less for some people). That yes or no is already in their head. It's not your fault. That's just the world we live in today.
For the last two decades, the human attention span has been steadily decreasing. A recent Microsoft study puts it at 8.2 seconds.
A goldfish is at 9 seconds.
It's not that we're all dumbed down, mindless, distracted zombies (I know it feels like that), it's just the opposite. People today focus more intensely and efficiently. They have zero tolerance for long-winded explanations, exhaustive chatter, or linguistic sales tactics. They will tune you out in an 8.2-second instant.
For business leaders, this issue isn't limited to just your customers or sales presentations. Being able to communicate internally with your team is almost as important (sometimes more) as your external messaging. The definition of leadership is the ability to guide and motivate others to meet or exceed your expectations. We do this through communication and accountability. Where most CEO's and managers I work with struggle is with that communication. It's tough to hold people accountable for a vision they don't believe or understand.
The theory I use to combat this is something you can apply to all aspects of your life:
Success in life and business is determined by your ability to convey your information to others, so they understand it the way you do.
If you give up all your preconceptions about language, tactics, phrasing, or technique, and focus only on the value of your information and the process of translating that information in a way that your audience will understand, I promise you'll find more success.
Here are three tips you can work on today to improve your messaging:
Don't state and prove
The old 'elevator pitch' method would have you starting with a grand statement that catches your audience's attention, so they lean in and say, "oh interesting, tell me more."Well, after decades of diminishing returns in the marketing and advertising world, the promises kept getting bigger, and the results kept getting smaller. How many clickbait links did you go through before you stopped believing big claims online? Exactly. It's far more effective to start with your information and lead your audience to your claim or statement. Let them find the 'hook' of your story by building to a mutually desired conclusion.

Always look to inform and lead, never state and prove.

The more words you use, the less confident you appear
Confidence comes from your belief in the quality and value of your information. Your audience is incredibly sensitive to this. Imagine if I needed to convince you to let me cater your next event, and I had Gordon Ramsay as the chef. How many words would I need to convince you? Probably just four; I have Gordon Ramsay. Now imagine it was my brother-in-law who just got out of prison and needed a job. How many words would I need to try to sell you that idea?Whatever you are proposing is on a scale somewhere between Gordon Ramsay and my ex-convict brother-in-law. The more words you use will show your audience where you think your proposal fits on that scale.
Use the WHAC method
The WHAC method is a guide that helps you identify, evaluate, and order the most important elements of any presentation. Start by answering the four WHAC questions.1) What is it? – anything that explains the concept.
2) How does it work? – the literal function or how you operate
3) Are You Sure? – this is where you use facts, figures, logic, or reason to validate.
4) Can you do it? – this is how your audience takes action. Things like price, availability, what happens next.

Answering these questions in this order will help you will weave your most crucial points into a compelling narrative structure that will help lead your audience to the right conclusion.
It's ironic that in a chaotic attention-starved culture, it's not the who shouts the loudest that gets heard. There are some new slogans to live by:
Simple is the new sexy.
Clarity is compelling.
Information is value.
Say less to get more.
---
Written by Brant Pinvidic. Don't miss:
Countries With The Best Quality of Life.
Most Startup Friendly Countries.
Global Passport Ranking.
100 Most Successful Unicorns.
GDP Rankings Of The World's Largest Economies.
Track Latest News Live on CEOWORLD magazine and get news updates from the United States and around the world. The views expressed are those of the author and are not necessarily those of the CEOWORLD magazine.
Follow CEOWORLD magazine headlines on:
Google News
,
LinkedIn
,
Twitter
, and
Facebook
.
Thank you for supporting our journalism. Subscribe here.
For media queries, please contact:
info@ceoworld.biz