Ranked: Which American city is home to the most billionaires?
With 105 billionaire residents, New York is home to more billionaires than any other city in the world, followed by Hong Kong and San Francisco, according to a new Wealth-X report. New York is also the only city in the world with more than 100 billionaires.
Hong Kong takes second place on the list with 87 billionaires. The San Francisco Bay area in the US – which includes Silicon Valley – is in third place with 75 billionaires.
Moscow came in fourth place with 70 billionaires. In fifth place is London in the United Kingdom with 65 billionaires. The most affluent suburbs in London include Kensington and Chelsea; Westminster; Wandsworth, Camden; Hammersmith and Fulham; and Richmond-upon-Thames. Billionaires are increasingly found in a cluster of cities, a new report reveals. Nearly 30 percent of the world's billionaire population is concentrated in just 15 cities.
Top 15 cities with most billionaires
New York, US: 105 billionaires
Hong Kong: 87 billionaires
San Francisco, US: 75 billionaires
Moscow, Russia: 70 billionaires
London, UK: 65 billionaires
Beijing, China: 55 billionaires
Singapore: 39 billionaires
Los Angeles, US: 39 billionaires
Dubai, UAE: 38 billionaires
Mumbai, India: 38 billionaires
Shenzhen, China: 37 billionaires
São Paulo, Brazil: 33 billionaires
Istanbul, Turkey: 32 billionaires
Hangzhou, China: 31 billionaires
Tokyo, Japan: 29 billionaires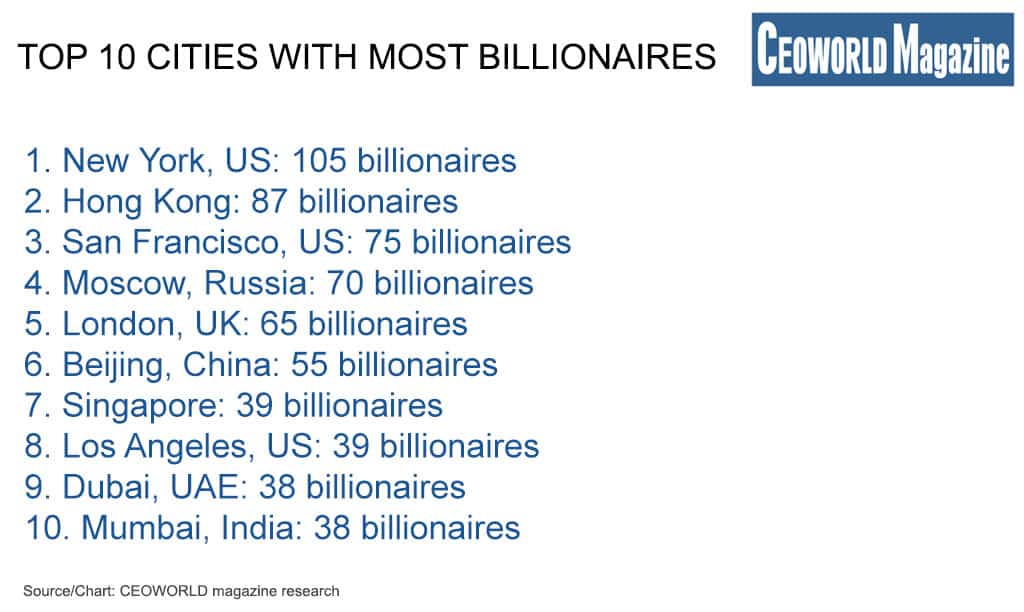 ---
Dont's miss: Richest People in Argentina, Australia, Austria, Belgium, Brazil, Canada, Chile, Cyprus, Switzerland, Thailand, Turkey, Ukraine, Vietnam for 2019. Richest people in the world for 2019.
Track Latest News Live on CEOWORLD magazine and get news updates from the United States and around the world. The views expressed are those of the author and are not necessarily those of the CEOWORLD magazine.
Follow CEOWORLD magazine headlines on:
Google News
,
LinkedIn
,
Twitter
, and
Facebook
.
Thank you for supporting our journalism. Subscribe here.
For media queries, please contact:
info@ceoworld.biz