Chile's Nine Richest People Worth A Combined $28.4 billion
The wealth of the top nine richest people in Chile accounts for 10.25% of the country's GDP, according to new research highlighting a widening gulf between the rich and poor in Chile. Chile is often lauded as Latin America's great economic success story.
Nine billionaires have a combined wealth estimated at $28.4 billion, while 182 million people (29.6% of the population) live in poverty, of whom 63 million live in extreme poverty (10.2% of the population), according to the report. Inequality is still deeply entrenched.
Chilean billionaires: With an estimated net worth of $13.9 billion, the matriarch of Chile's richest family, Iris Fontbona is the wealthiest person in Chile, that's according to CEOWORLD magazine's Chile Rich List Index For 2019. The number two spot for Chile was occupied by Sebastian Piñera & family with a net worth of $2.8 billion.
Julio Ponce Lerou, is the third richest person in the country; his net worth stands at $2.3 billion. According to the financial publication's annual listing, 2019 saw the total wealth of the top nine richest people in Chile hits a new record high of $28.4 billion. In other words, the wealth of the top ten richest people in Chile accounts for 10.25 percent of the country's GDP.
Jean Salata and Alvaro Saieh Bendeck rounded up the top five wealthiest people in Chile with $1.9 billion each. To identify the wealthiest people in Chile, CEOWORLD magazine reviewed numerous national and international media reports. Additional information about the billionaires came from Forbes global index, Bloomberg Billionaires Index, CEOWORLD magazine's rich list index, Hurun rich list, and all estimated net worth figures are in U.S. dollars. The Chile Rich list was compiled using shareholding and financial information obtained from the media reports and individuals, analysts, stock exchanges, and regulatory agencies. This list encompasses family fortunes, including those shared among extended families of multiple generations. The minimum to make the list was $1 billion. The data below presents the richest people in Chile in 2019, by wealth. Who Are Chile's Top Billionaires?
Richest People In Chile, 2019
Iris Fontbona & family: $13.9 billion
Sebastian Piñera & family: $2.8 billion
Julio Ponce Lerou: $2.3 billion
Jean Salata: $1.9 billion
Alvaro Saieh Bendeck: $1.9 billion
Horst Paulmann & family: $1.9 billion
Roberto Angelini Rossi: $1.5 billion
Patricia Angelini Rossi: $1.1 billion
Luis Enrique Yarur Rey: $1.1 billion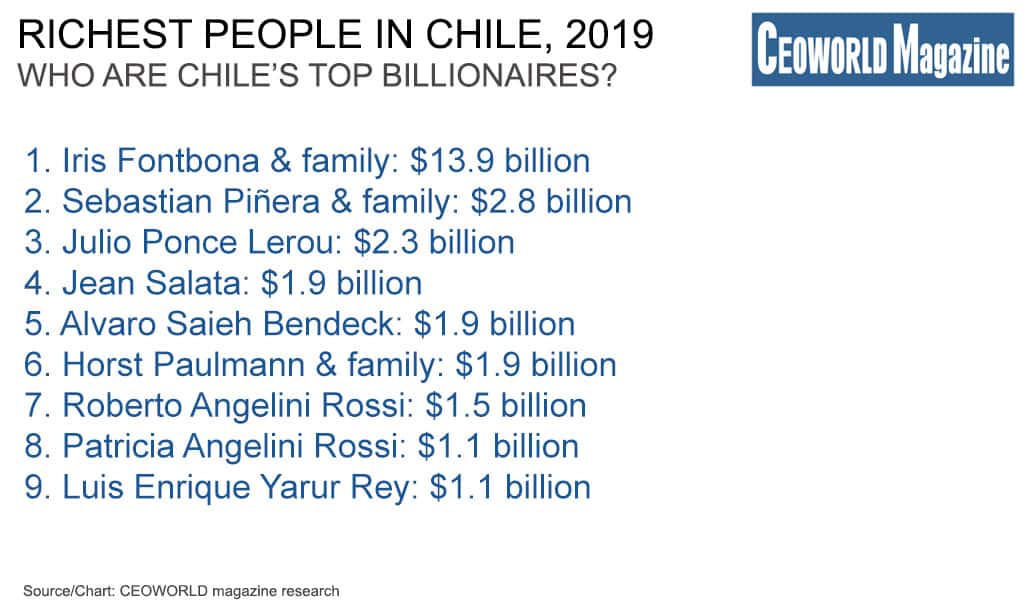 The 36-member OECD club of mostly rich countries had long hailed Chile's prosperity. Chile is the most unequal of OECD countries, with an income gap that's about 65% higher than the OECD average.
Yearly per capita income in Latin American countries (2018)
Chile: $25,222
Uruguay: $23,530
Argentina: $20,567
Venezuela: $18,108
Brazil: $16,068
Suriname: $15,497
Colombia: $14,999
Peru: $14,393
Paraguay: $13,570
Ecuador: $11,713
Guyana: $8,568
Guatemala: $8,447
Bolivia: $7,859
Honduras: $5,129
---
Don's miss: Richest People in Argentina, Australia, Austria, Belgium, Brazil, Canada, Chile, Cyprus, Switzerland, Thailand, Turkey, Ukraine, Vietnam for 2019. Richest people in the world for 2019.
---
Add CEOWORLD magazine to your Google News feed.
---
Follow CEOWORLD magazine headlines on:
Google News
,
LinkedIn
,
Twitter
, and
Facebook
.
---
Thank you for supporting our journalism. Subscribe here.
---
For media queries, please contact:
info@ceoworld.biz
---