The Rise And Rise Of The Walt Disney Company ( Total Assets In The Fiscal Years 2006 To 2019)
In 2019, the Walt Disney Company (also known as Disney) held assets worth a total of over $193.98 billion. Disney's current market cap is $262 Billion. In the same year, the Walt Disney Company generated global revenue of $69.57 billion, marking the highest figure to-date. Bob Iger makes $66 million a year as the CEO of Disney. Out of 121 best CEOs in the world for 2019, Disney CEO Bob Iger ranked No. 103rd.
"Our solid results reflect the ongoing strength of our brands and businesses," said Bob Iger, Chairman and CEO, The Walt Disney Company. "We've spent the last few years completely transforming The Walt Disney Company to focus the resources and immense creativity across the entire company on delivering an extraordinary direct-to-consumer experience."
"I hope we never lose sight of one thing: that it was all started by a mouse." -Walt Disney.
But how big is The Walt Disney Company?
From construction companies to superheroes, the Walt Disney Company corporate umbrella stretches worldwide. There are few companies you already knew Disney owned like Fox Searchlight Pictures, Pixar Animation Studios, Lucasfilm, ABC News, ESPN Inc, and 20th Century Fox. There were a few surprises like A&E Television Networks, GoPro.
Total assets of the Walt Disney Company in the fiscal years 2006 to 2019
2019: $193.98 billion
2018: $98.6 billion
2017: $95.79 billion
2016: $92.03 billion
2015: $88.18 billion
2014: $84.14 billion
2013: $81.24 billion
2012: $74.9 billion
2011: $72.12 billion
2010: $69.21 billion
2009: $63.12 billion
2008: $62.5 billion
2007: $60.93 billion
2006: $60 billion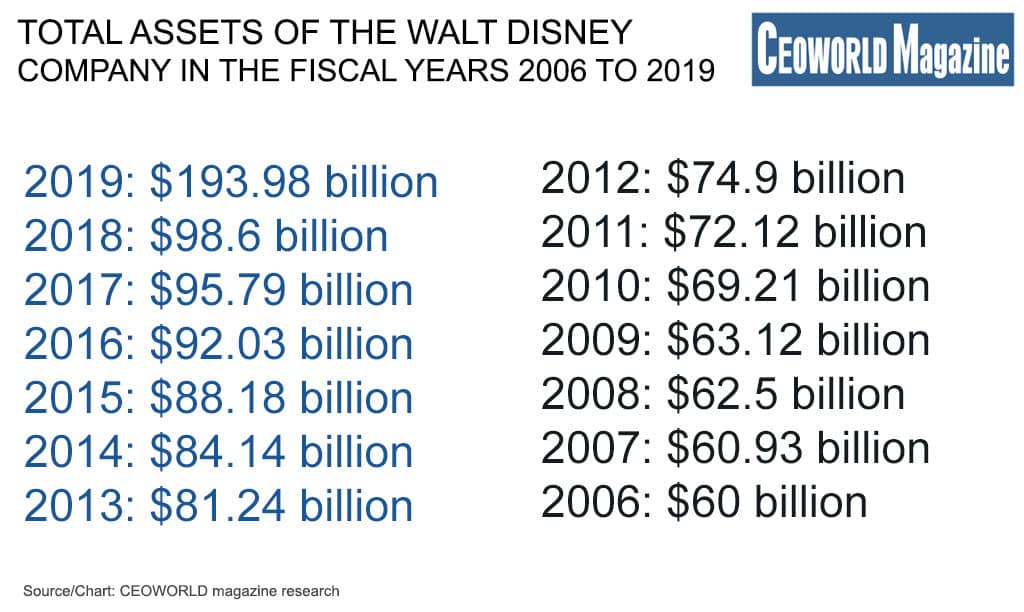 ---
Have you read?
Countries With The Most Millionaires In The World, 2019.
Sports And Billionaires: The Richest NBA Club Owners In The U.S. In 2019.
The World's Best Non-Native English Speaking Countries, 2019.
Media Billionaires: Richest Media Moguls In The World, 2019.
World's Best Destinations For Business Travelers, 2020