These are the scariest train routes in the world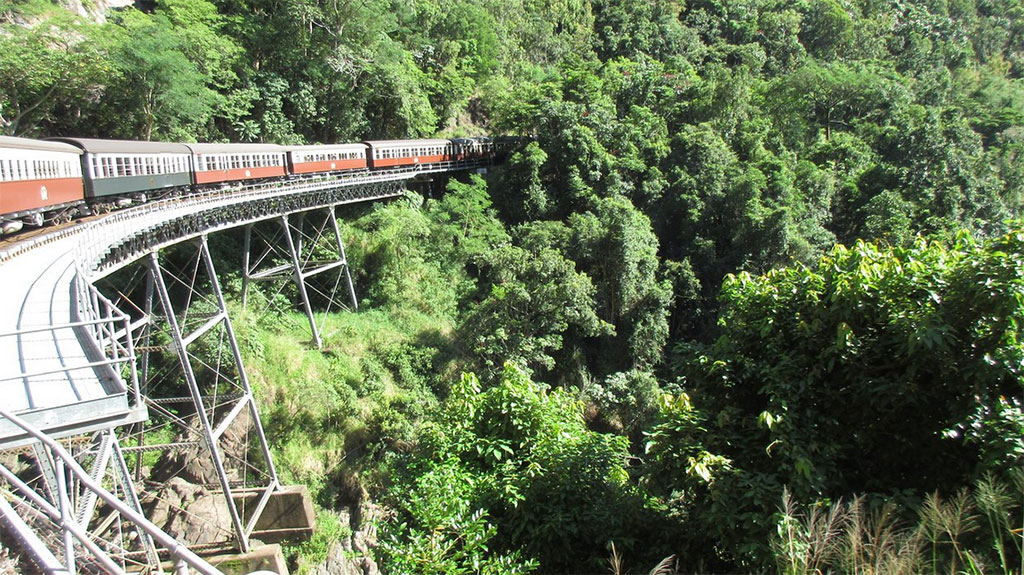 Traveling by train has its old school charm. We usually associate it with relaxation and absorbing scenic views. The cost is lower than its airborne counterpart. Turbulence-free and seatbelt-free, train travel is comfortable. But what if we told you that even traveling by train can be a scary affair?
Here is our list of the scariest train routes in the world:
Tren a las Nubes, Argentina: The construction of the Tren a las Nubes (Train to the Clouds) route was officially started in 1921. Connecting the Argentine Northwest with the Chilean border in the Andes mountain range, this route was started in 1948. At a spine-chilling height of 4,220 meters above sea level, this is the fifth-highest railway in the world.
There are 29 bridges, 21 tunnels, 13 viaducts, 2 spirals and 2 zigzags along this treacherous route. Along with other hiccups and formalities, these were primarily the reasons why it took so long for the construction to be completed.
Following a derailment in July 2014 near Abra Muñano at a scary 4,000m above the ground, about 400 passengers had to be evacuated from the train. Thus, though it was initially built for transportation purposes, now it serves mainly as a tourist attraction. Also, now most of the route (approx. 80%) is traveled by bus.

Georgetown Loop Railroad, Colorado
Completed in 1884, the Georgetown Loop Railroad was an engineering marvel at the time. It was one of Colorado's first visitor attractions. Characterized by steep horseshoe curves, there are four bridges along this route over Clear Creek. The scariest of these bridges is the Devil's Gate High Bridge. The 100-foot drop and the ominously low speed at which the train passes through it makes this ride a rather scary experience.

Chennai-Rameswaram route, India: India's first sea bridge, the Pamban bridge, connects Rameswaram island to the mainland of Chennai. Since its construction in 1914, this was the only way of reaching the holy place, until 1988 when a road bridge was constructed parallel to it. Now, one can also do so by a motorboat or a ferry. But the, where's the fun in that?
Only 1.4 kilometers in length, it also opens up to allow boats and ships to pass beneath it. The bridge experiences wind all the time. In case of a storm, trains tremble on this bridge and give the passengers a big scare.

White Pass & Yukon Route, Alaska: Constructed in 1889 during the Gold Rush, the White Pass & Yukon Route connects the Canadian city of Whitehorse to the Alaskan port of Skagway.
This 107-mile-long route is flanked by glaciers, waterfalls, and mountains. As stunning as the visuals are, this route has numerous steep gradients, bridges, and suspenseful turns. Some of these bridge supports are still made of wood.
This is a great route for thrill-seekers who are not fazed by the idea of traveling on high routes made of narrow wooden bridges.
Kuranda Scenic Railway, Australia: 23 miles long, The Kuranda scenic railway was constructed in dense tropical rainforest in the late 19th century. It connects the coastal city of Cairns in Queensland to the town of Kuranda.
This route passes through the Barron Gorge National Park, tropical forests, waterfalls, and 15 tunnels. Barron Falls and Stoney Creek Falls are two of the most famous waterfalls crossed along this route.
In 2010, a landslide caused the train to derail, injuring 5 passengers onboard. Like Tren a las Nubes, the Kuranda Scenic railway was initially meant for public transportation, but now functions as a tourist attraction. The main attractions along this route are Bird World, lively markets, and the Australian Butterfly sanctuary.
Some other routes that deserve a mention:
Funicular train, Chile
Lynton & Lynmouth Cliff Railway, England
Minami Aso/Minamiaso Railways, Japan
Cumbres & Toltec Scenic Railroad, New Mexico
Outenique Choo-Tjoe Train, South Africa
Nariz del Diablo (Devil's Nose), Ecuador
Glenfinnan Railway Viaduct, Scotland
---
Have you read?
# Best CEOs In The World 2019: Most Influential Chief Executives.
# World's Best Countries To Invest In Or Do Business For 2019.
# Countries With The Best Quality of Life, 2019.
# Most Startup Friendly Countries In The World.
---
Add CEOWORLD magazine to your Google News feed.
---
Follow CEOWORLD magazine headlines on:
Google News
,
LinkedIn
,
Twitter
, and
Facebook
.
---
Thank you for supporting our journalism. Subscribe here.
---
For media queries, please contact:
info@ceoworld.biz
---