Here Are The Fastest Production Cars You Can Buy Right now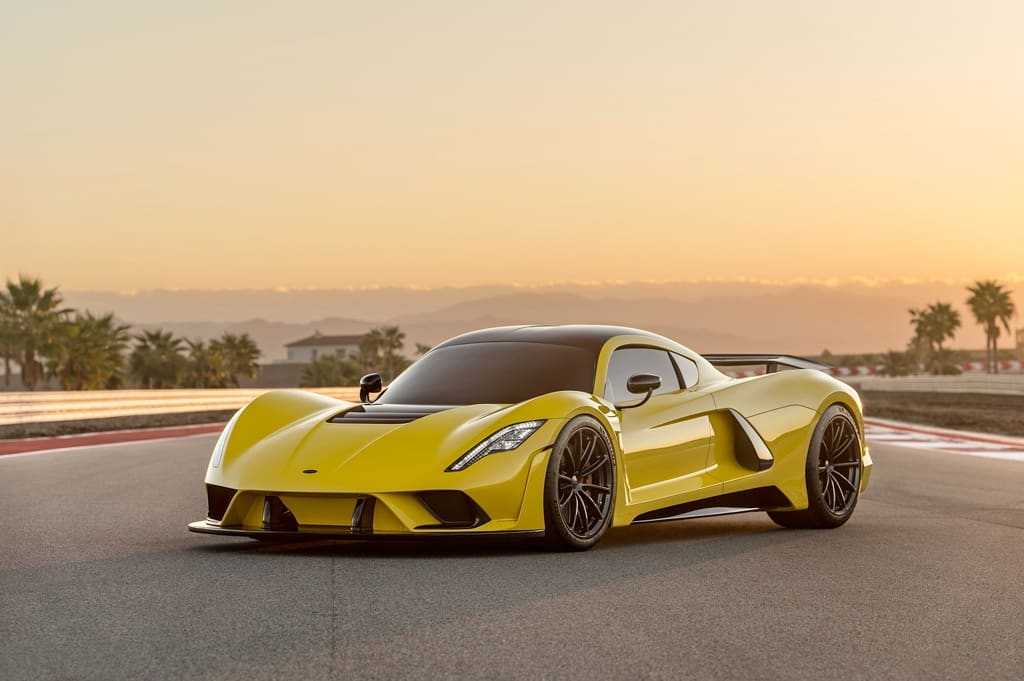 Automobiles have never been mere machines of transportation since the time they were born. Ever since the car was born, man has been fascinated by what he created and what horizons it could push in the future.
Environmental issues notwithstanding, it is safe to say that the internal combustion engine and the automobile have been the single best product to come out of the Industrial Revolution, a product that changed an entire century in terms of travel, lifestyle, culture, and luxury. And since its nascence, we have tried to race our cars to their absolute limits and then find more limits to push in the coming years.
The big players of the automotive world have all been trying feverishly to develop cars that can go as fast as possible while still being road legal, comfortable, and most of all, safe. This article gives you the fastest road cars currently in production that you can buy.
Hennessey Venom F5: This is the latest hothead coming from a relatively new player in the performance automobile sector, but it is in no way a slouch. The Venom F5 is reportedly going to break the 300mph barrier, but it hasn't been confirmed yet. Nevertheless, it promises to become the fastest road car in production on the planet. It can be yours for a million and a half, realistically.1600 bhp Hennessey Twin Turbo V8 Engine
Top speed: 301 mph
0-186 mph: < 10 sec.
0-249 mph-0: < 30 sec.

The base price for the Venom F5 is $1.6 million US dollars. The company plans to build 24 examples.

Koenigsegg Agera RS: The Agera RS is a proper real-world example of speed. Two high speed runs along the roads in Nevada resulted in a combined top speed of 250mph. And unlike Hennessey, Koenigsegg has been around for quite a while now, and you can bank upon their production values. The Agera is striking to look at, and fit well in your garage of speed demons if you haven't got one already.The base price: $2.5 million
Frontal area: 1.873 m²
Total downforce at 250km/h 485 Kg
5.0-liter twin-turbo V8 • 7-Speed Paddle-Shift
Weight: 70 kg (including tanks)
7-speed paddle-shift with auto-shift mode
The RS will be handcrafted in only 25 examples, with 10 pre-sold prior to the first showing.

Hennessey Venom GT: If you like Hennessey but cant wait for the Venom F5 to be launched and verified, the GT would be the rightful choice. It was the world's fastest car in 2014 but was then toppled over by the Agera RS. Nevertheless, it is still one solid car worth your automobile collection and requires a fair bit of driving skills to push it to the absolute limits. At 270mph this car is no slouch.
1600 bhp Hennessey Twin Turbo V8 Engine
Top speed: 301 mph
0-186 mph: < 10 sec.
0-249 mph-0: < 30 sec.
The base price: $1.2 million
Bugatti Veyron Super Sport ($1.7 million): Before the new players entered the big picture, the world of high-speed records belonged to Bugatti, and it's Veyron, the original Speedmaster that was the next best thing after the iconic McLaren F1. The Supersport is a souped-up Veyron that pushes the old Veyron to its absolute limits. The limit was achieved at 268mph, and because you'll be in the lap of luxury while doing so, its a perfect treat.
Bugatti Chiron ($2.5 to $3 million): The Chiron had many expectations upon its release, chiefly because it had a colossal mantle to bear and exceed and also because it took ten years for Bugatti to churn out another speed monster. However, the 1500 bhp Chiron only turned out to be good enough for a modest 261mph, which was lesser than the Bugatti Veyron Supersport. But if you're clever enough, you'd get rid of all the electronic aids and unleash the Chiron's full potential. And boy does it look good.
Discontinued models (Collector's items)
 Bugatti Veyron 16.4 ($1.7 to $2.3 million): When it was launched in 2005, it swept the automobile world with an unheard-of top speed of 253mph, a speed figure that was alien to a production supercar, let alone a luxury one at that. But the Veyron was every bit a worthy recipient of every automotive award it got, for its sheer technical brilliance and comfort levels, and of course, blistering top speed. The Veyron was indeed the pinnacle of automobile engineering, where nothing was compromised in the name of money or the environment.

McLaren F1 ($14 to $16 million): If the Veyron was the peak of technological advancements and cost no bar attitude, the F1 was one of the pure simplicities. Boasting technology from the Formula 1 world of precision engineering, The F1 is the last word in the human element of the automobile. You would be hard-pressed to find an F1 nowadays, but if you get the pleasure of getting your hands on one, it will surely blow away every supercar in the market today for blistering speed and pure simplicity. Just an old school 6.2 liters BMW V12 doing its job. Stuff like this is hard to find these days. Between 1993 and 1998 only 106 of the super-advanced F1s were made, with 69 road cars, 28 race-only F1 GTR models, six F1 LM road/track models, and three long-tail F1 GT models.
---
Have you read?
# World's Best Countries To Invest In Or Do Business.
# Countries With The Best Quality of Life, 2019.
# Most Startup Friendly Countries In The World.
# The World's Safest Cities Ranking.
---
Add CEOWORLD magazine to your Google News feed.
---
Follow CEOWORLD magazine headlines on:
Google News
,
LinkedIn
,
Twitter
, and
Facebook
.
---
Thank you for supporting our journalism. Subscribe here.
---
For media queries, please contact:
info@ceoworld.biz
---