Running In The Morning Can Help You Focus On Work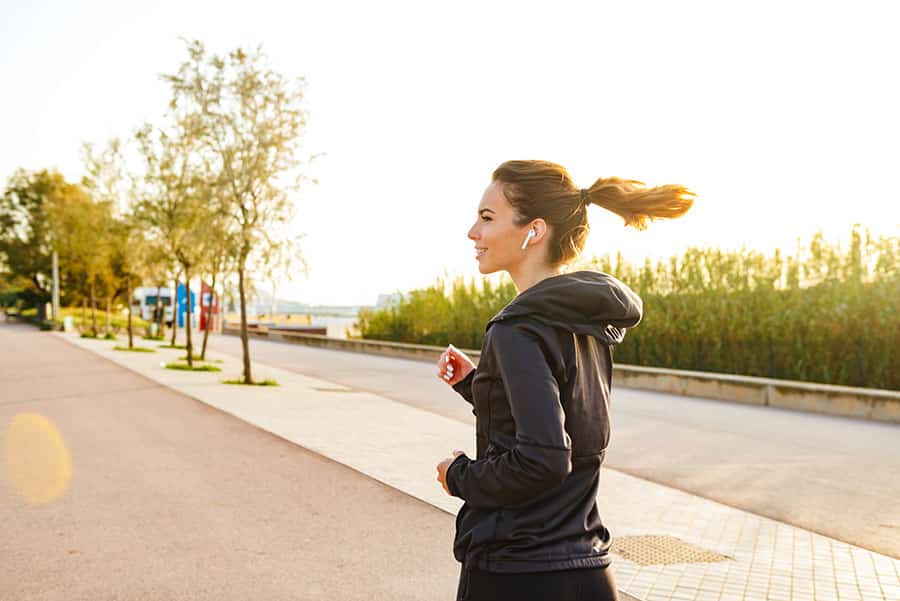 Morning exercises not only improve your physics but also assist in boosting your mental health. So if you are a person who finds it difficult to get out of the bed, then a light morning job may help you to become more alert, fresh and ready for the challenges of the day. So without much ado, let's check out how an early morning jog can aid you in being more focused at your work.
Brain Changes
Jogging keeps you focused on your track and trains mind to avoid any obstacles that are in your path. Running or jogging also lead to changes in your brain. According to research released in the Frontiers in Human Neuroscience, scientists studied the brain of professional runners. They discovered that the seasoned runners had a larger frontal-parietal network along with a few other areas of the brain.  These connections were primarily associated with working memory and self-control. Jogging can also stimulate the growth of neurons in the brain through a process called neurogenesis.
Cognitive Flexibility
A comparison between candidates who run regularly and those who opt for a sedentary lifestyle, runners showcase an increase in cognitive flexibility. This boost in cognitive flexibility allowed them to switch between different mental tasks effectively by quickly shifting gears, adapting to changes, and coming up with better plans.
Stressbuster
Running regiment can aid in getting rid of workload stress by putting your mind off your worries and troubles in a considerable short-time. Running also initiates the release of hormone endorphins, which induces the feeling of happiness and elevates your mood in general. Thus, during turbulent times, a regular jogging routine can gift you with greater stress resilience and allow you to face challenges of day to day life in a better way.
Anti-depressant 
Apart from being great stressbuster, jogging, or running can also improve your mood and tackle depression as well as anxiety disorders. Research in 2013 discovered that exercising was slightly more effective than therapy for dealing with depression as it allows patients to concentrate on something else besides their depressed state.
Boosts Your Energy
If you feel dull and gloomy through the day at work, then your running regiment can turn out to be your savior. Although it may sound counterintuitive, studies show that exercising increases your ability to circulate oxygen and glucose through your body and brain, which in turn boosts your energy levels. Increased stamina allows you to get more work done in short durations.
Breakthrough Ideas
If you are stuck with a situation for a considerable period with no solution in sight, then a simple jog can give you a breakthrough idea. Research in the Journal of Experimental Psychology showcased that a simple walk through the neighborhood can boost the average creative ability by 60 percent. So next time when you feel stuck, a light jog or a walk might do the trick.
Self-Confidence and Self-Esteem
Jogging sessions can lead to improved self-esteem and heightened confidence over time. Improved perception of self-body image and fitness are directly related to better self-esteem. Also, being able to do tasks and activities which otherwise seemed challenging to accomplish gives you a sense of freedom and empowerment. This increase in your self-confidence and self-esteem naturally reflects from your work.
Physical Fitness
Although physical fitness may not have a direct impact on your work productivity, it ensures that you feel less fatigued or reduces your chances of falling ill. It means fewer leaves and getting more work off your desk.
A good jogging or running regimen ensures improved physical as well as a mental state. It permits a person to operate at his optimum level by keeping both physical and psychological illnesses at bay.
---
Have you read?
# Is True Employee Engagement the New Leadership Mindset by Vicki Brackett.
# Why appealing to employee motivations builds an empowered workforce by Tony Holmwood.
# The 30 Most Religious Places in the World, 2019.
# Most Family-Friendly Countries In Europe, 2019.
# Ranked: Least Peaceful Countries In The World, 2019.
---
Add CEOWORLD magazine to your Google News feed.
---
Follow CEOWORLD magazine headlines on:
Google News
,
LinkedIn
,
Twitter
, and
Facebook
.
---
Thank you for supporting our journalism. Subscribe here.
---
For media queries, please contact:
info@ceoworld.biz
---