The Best (Must Know) Apps For Business Travel, 2019
In the era of technology, everything is simplified that made our life hassle-free. The same scenario is of traveling as well. The various apps on the internet have undoubtedly made our trips free of commotion. Let me share a few such apps with you all.
Google Translate: This app has turned out to be a boon for many. You need not be bilingual for your business deals, trips or talking to anybody who doesn't understand your language. You can convert not only the written texts into your desired language but also images clicked by your phone and your audio messages as well. In this way, this app is actually a life-saver when you are traveling in another state or country. Its instant translations save our time pretty much. In short, it is highly recommended to everyone.
Google Maps: This app helps you even when you reach out of the network by providing you a facility of offline maps. Now you can travel to other cities without any fear of unknown routes. You just have to enter your starting point (your current location) and your destination and follow the instructions given by Google Maps. It provides you the shortest route possible and also lets you explore the nearby parks, bars, restaurants, and the attractions.
Google Trips: It is the ultimate organizer of your whole trip. It not only access all the information from your Gmail account and gather at one place but also shares your trip details with your contacts in a single mail. After fetching your current location, it suggests you restaurants, transportation options and popular attractions nearby. The best part about it is that you can download the information beforehand so that you can use it even when you are offline. It also gives its users certain information about other countries such as emergency information, culture, local transportation, etc. In short, it's a complete package for a perfect trip.
Roadtrippers: This app helps you find not only the sights which are on your way of road trips but also lets you explore the hidden ones. This eventually makes your trip better than the expected one. This app makes your road trip highly organized by giving suggestions on what more can be done on your way. Some of its striking features are that it lets you add notes to your destinations, explore recommended areas, plan hassle-free and calculate mileage fuel cost and distance traveled.
Hotel Tonight: You can book hotel rooms well in advance if your trip is pre-planned. But, what if you deal with any spontaneous vacation? It's pretty hard to find vacant rooms instantly that too at affordable prices. The app hotel Tonight is there to get you off such circumstances. So you need not think twice for your spontaneous weekend getaways or for surprising your loved ones by a sudden trip. Hotel Tonight is just a touch away.
Rebtel: There are numerous apps these days that provide free calling but if you want seamless, instant, efficient and easy calls but at nominal prices then I would suggest you to download this app Rebtel. If you are on an international trip, then this app is highly recommended for you to stay connected to your family that too almost free of cost. If you are out for a month or so, then you can opt for its monthly plan, that also doesn't create a big hole in your pocket.
The Best (Must Know) Apps For Business Travel, 2019
Google Translate
Google Maps
Google Trips
Roadtrippers – Trip Planner
Hotel Tonight
Rebtel – International Calling
AirHelp
Skyscanner
Skiplagged
FLIO – Your Flight Companion
Flapp – Book cheap flights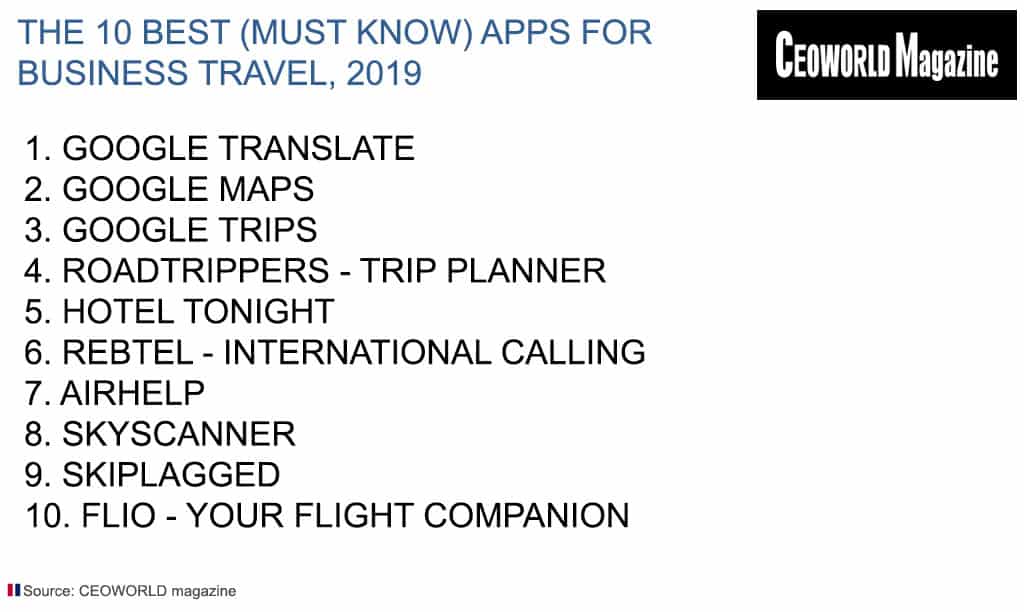 So, just download these apps for your hassle-free and fun trip.
---
Have you read?
# Top 4 Places In The World For Wildlife Enthusiasts.
# Exhaustive Checklist For College Hostel Packing.
# World's Most Exclusive And Expensive Resorts, 2019.
# Top Party Dressing Tips For Women For Every Occasion.
# Top 5 Cities To Visit In Australia.