Best Yacht Chartering Destinations In Europe, 2019
Out of all the continents in the world, Europe has the credit of being culturally diverse and breathtakingly beautiful in every country. The place breathes heritage and history throughout with unique tales of adventure and courage for the travelers.
It is also geographically best for yacht adventures, and sailing can bring some memorable experiences for the traveler. Here we bring the list of exciting yacht destinations in Europe, and if you are lover water bodies, this would be a great aid!
Yacht chartering includes renting or chartering a yacht for leisure and entertainment purpose. Some of the leading players of the Europen yacht charter market are Cosmos Yachting, Aegean Yachting, Boatbookings, Yachtico, and Cosmos Luxury Yachts. The global yacht charter market is expected to earn $15 billion by the end of 2025.
Greece: To discover hidden islands,  fishing villages, lonely bays, and remote islands, Greece is the best place for yachts.  One can either choose to sail in the midst of urbane coastal areas or the off-the-beaten-track destinations to get an enthralling experience. Popular Greek charter bases are Athens, Rhodes, Corfu, Lefkada, Mykonos and so on.
Croatia: The mild climate, fresh air, clear blue waters, and advanced infrastructure makes Croatia top the list of yacht destinations not just in Europe but in the world. A variety of sailing boats are available namely catamarans, motorboats, and gullets. For the lover of solitude, one can escape conveniently into the waters of North Adriatic, or South Adriatic or even the Dalmatian coast here. For the lover of adventure, activities like rafting, big game fishing, cycling and scuba diving are also present.
The Italian Riviera: This country is not just a haven for history and food lover but also yacht enthusiast. The exotic wine, exquisite food, and incredible coastline have all the makings of a memorable sailing trip. Close to the birthplace of Pizza, Naples, the Amalfi coast stretches from picturesque seaside towns with lovely beaches with plenty of anchorages. This coast also boasts of excellent nightlife, prettiest villages which look like a poster card and busy yet cute little towns.
The French Riviera, France ( Cote d'Azur): To get enthralled by old times magic, yacht through French Riviera, or cote d'Azur in style. The seductive landscapes which attracted greatest masters like Renoir, Chagall, Cezanne and Picasso will attract you into bright sunshine, crystal clear waters and glam cities such as Saint Raphael, Saint Tropez Cannes and Nice. The sail here is extremely leisure and one can also explore the national parks or go near the Hyeres Islands where time comes to a magical standstill.
Sicily, Italy: The area between northern Sicily to Calabria is highly recommended for sailing charters while the main charters are Palermo, Cefalu, Santa Agata, Milazzo, and Porto Rosa. The Aeolian Islands lying near the northwest coast of Sicily is a must-visit yacht place. Interestingly, the volcano origin-destination boasts of black sandy beaches and a thrill of some still active volcanic spots!
Turkey: If you are an old-school person at heart, Turkey can give you the best nostalgic experience for yachting. Try a Turkish gullet which is a traditional wooden boat with two or three masts and hail from the southwestern region of this country. The main charter bases in Turkey are Bodrum and Marmaris. Interestingly, Turkish gullet rentals can also be found in Croatia and Greece.
Corsica, France: This is one of the best-kept secrets of the Western Mediterranean. Its semi-isolation has kept it free of frenzied tourist hordes and left it with a touch of timelessness. There are small fishing villages and unspoiled harbors interspersed along the dramatic western coastline.

Monaco
Balearics, Spain: The four main islands of Ibiza, Formentera, Mallorca, and Menorca have long been popular tourist destinations with shore-side holidaymakers, but with many other islands and islets to explore, plus pristine anchorages and rich sailing grounds accessible year-round, it's worth setting aside a few weeks to explore the lesser-trodden path on board.
The Azores, Portugal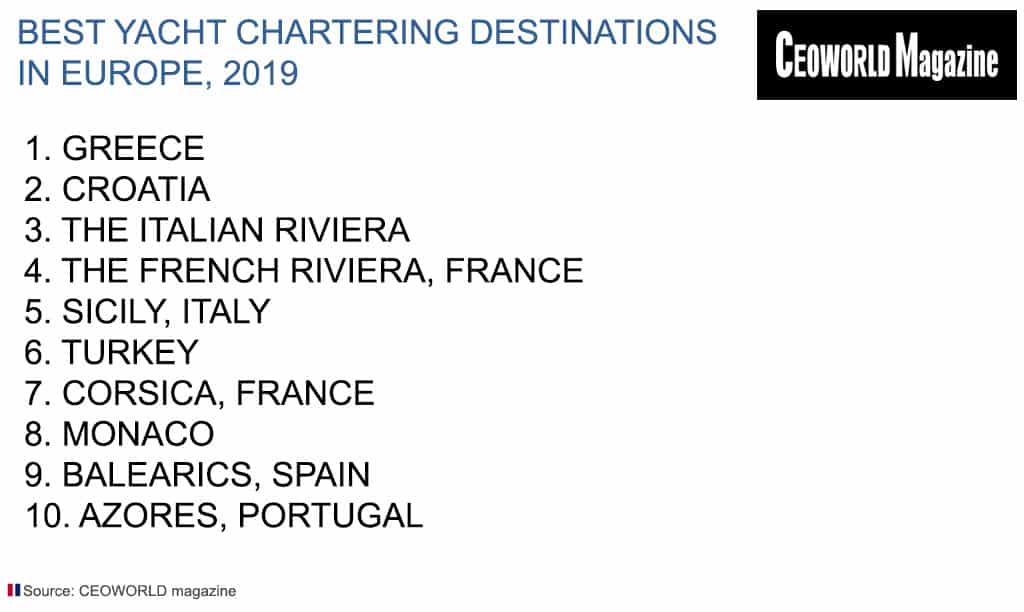 ---
Have you read?
# Top 500 Best Universities In The World For 2019.
# World's Top 50 Universities For Medicine And Health Science Degrees, 2019.
# World's Top 50 Universities For Life Science Degrees, 2019.
# World's Top 50 Universities For Physical Science Degrees, 2019.
# World's Top 50 Universities For Psychology Degrees, 2019.
---
Add CEOWORLD magazine to your Google News feed.
---
Follow CEOWORLD magazine headlines on:
Google News
,
LinkedIn
,
Twitter
, and
Facebook
.
---
Thank you for supporting our journalism. Subscribe here.
---
For media queries, please contact:
info@ceoworld.biz
---