Why Some People Love Trump, While Others Despise Him
Ever wonder how two people who are evaluating the exact same person or situation can reach such wildly different conclusions?  This is not only imperative for a CEO to understand, but also essential for all of us when it comes to making sense of today's complex world.
Also, when it comes to deciphering the input a CEO receives from multiple sources in the context of having to make a high stakes decision, it's difficult to imagine anything more important.
One useful model introduced by Chris Argyris (1970) and made popular in Peter Senge's book, The Fifth Discipline (1994) is The Ladder of Inference.  It's been around for a while, but in this day and age, it's well worth revisiting.
The Ladder of Inference
Start at the bottom of the ladder and start climbing.  Notice that the more we climb the ladder and adopt beliefs (that over time become intensified), the greater the likelihood we will tend to select data that aligns with our ladder-influenced world view.
We all climb The Ladder of Inference in one way or another all the time.  The key is to recognize it and understand it in a way that helps us ask the right questions (of ourselves and others) that will get us to the heart of why people see certain situations or individuals as they do.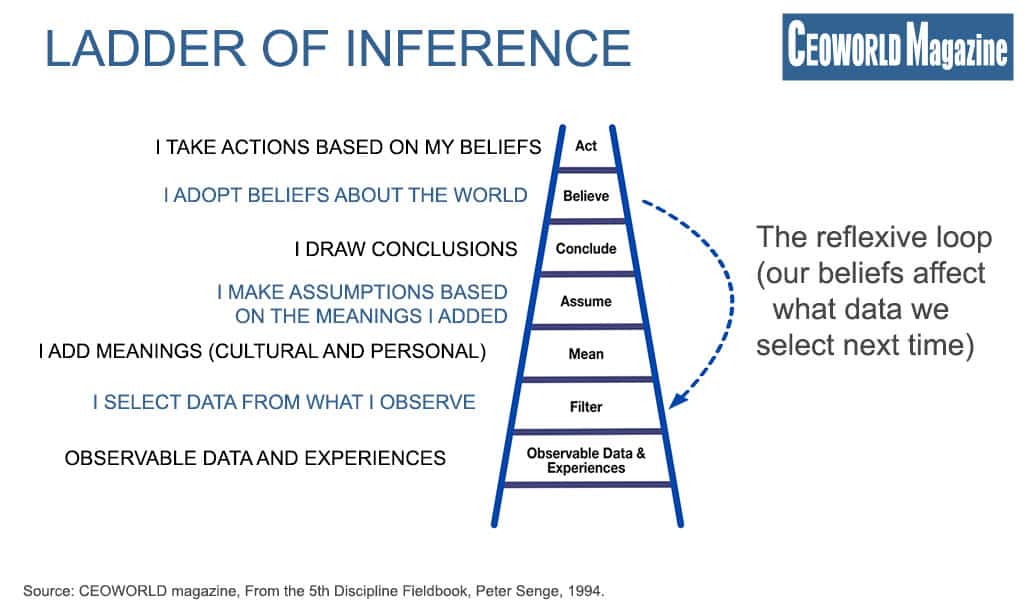 Painting the Picture
In an effort to illustrate the cyclical nature of The Ladder of Inference and its impact on the way we see the world, I'll offer an example. Let's pick a politician and climb the ladder together. So as not to engage in the current political scene too directly, imagine how voters may have perceived Barack Obama during his first campaign for president.
Observe all the data: young, contemplative, Harvard educated, African-American, former constitutional law professor, excellent speaker, community organizer, etc. (Assume the list continues with hundreds of other data points across a wide spectrum).
Select data: Of course, different people will select entirely different sets of data based on the beliefs they've adopted about what's important (which you'll find further up the ladder – hence the cycle). But even if two people select the same data, they can reach very different conclusions. For this exercise, let's select three data points: young, contemplative, and Harvard educated.
Add meaning: 
Here's how one might interpret young, contemplative, and Harvard educated based on their beliefs:
Person A: inexperienced, indecisive, arrogant
Person B: energetic, thoughtful, intelligent
(Persons C-Z could look at the same three data points and likely add their own meanings).
Make assumptions: 
Person A: Obama's inexperience will hurt him with regard to getting anything done in Washington; his indecisiveness will be considered personal weakness, and there's arguably no worse combination than someone who is arrogant and inexperienced.
Person B: Obama's lack of Washington experience may be his biggest strength; his thoughtful approach will make both sides of the aisle feel they are being heard and included, and his intelligence is essential to leading in this complex world.
Draw conclusions: 
Person A: Obama will be a terrible president.
Person B: Obama is just what our country needs right now.
Adopt beliefs: 
Person A: A young, contemplative Harvard educated guy, may make a great professor, but could never be an effective commander-in-chief.
Person B: A young, contemplative Harvard educated guy offers the energy and qualities necessary to lead our nation.
Act: 
Person A votes against Obama (even campaigns for his opponent).
Person B votes for Obama (sends a donation or volunteers on his campaign).
The Holy Grail here is to examine beliefs (of others as well as your own), explore where they come from, and consider the role they play in shaping how people see the world (the data we select) and to understand how others can look at the same person or situation and reach very different conclusions.  That said, if you're wondering how it is that some people love Donald Trump while others despise him, The Ladder of Inference paints the picture for you.
How Can The Ladder of Inference Help Leaders Today?
The Ladder of Inference helps leaders do what Stephen Covey asked of us in The 7 Habits of Highly Effective People: (5) "Seek first to understand, then to be understood."  We can be so quick to jump to our own conclusions about how someone sees a person or situation, that we all too often fail to ask why.  And when we don't know why, rather than ask, we will make something up, based purely on our assumptions and beliefs. Humans can't stand information gaps.  We just can't help ourselves.
Rather than attack one's conclusions, dig deeper.  Only by climbing the ladder with another person can you find out where your perspectives diverge and why. You'll either learn something about them and/or discover something about yourself that you didn't know.  Find out what data points you never pay attention to and ask yourself why. When you add meaning to those data points, pause for a moment to question your conclusions. What does all this say about your belief system, the credibility you give to certain information and input, and how they influence your decision making?
Part of being a great leader involves making the best decisions you can, given the information and input available to you at the time.  People see different things through entirely different lenses. Next time you come across someone with whom you can have a civil conversation, ask what they think about President Trump.  If their conclusion is different from yours, rather than judge, climb the ladder with them. The more you practice, the better leader/decision maker, you'll become.
---
Written by Leo Bottary.
Have you read?
# Top B-Schools In Australia Which Promotes Gender Equality, 2019.
# 8 Reasons To Travel To South-East Asia.
# 9 Ways To Live The Life Of A Legend In Abu Dhabi.
# Top US B-Schools For Female Students To Pursue MBA, 2019.
# Fashion Tips For Hotel Management College Students.
---
Add CEOWORLD magazine to your Google News feed.
---
Follow CEOWORLD magazine headlines on:
Google News
,
LinkedIn
,
Twitter
, and
Facebook
.
---
Thank you for supporting our journalism. Subscribe here.
---
For media queries, please contact:
info@ceoworld.biz
---