5 Habits To Avoid During Business Travel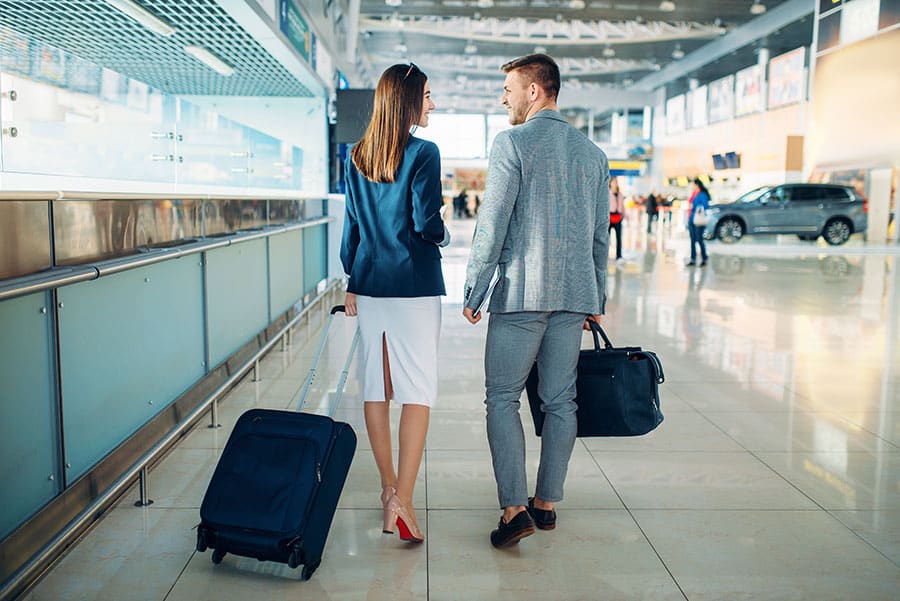 To some people, business travel is inevitable and others, business travel is life. It doesn't really matter which category you belong to, and more often than not the boundaries between different reasons to travel are often blurry and intertwining.
Having said that, it is safe to assume that for anyone going through the unending process of fulfilling one's dreams, travel is bound to be a notable factor changing the lifestyle, outlook and the general lens through which the world is perceived.
Traveling with the right mindset and habits is therefore of extremely prime importance, and this article outlines the major habits to avoid (and their substitutes) to ensure that your trip, whether business or leisure, does not turn out to be a salty experience.
Packing too much: You may have seen the movie Up in the Air, where an always charismatic Geroge Clooney goes around the globe firing people from corporate companies. He mentions in one of his seminars the importance of traveling light, about leaving your emotions, feelings and unnecessary baggage behind for a more novel experience. We cannot stress this enough. Travelling light is extremely important both for yourself and where you are going.

When packing you may feel the need to keep adding more and more to your bag, but more often than not its your comfort zone that doesn't want you to be left out without something. But it's a small world. Pack only what you absolutely need and extra provisions can always be found.

Not keeping hydrated: This is a very overlooked but extremely important habit that you should have as part of your daily routine, and more so when you are traveling. Being hydrated ensures that various parts of your body have the nutrients they need and deserve, and when you are traveling, this case is compounded even more.

No matter how luxurious or well off your trip may be, your body is always out of it's comfort zone and that makes it burn more calories. Having water at regular intervals ensures that you are taking care of it while you are on the move. Good hydration negates the effect of different varieties of food having a negative impact on your body.

Exchanging currency at the airport: Currency exchange centers at the airport serve one unanimous purpose-to help you exchange your currency in an emergency situation. Why is it an emergency? Because you forgot to exchange the money earlier and because of that, the currency exchange at the airport makes that to it's advantage and does it at a higher conversion rate than is the norm.

At the airport you have no choice but to accept that higher rate, and the simple remedy is to ensure that you get your money changed at a center closer to where you live so that you get the optimum rate. Its a good habit, if somewhat inconvenient habit to have but it saves you a lot of money when you're on the run.

Over planning your itinerary: This happens more often in leisure trips than in business ones, but it is a frequent problem for sure. Yes, planning a trip is a good thing but only when the planning is done right keeping in mind the timeframe you have. More often than not we end up plotting a lot more waypoints in that leisure trip than we have time for, and the end result is that we end up giving no quality time to any one place and it all gets muddled up in the end because the deadline was too tight.

You come back from the trip feeling more disappointment than joy. The idea then, is to do your homework right, use the internet to see which waypoint deserves what amount of time, and plan accordingly.

Always eating in international restaurant chains: This one may seem like a fail-safe option but truth be told, you are better off exploring the local cuisine that the country or the region has to offer. Chances of you discovering a fantastic new taste are quite high and more often than not, the food will be more hygienic from what you'll get from the international chains.

We're not saying that you should go berserk on the street food prepared right in front of you, but there would be plenty of local chains and options that you can feast on. Just remember to have your medicines for an upset stomach handy. After all, these are experiments, but then again, you can get an upset stomach anywhere you eat.
---
Have you read?
# The 100 Most Influential People In History.
# Top CEOs And Business Leaders On Twitter: You Should Be Following.
# Must Read Books Recommended By Billionaires.
# The World's Top 20 Most Charitable Billionaires.
# Richest Families In The World, 2018.
---
Add CEOWORLD magazine to your Google News feed.
---
Follow CEOWORLD magazine headlines on:
Google News
,
LinkedIn
,
Twitter
, and
Facebook
.
---
Thank you for supporting our journalism. Subscribe here.
---
For media queries, please contact:
info@ceoworld.biz
---