Ten Best Things to be Done During Your Stay in Morocco
Exotic spices, hammam baths, pristine beaches, and mystical experiences- Morocco is full of them. The beautiful land has a rich history and also makes sure a magical experience is in store for every traveler. This North african country is quite famous worldwide for turquoise lamps. Argan oil and fantastic cuisine as well.
The country has a brilliant character of its own and the people rare quite lovable to interact as well. Here are the ten mesmerizing things to be done during the stay in Morocco:
Marrakech: No trip to Morocco can be complete without visiting the capital city Marrakech. Being a home of some of the liveliest squares in the world, Marrakech is bustling always with shopping, busy streets and magical monuments. For all the nightlife lovers, Marrakech also offers rooftop bars where one can grab a drink or catch up with a refreshing cup of Moroccan mint tea.
Fez: Though this place is less touristy compared to the capital city, it is still worth a visit. Being quite famous for spice markets and traditionally prepared couscous dish, Fez is foodie heaven. It is also famous for tanneries and the warren-like medina at the heart of old town.
Ait Benhaddou:  The ancient desert fortress is tough to reach but quite worth it.UNESCO declared it as the world heritage site in the year 1987, and the mountains of high Atlas during the journey are must watch and give great viewpoints. Dwell into the beauty of Arabian Nights and get drenched in mysticism.
Todgha Gorge:  For lot of national parks, and natural highlights- visit this place which is near the edge of Sahara Desert. Some of the greatest cliffs here are 150 meters above the viewing level and catch up with a riverside – all in the same landscape. Visit the gorge on a day trip at Quarzazate which would give once in a lifetime experience.
Casablanca: The beautiful port city has everything a Mediterranean lover can think of. The Hassan Mosque is a must visit the monument in this place. It has the tallest minaret which stands at 210 meters.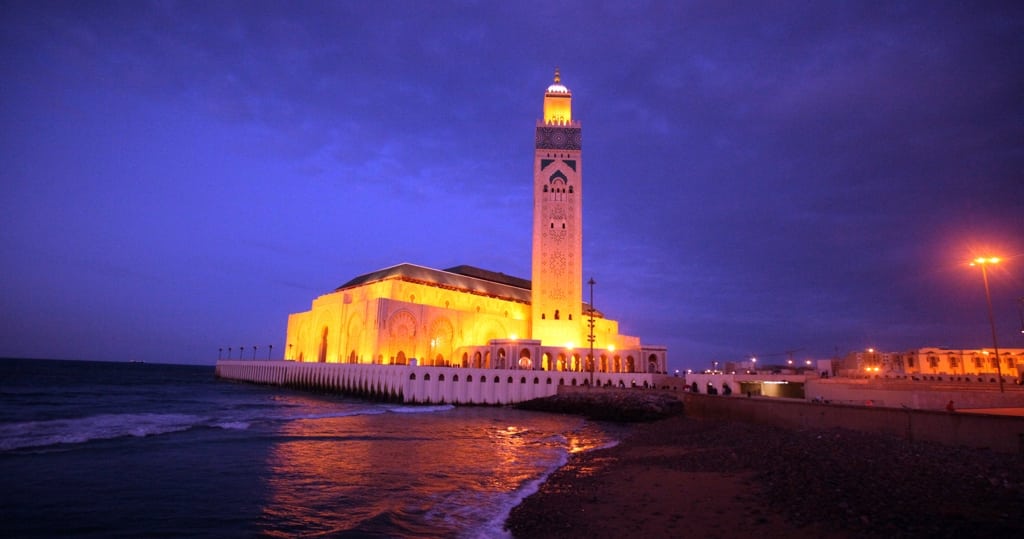 Meknes: The ancient town is quite imperial in nature and located quite close to Fez. One can club visiting these two cities at the same time to save efforts. This area is best for shopping with fewer inhabitants and landmarks like Mausoleum of Moulay Ismail along with a peek at ancient stables are a must visit.
Volubilis:  Want to dwell into a bit of Roman history in Morocco? Dating back to 3rd century BC, this Is unsurprisingly UNESCO's world heritage site. Take a walk around ruins to get to the road in history.
High Atlas Trek:  The Toubkal National Park is a must visit in Morocco  and the charming Berber village of Imlil to get a feel of Moroccan culture and heritage.
Sahara: A visit to North Africa would be incomplete without visiting the greatest deserts of the world- the massive Sahara.  Quarzazate is the best place to keep as the base to visit the magical sands of the Sahara desert.
Moulay Idriss Zerhoun:  A pretty hilltop town which had Moulay Idriss arrive here long back in 780 AD who brought the Shiism dynasty. Get the best panoramic views of Morocco during the stay in this majestic town with a dash of history.
---
Have you read?
# The World's Best Performing Companies 2019.
# World's Most Luxurious Hotels, 2019.
# Best Music Schools In The World For 2019.
# Best Fashion Schools In The World For 2019.
---
Add CEOWORLD magazine to your Google News feed.
---
Follow CEOWORLD magazine headlines on:
Google News
,
LinkedIn
,
Twitter
, and
Facebook
.
---
Thank you for supporting our journalism. Subscribe here.
---
For media queries, please contact:
info@ceoworld.biz
---