Cool Packing Hacks To Save Some Space For Business Traveller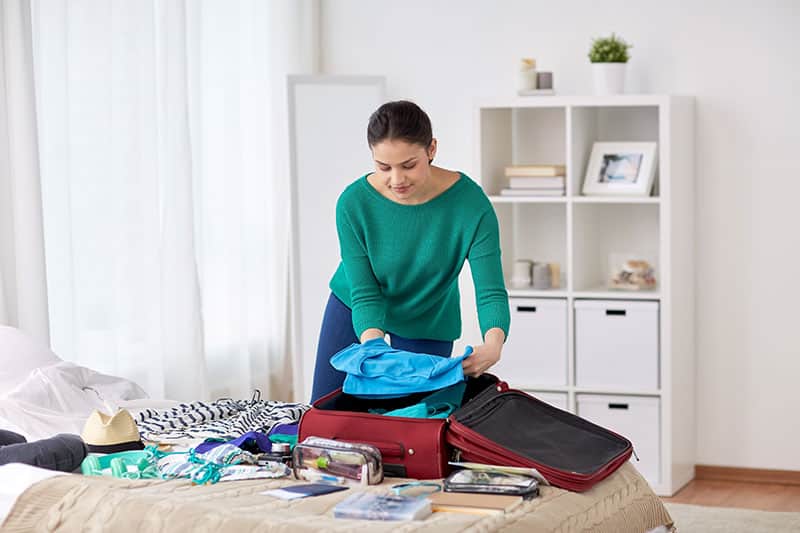 Everyone gets excited when thinking of vacations. What brings more excitement within is clothes and cool accessories to pack along with but the same worries us as well. We want so much to carry that we fall short of space and end up with more luggage. To avoid such a scenario, we have come up with a comprehensive list of space-saving tips for packing.
Here it goes – Pack like a boss:
Choose Clothes Wisely:
You shall know what to pack and what not to, which basically depends upon the activities on your itinerary. So pack accordingly. Pick those jeans/capris which you can wear with two or more tops. One more tip to remember is not to leave packing for the last minute (that ends up piling more clothes).
Pick Up The Right Suitcase:
Soft-sided suitcases are more durable, carry more pockets and possess more expansion opportunities as compared to the other ones. But if you carry fragile items, you can opt for light-weight suitcases with a hard exterior. Harder ones will end you up with an extra weight of 3-4 kg.
Rolling and Folding:
In order to save space, just roll your casual wears, place them in vacuum compression bags, and line up in your suitcase. This will not only save space but also prevent your rolled clothes from wrinkles. You can fold your stiff clothes and place them above the rolled ones. This way, you'll definitely pack more stuff in the same space.
Time To Use Your Dry-Cleaning Bags:
This is a great hack to protect those clothes of yours which are prone to wrinkles. Just place your clothes inside your dry-cleaning bags and fold normally. I bet you'll get your crease-free clothes as they were.
Space- Use The Maximum Out Of It:
What bothers the most about packing is shoes since their shape covers a lot of space. So the witty thing is to stuff the empty portion of your shoes with your kid's shoes (if you have any) or socks or several small items. Then place your shoes by the sole side in a shower cap that avoids your clothes getting dirty.
Don't Forget Your Sunglass Case:
No, not for keeping your sunglass but for housing your other important stuff, as in, chargers, cords, earbuds, earphones, bobby pins or anything you feel important. In this way, you'll find all your essentials at one place and hence, helps in saving space and eventually time in finding, if you lose any.
Wear Your Bulkiest Items:
It's wise to wear your bulkiest items, say, your jackets, shoes, etc. so that it doesn't end up bulking your luggage and lightening your pocket at the airport.
Press and Seal:
You can use your food wraps and/or those 'Press and Seal' for your jewelry so that you can find it at one place and don't misplace any of your earrings. The next thing you can do is to place this packet between two flat layers to keep your stuff intact.
Socks Are Of Great Help:
Wherever you plan to go, you need to have a few pair of socks, so why not to utilize your articles efficiently? If you need to carry any breakable item, like perfume or any glass bottle, then you can insert it inside your socks. This will not only save space but also provide padded support to your glass items. Isn't it a witty idea to carry your fragile items safely?
Carry Your Liquid Safely:
One definitely requires some liquid essentials like hair oil, body lotion, shampoo, conditioner, etc. on a trip to avoid dry skin and frizzy hair. Though the hotels do provide you the required stuff you just can't take the risk, isn't it? But there is an equivalent risk of getting your clothes spoiled by these 'dangers'. Well, don't worry, I have a trick. You just need a few straws. All you have to do is seal pack its one of the ends with lighter or gas. Fill it with your oil, shampoo, lotion and conditioner with the quantity of one-time use. Now again seal it. So, instead of carrying your whole bottle, you can carry as many straws as you require as per the number of days you are tripping.
So, I hope these hacks turn out to be helpful for you and ease your packing as well as traveling.
Good Luck! ☺
---
Have you read?
# The 100 Most Influential People In History.
# Top CEOs And Business Leaders On Twitter: You Should Be Following.
# Must Read Books Recommended By Billionaires.
# The World's Top 20 Most Charitable Billionaires.
# Richest Families In The World, 2018.
---
Add CEOWORLD magazine to your Google News feed.
---
Follow CEOWORLD magazine headlines on:
Google News
,
LinkedIn
,
Twitter
, and
Facebook
.
---
Thank you for supporting our journalism. Subscribe here.
---
For media queries, please contact:
info@ceoworld.biz
---