Best Business Schools In The World For 2019
Best Business Schools In The World For 2019
French business school Insead takes the prestigious title of the world's business school for 2019, that's according to the CEOWORLD magazine. The MIT Sloan School of Management earned itself a respectable second place, with Harvard Business School (HBS) is ranked third.
The 2019 rankings placed Spain's IESE business school in fourth ahead of Wharton School – the University of PennsylvaniaŽ into fifth; while Columbia Business School ranked sixth, and Stanford Graduate School of Business seventh.
Overall, among the top 10 business schools, the eighth, ninth, and tenth positions are held by London Business School, ESADE Business School, and Said Business School (SBS) at the University of Oxford. Alliance Manchester Business School of the University of Manchester took the No. 11 spot, followed by HKUST Business School (No.12) and Haas School of Business at the University of California Berkeley (No.13).
Meanwhile, IMD business school ranked No. 14 in the CEOWORLD magazine's ranking of the best business schools in the world for 2019. HEC Paris came in fifteenth place, followed by NYU Stern School of Business (sixteenth), Kellogg School of Management (seventeenth), Booth School of Business (eighteenth), and Yale School of Management, ranked nineteenth.
Out of 104 best business schools in the world for 2019, Cambridge Judge Business School ranked No. 20th. A number of parameters are used to compile the ranking, which is based on the satisfaction levels of individual students, industry professionals, and corporate recruiters.
So, if you are thinking about boosting your prospects with a postgraduate-level degree in business, we have got just the thing for you; here are 104 outstanding international business schools that can help advance your career…
Best Business Schools In The World For 2019:
Methodology: CEOWORLD magazine's best business schools in the world for 2019 is based on seven major indicators of quality, overall Score (100%) is the sum of:
1) Academic reputation
2) Admission Eligibility
3) Job placement rate
4) Recruiter feedback
5) Specialization
6) Global reputation and influence
7) Annual tuition and fees
Data for these indicators were collected from publicly available sources, business institute's website, and our research. It measures the quality of education, job placements of students, and the recruiters' feedback, without relying on university data submissions. Students, industry professionals, and recruiters were asked to rate business schools on a scale of 1 "marginal" to 1000 "outstanding" or "don't know."
*However, this is by no means a comprehensive list, while the 104 schools above are the "CEOWORLD magazine's best business schools in the world for 2019," there may be many other outstanding schools that offer excellent MBA programs.
* This rankings should not be viewed as the most important aspect when choosing a business school, and are simply one element to consider.
* Some of the institutions featured in this article are commercial partners of the CEOWORLD magazine.
* The top-ranked school receives 100 points.
* The rankings are the result of a rigorous analytical exercise, incorporating multiple data sources, without relying on university data submissions.
* Detailed survey data and information collected directly from 90,000 individuals, across 7 data points.
* Surveys completed by 40,000 students, 48,000 industry professionals, and 2,000 recruiters around the world.
*The overall score is numerical scores given to the schools based on students, business executives, and recruiter feedback — measuring the quality of the school. Overall scores are out of 1,000.
The margin of sampling error for the full sample of 90,000 respondents is plus or minus 1.2 percentage points. In addition to sampling error, one should bear in mind that as in all survey research, there are possible sources of error—such as coverage, nonresponse and measurement error——that could affect the results.
Download creative – CEOWORLD magazine Badge: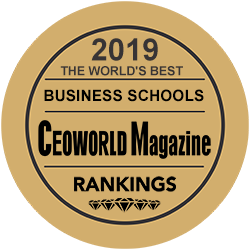 For highly ranked "Business Schools," display a " CEOWORLD magazine ranked" badge on your website, advertisements or promotional materials. Check the Best Business Schools In The World For 2019 list above if your institution is eligible. It's out now and free to download.
---