Top 5 Fashion Trends Japan Cannot Get Enough Of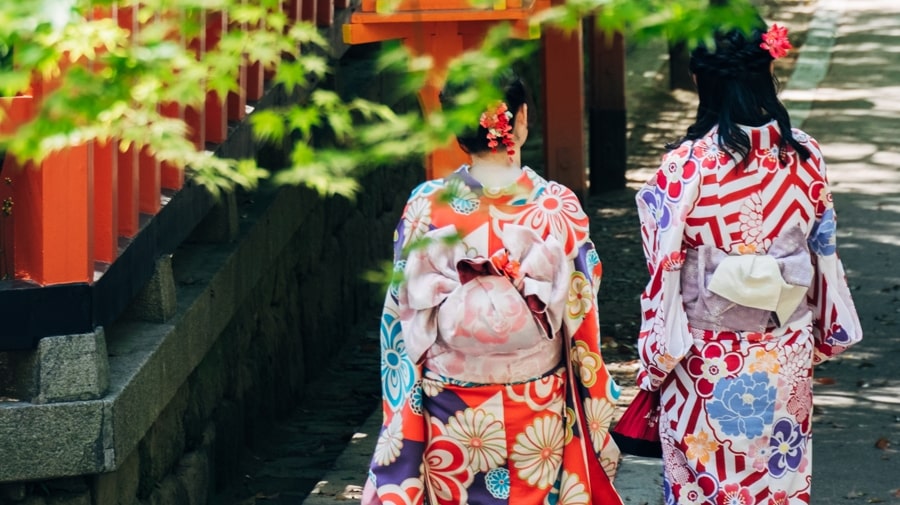 Fashion Trends In Japan
If it comes to experimenting with fashion, then Japan is usually on the top. The country has developed a global fanbase for itself—whether it is about anime or Shinkansen. However, the contribution of Japan to global fashion has been tremendous, and you can experience it while you are here in Japan.
You might think that you have not encountered or read about Japanese fashion, but there is a huge possibility that you have seen it somewhere or sometime in your life. In case you have not, I have a list of 5 trends which are quite fashionable in the country and which you should know.
So, without further ado, let us dive deep into the unique world of Nihon.
Ruffles
Ruffles are catching up almost everywhere but in Japan, they have a phenomenal fan-following. You may wonder what is so new about ruffles. Well, in Japan, it is not just ruffles which make the difference, but the volume of ruffles in outfits.
Japanese fashion is no longer restricted to tops with a fair amount of ruffles along the neck or arms. It has gone from head to toe, and in huge volumes. Whether it is a pair of pants, skirts or blouses, there can be frills anywhere.
The Anime Trend
Yeah, if you do not know anime yet, you do know enough. The Japanese Animation industry is huge; if that does not ring a bell, remember Pokemon or Your Name?
The impact of anime is massive in Japanese culture, and you would feel the same on the streets. It is common to see people, especially young men and women dying their hair in varying colours, wearing short skirts or loose school uniforms, carrying kawaii cute chains hanging from their cell phones, and what not.
If you are an anime fan, you can live your character here—and all you need to do is to get accessories (which you can very easily find) and be who you want to be!
The School Girl Fashion
When the iconic Sailor Moon anime hit the screen, nobody could imagine the impact it would have and continue to have on Japanese street fashion. The trend has been reinforced by J-pop and movie industry, particularly those targeting young girls.
The schoolgirl fashion, locally known as kogal, does not involve your usual school uniforms. In a typical kogal, there is a short plaid skirt, a loose pair of socks, a long but loose sweater and ribbons. Also, you do not need to be a school girl to pull off this look. Fold up your skirt and get some oversized blouses and sweaters, and you are good to go!
Visual Kei
In case you have been listening to J-pop for a while, you will probably know Visual Kei. If you have not heard the phrase, you will recognize the fashion once you see it.
Visual Kei is a fashion trend which is inspired by the rock and punk movement which swept away Japan in the early 21st century. It involves sharp and colourful looks, characterised by spiky hair and ornate outfits. You can term it 'bold' or "too loud", but whatever you choose to call it, it is quite popular in Japan.
Just in case you want to listen to some visual kei music, you can check out the Gazette and Versailles. They are pretty good at what they do and are notable for their unique fashion sense.
Lolita
Lolita is part of a really popular fashion subculture which is inspired by the fashion during Edwardian and Victorian Age. It is a broad term, which comprises three styles: gothic, sweet and classic; though there may be other styles within Lolita.
Lolita was originally a reaction to the close and parochial Japanese society, which emphasized on the need to adhere to society-prescribed gender roles. However, today, it is largely understood as an entertaining fashion trend and a mode of infusing confidence in public.
A side note: Quite contrary to popular belief, Lolita fashion has no connection whatsoever with the famous Lolita written by Vladimir Nabokov whose titular character was subject to underage sexuality. In Japan, however, Lolita is associated with the kawaii culture.
---
Have you read?
# Revealed: Top Rated Visitor Attractions In Every Country In The World.
# The World's Safest Cities Ranking, 2018.
# The World's Most Powerful Militaries In 2018.
# The World's Most (And Least) Expensive Cities For Taxis, 2018.
Track Latest News Live on CEOWORLD magazine and get news updates from the United States and around the world. The views expressed are those of the author and are not necessarily those of the CEOWORLD magazine.
Follow CEOWORLD magazine headlines on:
Google News
,
LinkedIn
,
Twitter
, and
Facebook
.
Thank you for supporting our journalism. Subscribe here.
For media queries, please contact:
info@ceoworld.biz