Top 5 Safety Tips While Trekking
Trekking Tips
Trekking has steadily become one of the most popular sport among the youth. While it can prove to be emotionally rewarding to climb a mountain, fatigue comes along with it! Especially in summer season, dehydration is common during a trek. Although such petite problems are easy to overcome, much more intensely dangerous situations can come as surprise to you. Encountering deadly wild animals, natural calamities, et cetera is nothing new to the sport of trekking!
Because of the possibility of you going through such troubles, you need to follow a few safety tips while trekking, and here we have curated top 5 of them for you!
Tag a Friend Along
Trekking alone, no matter how fascinating it may seem to you, is dangerous. There is no network connectivity and you may as well get lost. Adverse weather conditions and wildlife can prove to be fatal without someone having your back. Just in case you don't follow this tip despite of us highly recommending it, make sure to make a shelter for yourself in order to keep yourself safe from wild animals. Keep yourself dry and whistle in case you need help, so that someone can hear you.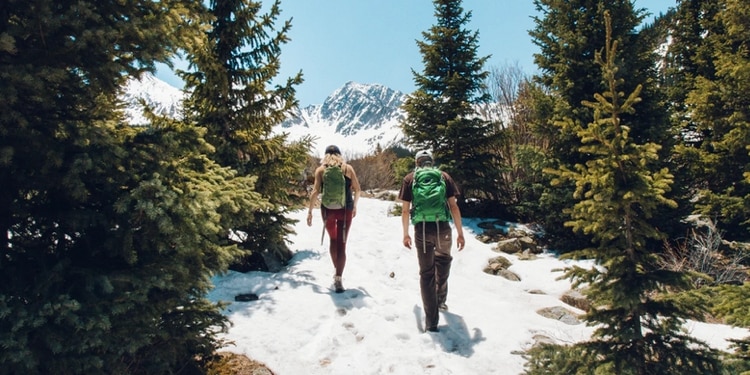 Don't Forget Trekking Essentials
Before you depart for your trek, prepare a checklist and make sure you keep all of the items handy. Even something you never thought of carrying, like a whistle, can save your life. So, don't take your safety and life for granted and make sure to include in your checklist things like eatables, emergency kit, rain coat, trekking boots, et cetera. A pocket-torch is recommended as it gets really dark on the mountains and you may lose your trail without enough light. Keep a matchbox with you, you may need to light a fire to stay warm and to keep the wildlife away. One thing you cannot afford to forget is water. Carry with yourself as much water as possible.
---
Also read: Here are top 10 best treks in the world.
---
Ignore the Trek You Cannot Match the Difficulty Of
It is safe to say that the journey you are hoping to go on has been already taken by someone else, which is why almost every trail has been marked with a difficulty level. While deciding the trek you are about to set off on, take in consideration your, as well as your companions' fitness level. Setting off on a trail which doesn't suit your fitness level is often a bad decision and can prove to be fatal.
Learn Everything About Campfires
Making campfires, maintaining it, and putting it out are all equally important. You should learn all about it before heading out on an expedition because campfire can prove to be a lifesaver in an extremely cold weather condition. On the other hand, if not taken care of, it can cause forest fires and burns. Therefore, it is extremely important to take care of the campfire and put your safety first. Never leave the fire unattended and do not build a fire under low trees. The fire should be surrounded by rocks to keep it contained. In order to put out the fire, pour water to it and make sure it has been put out completely.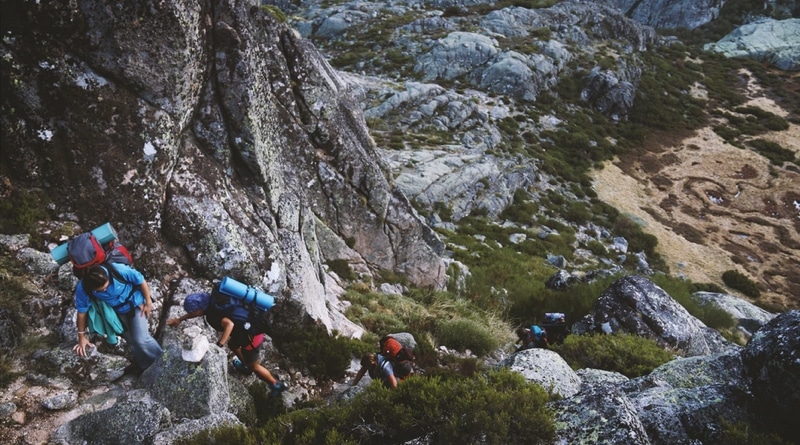 Respect the Weather Conditions
Always keep an eye on the weather condition. Find shelter as soon as things start to get messy. Getting caught in a storm in the last thing you want on your trek. Respect the weather conditions and don't try to fight back. Trek only when the weather is clear and suitable. Remember not to rely on the forecasts, as nature is impossible to predict.
Trekking is undoubtedly one of the best sport there is! Although, without following the aforementioned safety tips, you may find trouble dealing with the nature. In addition of this, prefer woolen socks over cotton ones and watch the slippery areas. Always wear appropriate trekking shoes with spikes. Stay aware of the poisonous plants and wild animals and do not ignore the warning signs on your trail. Do make sure you stretch before you head out on your journey as it can prevent cramps.
We hope you got enough insights about the safety tips while trekking.
Unleash the backpacker in your and set out on a trail, exploring nature at its best!
---
Have you read?
# World's Best Countries To Invest In Or Do Business.
# Most Expensive Countries In The World To Live In, 2019.
# Global Passport Ranking, 2019.
# The World's Safest Cities Ranking.
Track Latest News Live on CEOWORLD magazine and get news updates from the United States and around the world. The views expressed are those of the author and are not necessarily those of the CEOWORLD magazine.
Follow CEOWORLD magazine headlines on:
Google News
,
LinkedIn
,
Twitter
, and
Facebook
.
Thank you for supporting our journalism. Subscribe here.
For media queries, please contact:
info@ceoworld.biz