Meet The Young And Influential Head Honcho Of Youtube Gaming
If somebody were to do the #10YearChallenge of the gaming industry, the results would be quite extraordinary! The video game industry has grown tremendously in the last 10 years alone. Today, there are more than 250 million active gamers in the United States and the average age of these gamers is 35.
The industry generates over a billion dollars every year. With technology playing a very important role in the development of video games, the future of it is now. And right at the helm of it is Ryan Wyatt, head of gaming and VR at YouTube, the biggest gaming platform in the world.
Born in 1986, in Canton, Ohio, Ryan "Fwiz" Wyatt would soon express a passion for sports and games at a young age. During the childhood spent being raised in the neighboring town of Hudson, Ryan actively participated in various forms of sports and spent hours playing video games. He attended the Ohio State University in Columbus, Ryan worked his way up from humble beginnings, and one of his more notable stints was as a content creator and live streamer of games like Call of Duty, PUBG and many more.
He has also provided commentary for over 7 years for various Call of Duty championships with Esports. In 2016, he was awarded 'New York Times Best Selling Author' for his book, 'OpTic Gaming: The Making of Esports Champions'. The book is based on the life and times of four Call of Duty champions who talk about their respective journeys and what it takes to be a champion.
In 2014 and at the young age of 28, Ryan Wyatt would earn the Google executive position of Head of YouTube Gaming – a feat that did not go unnoticed. In 2015 Ryan would feature in the Forbes 30 under 30. In September 2018, he was named as one of the 'Top 10 Stars Leading Google's Efforts to Build a Media and Entertainment Empire'.
He also serves as one of the board members at Gamers Outreach – a charitable organization that provides support to children receiving treatment in hospitals through technology, equipment and software. Ryan is one of the few people responsible for making competitive gaming a spectator sport. Today, there are over 200 million daily gamers on YouTube Gaming. In 2018, spectatorship crossed a whopping 50 billion hours!
At the rate Google has evolved over the years, we imagine that Ryan Wyatt has great things planned for YouTube Gaming as well. We can hardly wait to see what else is in store for the remarkably talented Wyatt!
Number of active video gamers worldwide from 2014 to 2021:
The data presents the number of active video gamers worldwide from 2014 to 2021. It was estimated that by the end of 2019 there will have been 2.47 billion gamers worldwide, and this number is expected to further grow to 2.72 billion by 2021.
2014: 1.81 billion
2015: 1.95 billion
2016: 2.08 billion
2017: 2.21 billion
2018: 2.34 billion
2019: 2.47 billion
2020: 2.60 billion
2021: 2.72 billion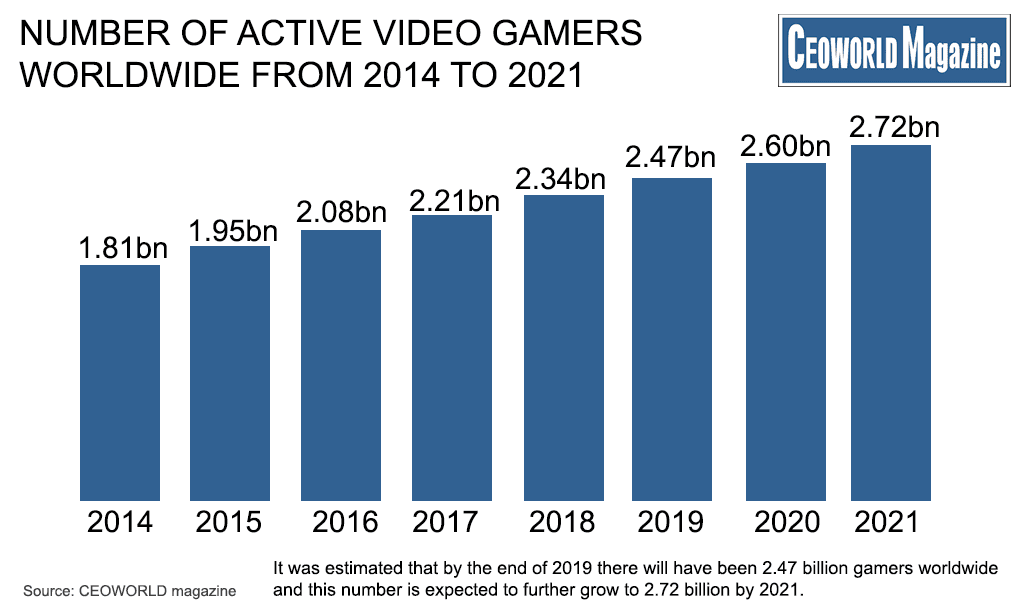 ---
Have you read?
Track Latest News Live on CEOWORLD magazine and get news updates from the United States and around the world. The views expressed are those of the author and are not necessarily those of the CEOWORLD magazine.
Follow CEOWORLD magazine headlines on:
Google News
,
LinkedIn
,
Twitter
, and
Facebook
.
Thank you for supporting our journalism. Subscribe here.
For media queries, please contact:
info@ceoworld.biz