Why And How To Implement A Personalized Marketing Experience For Your Visitors
Customer needs are changing – and so are their expectations. And over the last years, it has become clear that one of the best ways to succeed as a business, is to deliver an omni-channel marketing experience throughout all of your different channels and most importantly, to deliver a personalized customer experience whether they are on your website, on email, or even in real life.
In this blog post, I'm going to show you why and how to implement a personalized marketing experience for your visitors.
What is personalized marketing?
Personalized marketing, which is also known as one-to-one marketing is a marketing strategy which uses technology to deliver personalized content and online experiences to prospective customers.
One of the best examples of personalized marketing in action comes from one of the most popular websites in the world: Amazon. Every time you open an email from Amazon or check out their website, you are delivered personalized content.
You see products that are related to the products you've already bought; you might also see what else people bought after buying the same products as you.  Or suggestions of other products that would work so well with something else you previously bought from them.
Basically, whenever you come into contact with them – their website, their emails – Amazon gives you that personal touch. And the point of that? To make more sales and upsells, increase their conversion rates, and boost the loyalty of their customers.
And I think it's safe to say, this strategy has definitely worked for them.
Why personalized marketing and who is it for?
Personalized marketing works particularly great with retail businesses; although it certainly can be leveraged by other types of businesses as well – for example, the travel and hospitality industry, tech companies of all kinds, and so on –  retail and personalized marketing are a match made in heaven: you buy something and we'll have a better idea of the types of products you need and want and we'll help you find them sooner.
This is why personalized marketing works so well; it helps de-clutter the customers' online experience of content that isn't relevant to them, and rather focuses on the products that they are most likely to be interested in.
It not only makes for a better customer experience as they only see relevant content, whether it's on your website or through email, but it also helps improve your sales overall.
Amazon, for example, generated an additional 10% to 30% revenue (which considering how much they make overall, it was likely a fortune) just because of their buying recommendations that they send users via email, or that they show the user every time they buy something new or they're browsing different products.
Personalized marketing can have a huge impact on your business – especially on retail. It's a strategy that is here to stay, for the simple reason that it provides a much better customer experience and, admittedly, we're also getting used to technology knowing more about us than we now ourselves (you could probably build someone's profile just by looking at the ads they get on social media),
So, where do you get started with implementing a personalized marketing experience? As I mentioned earlier, it does require technology that is capable to deliver these personalized experiences. And while you might have used marketing automation tools in the past to deliver personalized emails, there's quite a bit more to this technology.
Here are some of the best tools to help you put together a personalized experience for all your visitors:
---
Pure360
Pure360 is a great solution for e-commerce businesses which allows you to create personalized experiences for all of your users and visitors, both for email and on your website. Each visitor to your website can have a unique customer journey that is personalized them: i.e. based on customer data and your different buyer personas.
As for email, you can create both personalized one-time emails and bigger marketing automation campaigns.
Back to how exactly it works though, Pure360 lets you track your visitors' behaviour – what content they prefer, what they buy, etc. – so that you can then use that data to generate personalized content in real time, automatically.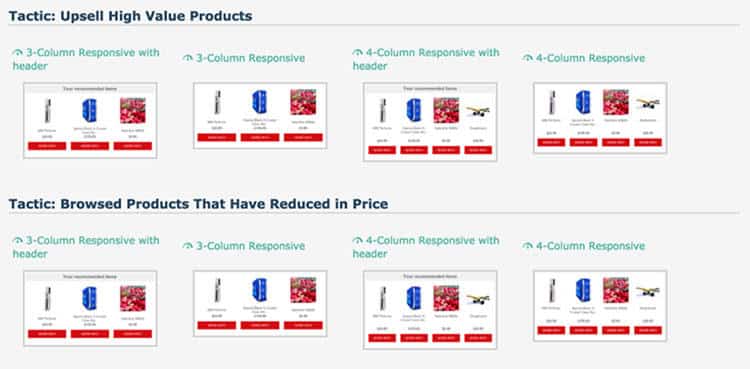 Once you have this data, you can then send them automatic triggered emails or build email workflows and send them a series of emails, automatically. With these emails, the tool will automatically pull personalized content, such as product recommendations based on past purchases, to help deliver a personalized experience every time.
Another cool thing about sending these personalized emails is that you can make sure the email is sent at the exact right time: i.e. the time when that person usually opens their emails every day (after all, we all have our habits).
Beyond email, you can also set up these personalized experiences for your website visitors too. And, just like with emails, you can make sure they only see content that is relevant to them: products similar to the ones they've bought before, other products that are similar to the one they searched for, and so on.
---
Evergage
If you have a website or app, Evergage can help you build personalized experiences in real time across your channels. The tool uses behavioural tracking to learn about your audience and your website visitors: what they're doing on your website, what products they seem to prefer, what content they're interested in, what devices they're using, and so on. Whether they are anonymous or not, you can gather relevant data on your visitors and use it to build personalized experiences.
Plus, when you also add in the machine learning capabilities, Evergage can also send you suggestions on how you can improve engagement and your sales across all of your digital channels.
In terms of the types of personalization that you can set up with this tool, you can recommend users different products based on their exact preferences, both in terms of brand and of overall pricing, send them triggered messages via your website/app or via their email (for example, if they stop browsing), and you can even adjust your website navigation and change categories around on your website or app in order to create a better experience for that specific visitor.
---
Personalized marketing might have been mostly accessible to bigger brands, but now businesses of all shapes and sizes can start implementing this technology and strategy.
Customers want – and in many cases, they now also expect – better browsing experiences when it comes to the businesses they buy from. They expect you to not lose their time when you send them emails with irrelevant content and products they have no interest in.
If, on the other hand, you implement personalized marketing, you can use every interaction you have with a customer or visitor to learn about them – or, rather, their online behaviour and product/content preferences, and not necessarily personal information about them – so that you can build better experiences for each of them, automatically.
All you need to do is set it up and the technology will do all of the actual personalizing for you.
Have you tried implementing a personalized marketing strategy? Why, or why not?
---
Have you read?
Track Latest News Live on CEOWORLD magazine and get news updates from the United States and around the world. The views expressed are those of the author and are not necessarily those of the CEOWORLD magazine.
Follow CEOWORLD magazine headlines on:
Google News
,
LinkedIn
,
Twitter
, and
Facebook
.
Thank you for supporting our journalism. Subscribe here.
For media queries, please contact:
info@ceoworld.biz