5 Ways To Make Your Travel Tech Start Up Take The World By Storm
Travel apps are the most popular way of planning a trip these days. With every information available at their fingertips, people are resorting to apps for their travel needs. Therefore, for a travel app to be:
Friendly User Interface
First and foremost, the user interface of your app can make or break it and thus, you need to spend as much thought, work and time as possible to make it user friendly. From colours that are easy on the eye to buttons that are easy to use and menus that are easy to find, go all the way to make sure that people of all ages can use it with ease. While at it, it is also essential that your app is light on the space as well because with all the apps and heavy photos, videos etc. people definitely do not like space consuming apps, however nice.
Customisable trip planner
Customisation and personalisation will take your app a long way to make it a personal favourite. The options to create a trip which is solely based on the needs of the customer helps your clients have the best travel experience and gives them the best value for their time and money. It also makes them feel valued, thereby ensuring that they keep coming to your app for their travel needs. For example if someone is vising France on their second trip, they might want to skip the popular tourist destinations they have covered on their first and giving them the option to do so will certainly make their experience worth.
Rewards for reviews
Discount coupons and free travel services or even surprise gifts most certainly add a unique special touch for your clients on their trips. Take it to the next level by offering customers special discount coupons and rewards on their next trip for posting reviews on different travel forums, social media, blog articles etc. about your services. It is a double win for you as your clients come back to redeem your gift and also because they do some extra PR in exchange of something exciting for their next trip.
Offline assistance
While travelling often getting internet or even network can be difficult or expensive which can be quite difficult for travellers. It is a good idea to give them some offline help while travelling. A lighter version of the maps that can be saved or loaded offline without saving, some essential travel information such as emergency services, easy guidelines around etc. will help travellers not lose their footings especially in areas which do not have great network such as forested areas and off the road hiking trails.
Foreign trip assistance
Foreign trip assistance is an essential part of any travel app as people travelling abroad will most definitely be looking for tons of information. For example, someone travelling to India would like to know about India visa online, weather, currency exchange and clock in real time. Moreover when the said tourist visits the country, they should be able to get localised help to get around, find places to eat, see etc.
If you want your travel app to draw users and grow exponentially you have to give people reasons to choose you over the other competitors.
Top 10 destinations for international travel in 2017: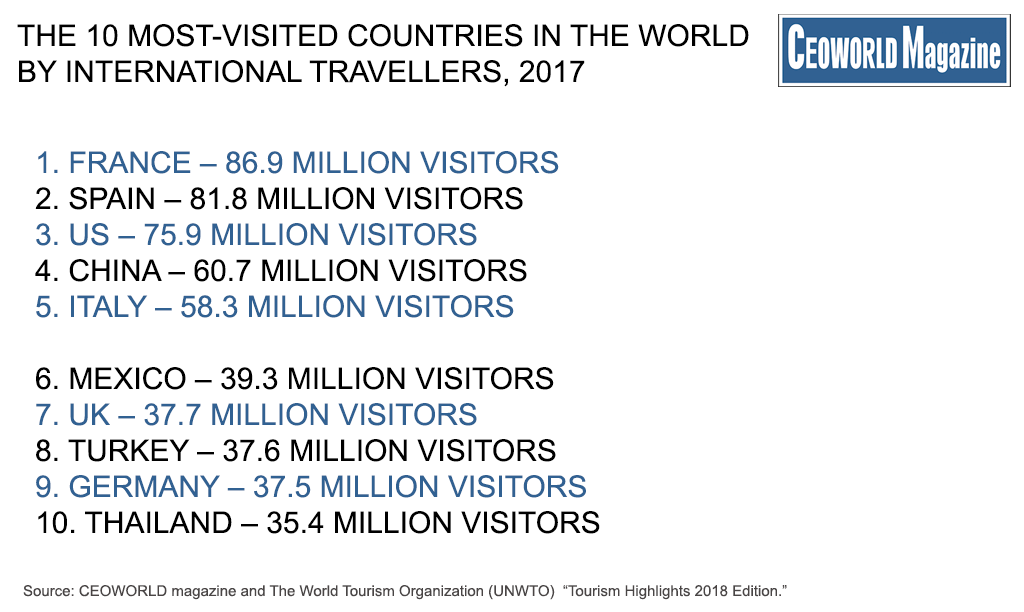 The 10 most popular US and international travel destinations for 2018: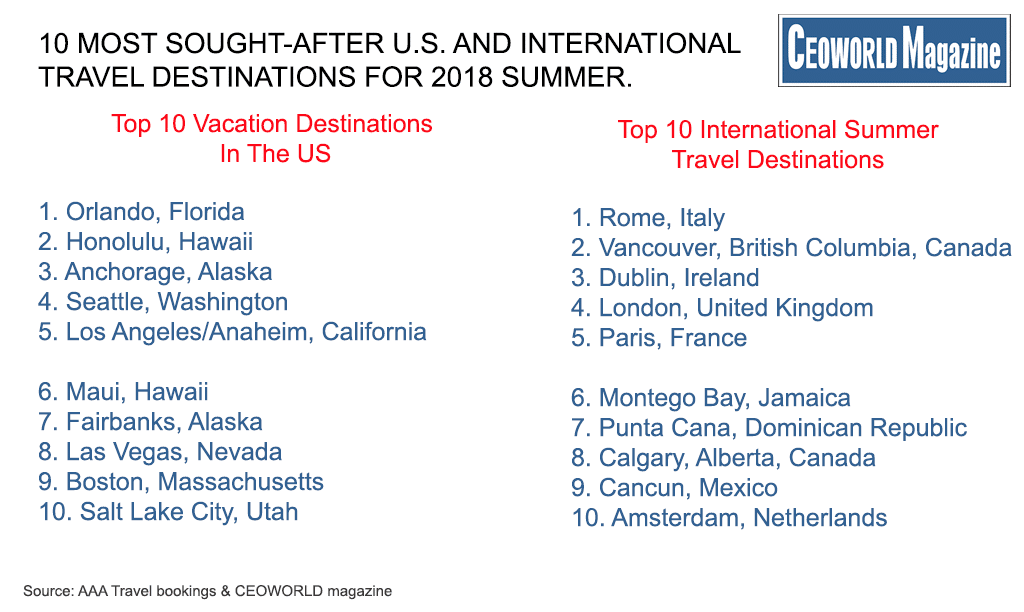 ---
Have you read?
Best CEOs In The World 2018: Exceptional Chief Executives
Rich List Index: The World's 1,200 Billionaires; Meet The Richest People On Earth
India Rich List For 2018: Richest Indian Billionaires.
---
Add CEOWORLD magazine to your Google News feed.
---
Follow CEOWORLD magazine headlines on:
Google News
,
LinkedIn
,
Twitter
, and
Facebook
.
---
Thank you for supporting our journalism. Subscribe here.
---
For media queries, please contact:
info@ceoworld.biz
---