Best Custom Enamel Pin Manufacturer: 5 Tips To Find Out The Right Pin Maker
If you are wondering how to find a high-quality custom enamel pin maker for your lapel pin design, you have come to the right place. In this short guide, we are going to show you five things to look for when selecting a custom enamel pin manufacturer.
Follow these simple tips, and you'll ensure you get a pin manufacturer who is capable of turning your design into reality without costing you too much money or taking too much time.
So let's get started …  
First, before we get to the five things to look for in right enamel pin manufacturer, there are four things you must know about your pin order.
This knowledge will then help point you in the direction of the right pin company when it comes to having your pins made.
So What 4 Things Do You Need to Know Before You Begin Your Custom EnamelPin Manufacturer Search?
1 – You Need to Know Whether You Want Hard or Soft Enamel
One of the most common questions that enamel pin company receive is what is the difference between hard and soft enamel?
The short answer is hard enamel can be polished so that it is flat while soft enamel has recesses or grooves in the design. Let's quickly take a closer look at both types: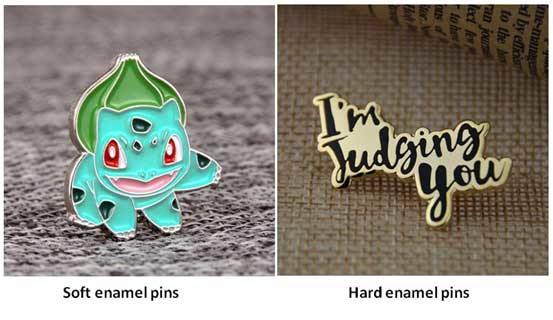 Soft Enamel Pins – 
These pins are known for offering a "traditional" look and excellent quality at a great price. To make these pins, the pin makers create a die with your design in it and then they use that die to strike the design into a copper or iron base.
The pin company will then sandblast the pin to create a textured background. After that, they will apply stage enamel colors to recessed areas.
Then it will use a syringe filled with enamel paint to apply colors to any wells created by the stamping process. The design is then baked.
Hard Enamel Pins –   
Creating hard enamel pins requires a multi-step process and results in the creation of a true jewelry grade product. To make a hard enamel pin, enamel pin maker first makes a die with your design in it.
Then it uses that die to strike the design into a copper or brass base metal. A trim tool is then used to cut the outside shape of the lapel pin from the base metal. The design is then baked.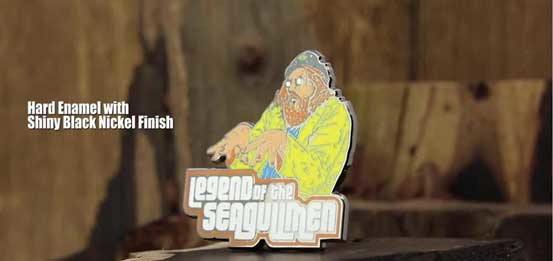 Conclusion –  
Deciding on hard or soft enamel is one of the more important decisions you will have to make. Keep this in mind when deciding: soft enamel offers detailed, brightly colored designs with a prestigious look.
Hard enamel is known for being durable and rugged while maintaining a classic look. 
2 – What is the Best Size for Your Lapel Pin?
After deciding on hard or soft enamel, the second thing you need to know before looking for a custom lapel pin manufacturer is what size pins you will be creating.
Most custom lapel pins fall into the following size range:
1/2 inch
3/4 inch
7/8 inch
1 inch
1 1/4 inch
1 1/2 inch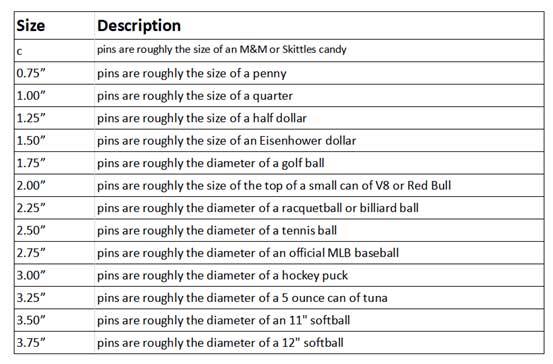 Conclusion –  
Size does matter – for two reasons:
1) Bigger sizes mean higher prices due to more materials being used and greater production time.
2) Larger sizes are better for more detailed designs.
If you have a design that is highly detailed and try to squeeze it into a small size, a lot of that detail will be lost. You will need to weigh these two factors when choosing a size.
3 – How Many Colors Will You be Using on Your Lapel Pin?
You can have as many or as few colors on your pin as you like but you should keep this in mind – the best pins communicate a single idea and are not too busy and convoluted.
In other words, using a lot of colors could be distracting in your design. You want your pin to look attractive. Here is more information about pin colors:
Most custom lapel pin manufacturers only use Pantone colors. This shouldn't be a problem as the "Pantone wheel" of colors is quite extensive. Chances are if you need a specific color it is going to be on the wheel.
Here is something else to keep in mind when using colors – they look different on a computer screen than they do on a finished pin! Please remember this important fact.
Color selection plays a huge role in the overall attractiveness of a pin design. To ensure your design is as attractive as possible you may want to request a color guide to get a better idea of what the color will look like.
You may also be able to get your hands on a Pantone fan deck or chip book so that you can look more closely at the colors.
4 – What Quantity of Pins Will You be Ordering?
Simply put, the greater the quantity of your order the more options and, most likely, the better pricing that will be available to you.
Most enamel pin maker has an MOQ (Minimum Order Quantity). Often that minimum order is 100 pieces. Here is a sample order options grid with size and quantity listed:
If you have a small order quantity, companies may charge additional fees, such as a setup or mold fee, to complete the project. You will need to consider this extra cost when deciding on an order amount.
Now that we have covered the four things you need to know before you look for a pin maker, it's time to turn our attention to how to tell the good custom enamel lapel pin manufacturers from the bad.
Here are Five Things to Look for When Selecting a Custom Enamel Pin Manufacturer
Tip 1 – Look at the enamel pin maker's Testimonials
Most pin maker these days post customer testimonials on their website. If a pin maker doesn't have testimonials, that's a red flag. So visit the enamel pin company's website and go through the testimonials.
Consider it a good sign if they have multiple client testimonials and success stories posted on their website and throughout their marketing material. On the other hand, a lack of testimonials may be a sign that they don't have clients who are happy enough to provide a good reference.
Tip 2 – Look at the Pin Styles the Manufacturer Offers 
Obviously, since you are looking to create either hard or soft custom enamel lapel pins you will want to look for a manufacturer who offers those pin styles.
You should have no problem finding a custom enamel pin manufacturer as enamel is a popular material for pins. However, some pin makers may only offer other pin styles such as 3D cast, die struck or offset printed.
Ideally, you want to find a pin maker that specializes in enamel pins. To determine the quality of a company's custom enamel pin designs look through its testimonials first.
The enamel pin maker should also offer a gallery of past pins that it has created. Be sure to go through the pictures carefully so that you can get an idea of the quality of work the company delivers.
Tip 3 – Look for a Convenient Online Ordering Process
Long gone are the days when you would have to send an inquiry and wait two days to hear back that an order is confirmed. We live in an instant age and your pin maker should be up to date.
Look for a convenient online ordering system that allows you to submit your design and order immediately online by clicking a submit button.
Then you should receive an email confirmation of your order quickly. An online ordering system is very important in this day and age. Benefits of an enamel pin maker having such a system include:
It allows them to complete more orders in less time and with fewer staff.
Many companies are then able to pass these savings on to you. That's why pin makers with online ordering systems often have prices that are 10% less than companies that are not online.
You should also be able to submit AND receive your order much quicker through online ordering. This can be very important when a rush order is needed.
Tip 4 – Look for a Live Chat Service on the pin maker's Website 
There really is no faster way to contact a company than through live chat. You are able to talk to a company representative in real time – what could be better than that?
Let's take a look at an example:
Let's say you urgently need to change a lapel pin design. If you call a company you may have to wait to speak with a representative for half an hour to an hour or more. If the lapel pin maker outsources their customer service you may also have to speak to someone from another country and deal with the language difficulties.
If you email a company, it may be a full day before you get a response.
In the case of our urgent design change, you would just click the Live chat icon, send your new design, and it could all be handled in a matter of seconds.
A lapel pin maker having a live chat feature on its website is something that many potential customers don't consider when selecting a custom enamel pin company – but they should! With live chat, you can interact with a customer service representative immediately.
Tip 5 – Look for an enamel pin manufacturer That Does NOT Charge a Mold Fee
Most companies charge a mold fee –, particularly for custom designs.
You should look for an enamel pin manufacturer that has the manufacturing management and supplier chain management that allows it to roll a small mold fee into its basic service price instead of charging an independent mold fee.
Independently charged mold fees tend to be higher and many companies raise them on smaller order sizes. That's why it is important to look for companies that include the fee as part of their basic service price.
Thank you for reading this far! As a special thank, you here is …
A Quick Bonus Money-Saving Tip:
Whether a pin manufacturers charges you a mold fee or not, when submitting a repeat order send a message to the company letting them know you are offering a repeat order and asking for a discount.
Since you are a returning customer and there is no need to create a new mold, you should be able to get a very nice discount on the price of your lapel pin project. You can't beat that!
If you want me to recommend some company, I would recommend  Vivipins. I have good experience work with this company before. Again, thanks for reading and best of luck in your search for a high-quality custom enamel pin manufacturer!
---
Have you read?
Best CEOs In The World 2018: Exceptional Chief Executives
Rich List Index: The World's 1,200 Billionaires; Meet The Richest People On Earth
India Rich List For 2018: Richest Indian Billionaires.
---
Add CEOWORLD magazine to your Google News feed.
---
Follow CEOWORLD magazine headlines on:
Google News
,
LinkedIn
,
Twitter
, and
Facebook
.
---
Thank you for supporting our journalism. Subscribe here.
---
For media queries, please contact:
info@ceoworld.biz
---