The World's 25 Best Countries For A Comfortable Retirement In 2018
Switzerland is the world's best country to live in if you want to retire comfortably, according to Natixis 2018 Global Retirement Index, Iceland moved up one rank to second place. Sweden and New Zealand rounded off the top five. Australia landed in the No. 6 spot for 2018, followed by Ireland, Denmark, Canada, and the Netherlands.
An annual ranking of global retirement puts the United States in the middle of the pack, outpaced by countries like Luxembourg, Finland, Germany, Austria, and the Czech Republic. At No. 16, the U.S. did slightly better than its 2017 ranking and beat out the United Kingdom, Belgium, Israel, Malta, France, and Japan. Below, check out the top 25 countries around the world that are best for retirees.
Here's a list of the top 25 countries to retire
1. Switzerland
2. Iceland
3. Norway
4. Sweden
5. New Zealand
6. Australia
7. Ireland
8. Denmark
9. Canada
10. Netherlands

11. Luxembourg
12. Finland
13. Germany
14. Austria
15. Czech Republic
16. United States
17. United Kingdom
18. Belgium
19. Israel
20. Malta
21. France
22. Japan
23. Slovenia
24. South Korea
25. Slovak Republic
Top 20 Countries for Retirement Security In 2018: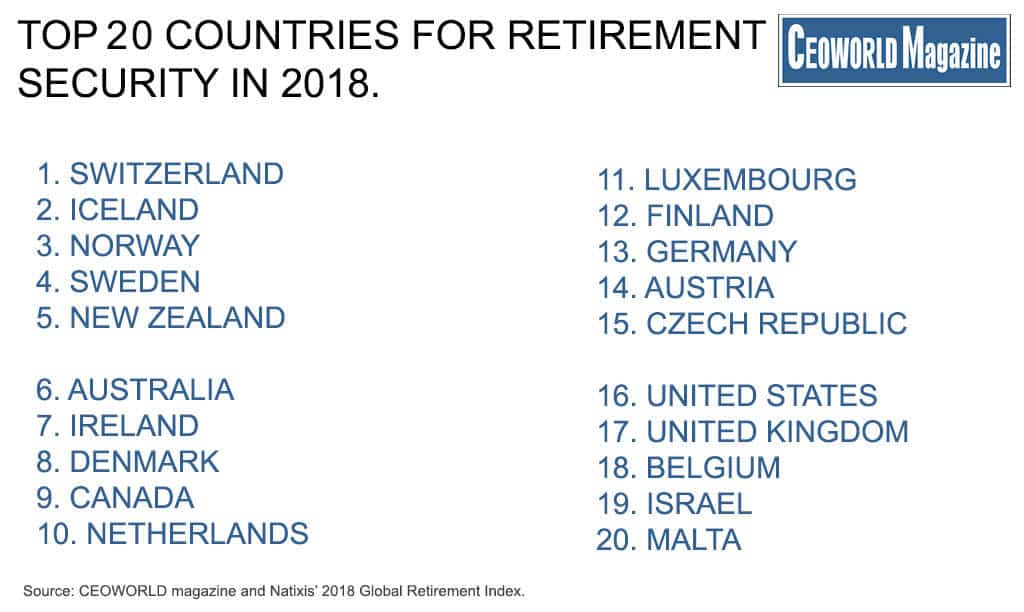 Respond