Here Are The 10 Most-Visited Countries In The World By International Travellers, 2017
And once again France remained the most-visited travel destination in the world by international travelers of 2017, according to the UNWTO, the country welcomed 86.9 million international visitors.
Thanks to its incredible landscapes, cuisine, friendly people, and of course, wine, Spain overtook the US as the 2nd most-visited destination when it recorded 81.8 million international arrivals, compared with 75.9 million in the United States.
The rest of the top ten most visited countries are as follows: China, Italy, Mexico (39.3 million), the UK (37.7), Turkey (37.6), Germany (37.5), and Thailand (35.4).
Here are the top 10 destinations for international travel in 2017:
France – 86.9 million visitors
Spain – 81.8 million visitors
US – 75.9 million visitors
China – 60.7 million visitors
Italy – 58.3 million visitors
Mexico – 39.3 million visitors
UK – 37.7 million visitors
Turkey – 37.6 million visitors
Germany – 37.5 million visitors
Thailand – 35.4 million visitors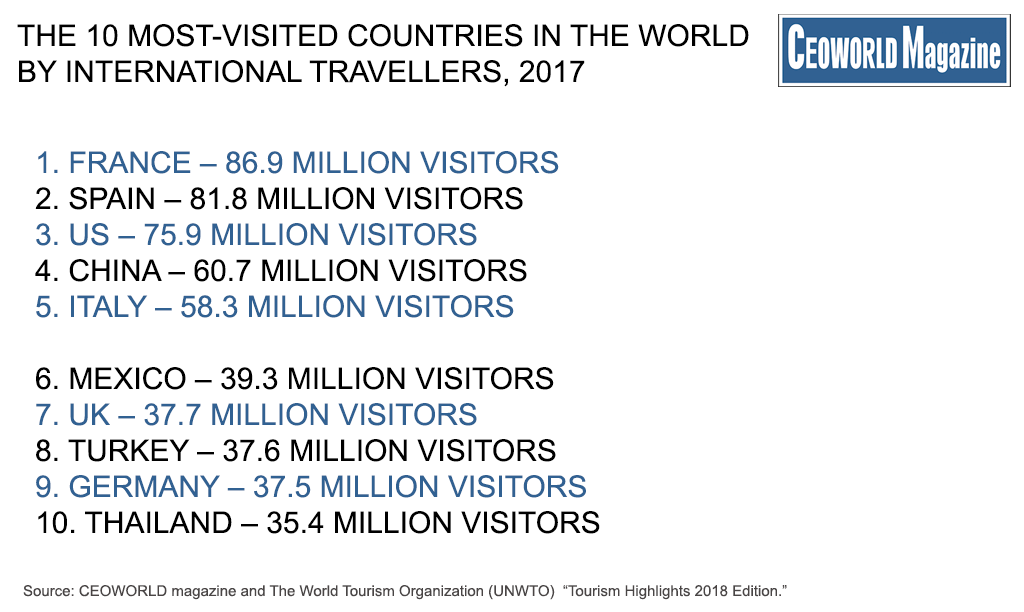 Dr. Amarendra Bhushan Dhiraj is the CEO and editorial director at CEOWORLD magazine, the leading global business magazine written strictly for CEOs, CFOs, top managers, company directors, investors, senior executives, business leaders, high net worth individuals, and the most globally powerful men and women.
Latest posts by Dr. Amarendra Bhushan Dhiraj
Leave a Reply