These Are The 20 Worst U.S. Cities To Drive In For 2018, Detroit, San Francisco, New York, Chicago and Los Angeles In Top 10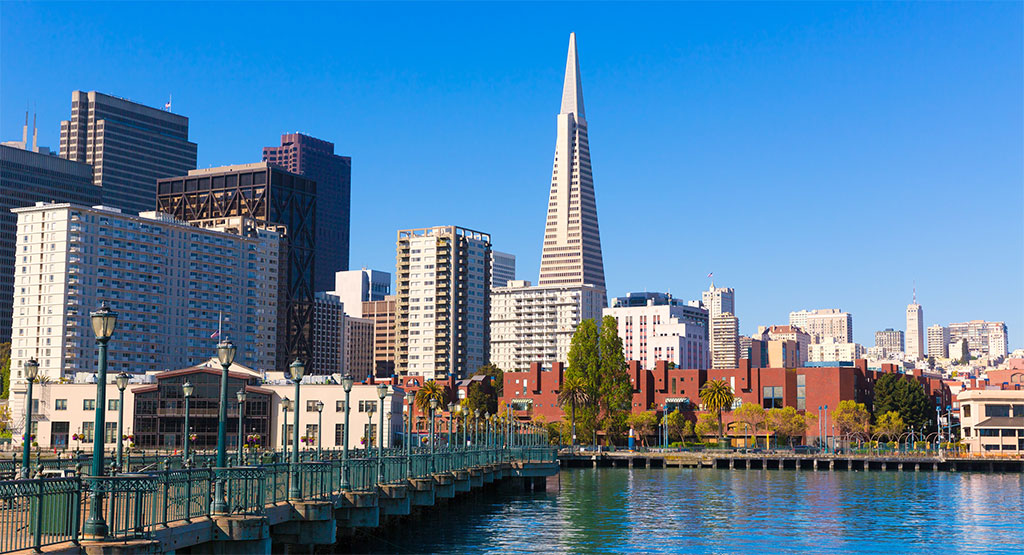 It's no surprise the Detroit, Mich. was named the worst U.S. city to drive in, according to WalletHub 2018 list, while Raleigh, North Carolina was rated the best. San Francisco follows Detroit as the second worst city to drive in for 2018.
The personal finance website looked at the 100 largest cities across 4 key dimensions: the cost of ownership and maintenance; traffic and Infrastructure; access to vehicles and maintenance; and safety. Detroit's low rank was attributed to its high rate of car thefts, parking rates, accident likelihood, and average gas prices.
These are the 20 worst U.S. cities to drive in for 2018:
1. Detroit, MI
2. San Francisco, CA
3. Oakland, CA
4. Philadelphia, PA
5. Seattle, WA
6. Boston, MA
7. New York, NY
8. Newark, NJ
9. Los Angeles, CA
10. Chicago, IL
11. Washington, DC
12. Baltimore, MD
13. San Jose, CA
14. San Bernardino, CA
15. Honolulu, HI
16. Cleveland, OH
17. Long Beach, CA
18. Jersey City, NJ
19. Milwaukee, WI
20. Aurora, CO
These are the 20 best U.S. cities to drive in for 2018:
1. Raleigh, NC
2. Corpus Christi, TX
3. Orlando, FL
4. Greensboro, NC
5. Plano, TX
6. Winston-Salem, NC
7. Durham, NC
8. El Paso, TX
9. Jacksonville, FL
10. Tampa, FL
11. Birmingham, AL
12. Las Vegas, NV
13. Arlington, TX
14. Austin, TX
15. Lincoln, NE
16. Fort Worth, TX
17. Laredo, TX
18. Nashville, TN
19. Charlotte, NC
20. Scottsdale, AZ
What are the best and worst U.S. cities to drive in for 2018?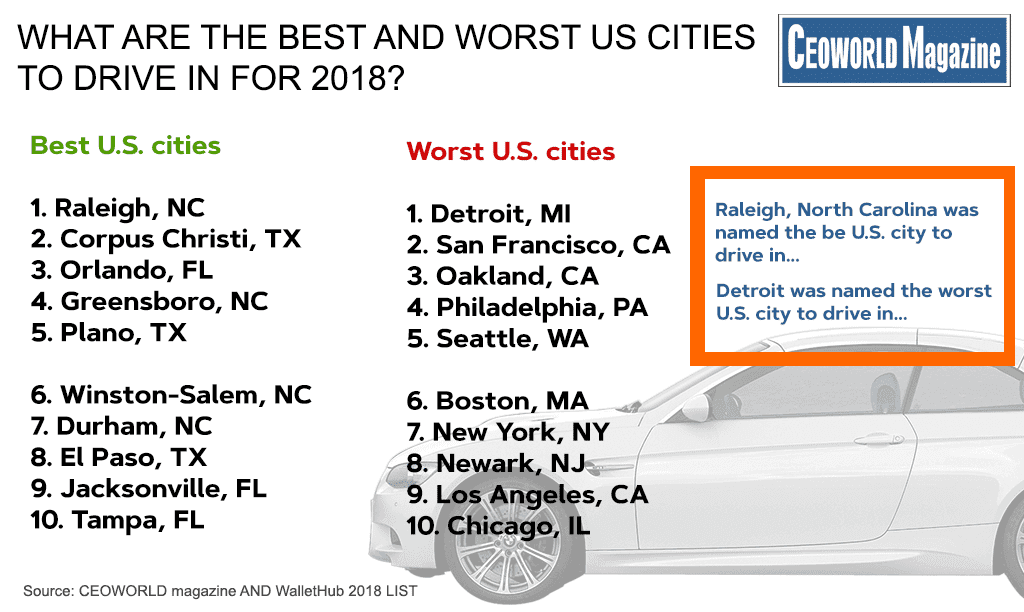 Track Latest News Live on CEOWORLD magazine and get news updates from the United States and around the world. The views expressed are those of the author and are not necessarily those of the CEOWORLD magazine.
Follow CEOWORLD magazine headlines on:
Google News
,
LinkedIn
,
Twitter
, and
Facebook
.
Thank you for supporting our journalism. Subscribe here.
For media queries, please contact:
info@ceoworld.biz