The Top 10 Most Stressed Cities And The 10 Least Stressed Cities In The US, 2018
People who live in Detroit, Newark, and Cleveland are facing chronic stress, according to a new WalletHub report. Out of 180 cities, Detroit was ranked as the most stressful city to be.
And the award for the most stressed city in America goes to: Detroit
Detroit came in as the number one overall most stressed city in the United States for 2018, ranking 1st in health and safety stress, 3rd in financial stress, 4th in family stress, and 24th in work stress.
Newark, New Jersey has been named the second most stressed-out place in America; Cleveland, Ohio at No. 3; Birmingham, Alabama at No. 4; and Toledo, Ohio at No. 5. Baltimore, Maryland; Wilmington, Delaware; Milwaukee, Wisconsin; Gulfport, Mississippi; and St. Louis, Missouri rounded out the Top 10 most stressed cities in America on the list.
The report evaluated 182 cities more than 180 cities, across 37 stress-related metrics. The data set was measured with factors ranging from work stress; financial stress; family stress; and health and safety stress.
Top 10 Most Stressed Cities
Detroit, Michigan
Newark, New Jersey
Cleveland, Ohio
Birmingham, Alabama
Toledo, Ohio
Baltimore, Maryland
Wilmington, Delaware
Milwaukee, Wisconsin
Gulfport, Mississippi
St. Louis, Missouri
Top 10 Least Stressed Cities
Fremont, California
Bismark, North Dakota
Sioux Falls, South Dakota
Overland Park, Kansas
South Burlington, Vermont
Scottsdale, Arizona
Irvine, California
San Jose, California
Madison, Wisconsin
Lincoln, Nebraska
Here Are the Most (and Least) Stressed Cities in the US for 2018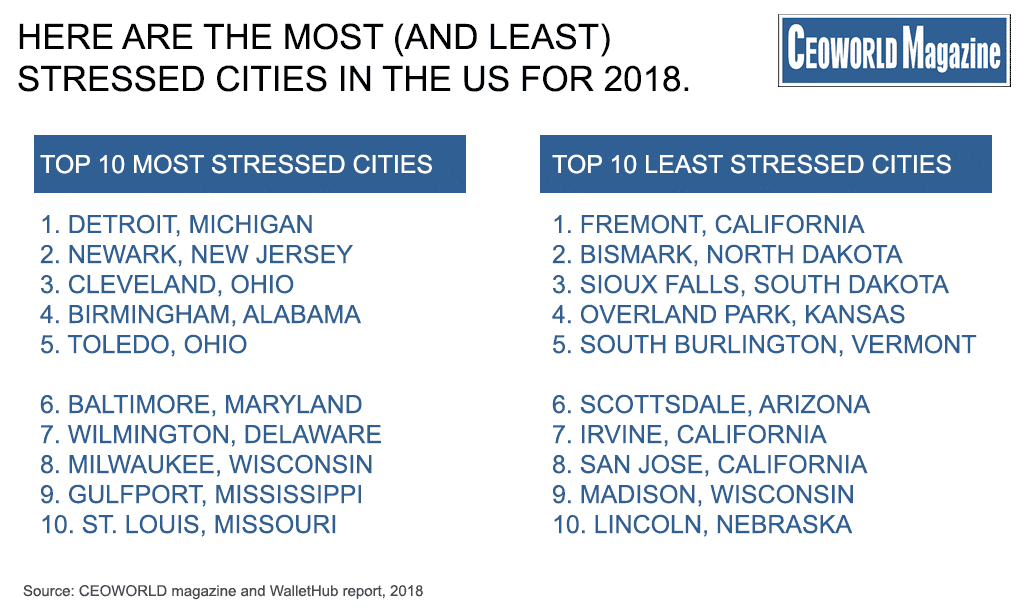 Dr. Amarendra Bhushan Dhiraj is the CEO and editorial director at CEOWORLD magazine, the leading global business magazine written strictly for CEOs, CFOs, top managers, company directors, investors, senior executives, business leaders, high net worth individuals, and the most globally powerful men and women.
Latest posts by Dr. Amarendra Bhushan Dhiraj
Leave a Reply