America's 50 Best Companies To Work For On The Fortune 500 List, 2018
The social media platform Facebook wins the title of the best company to work for in the United States, 2018, according to the job-search experts at Indeed. Southwest Airlines and Salesforce.com followed in second and third place, respectively.
The career website compiled its annual list of the 50 top-rated workplaces on the Fortune 500 companies list for 2018. Delta Air Lines was fourth on this year's list. Johnson & Johnson, Bristol-Myers Squibb (BMS), and also ranked among the top ten.
If you're which companies have the best reputations among their own employees, what else made the cut, here's how the top 50 shake out.
These are the best of the best companies to work for in 2018. Is your company on the list?
50. John Deere
49. Synchrony Financial
48. National Oilwell Varco
47. General Motors
46. MGM Resorts International
45. Qualcomm
44. Hilton
43. Freeport McMoRan
42. USAA
41. American Express
40. NetApp
39. Stryker
38. Booz Allen Hamilton
37. Avon
36. Northrup Grumman
35. AbbVie
34. Nationwide Mutual Insurance Company
33. Fluor Corp.
32. Lockheed Martin
31. American Airlines
30. Discover Financial Services
29. DTE Energy
28. Amgen
27. Charles Schwab
26. CBS
25. Capital One
24. ConocoPhillips
23. Cisco
22. Edward Jones
21. Starbucks
20. Pfizer, Inc.
19. Publix
18. Nike
17. Viacom
16. Estee Lauder
15. eBay Inc.
14. Exelon
13. Live Nation
12. Eli Lilly
11. Microsoft
10. Apple
9. Bristol-Myers Squibb
8. JetBlue Airways
7. Johnson & Johnson
6. Fannie Mae
5. Costco Wholesale
4. Delta
3. Salesforce
2. Southwest Airlines
1. Facebook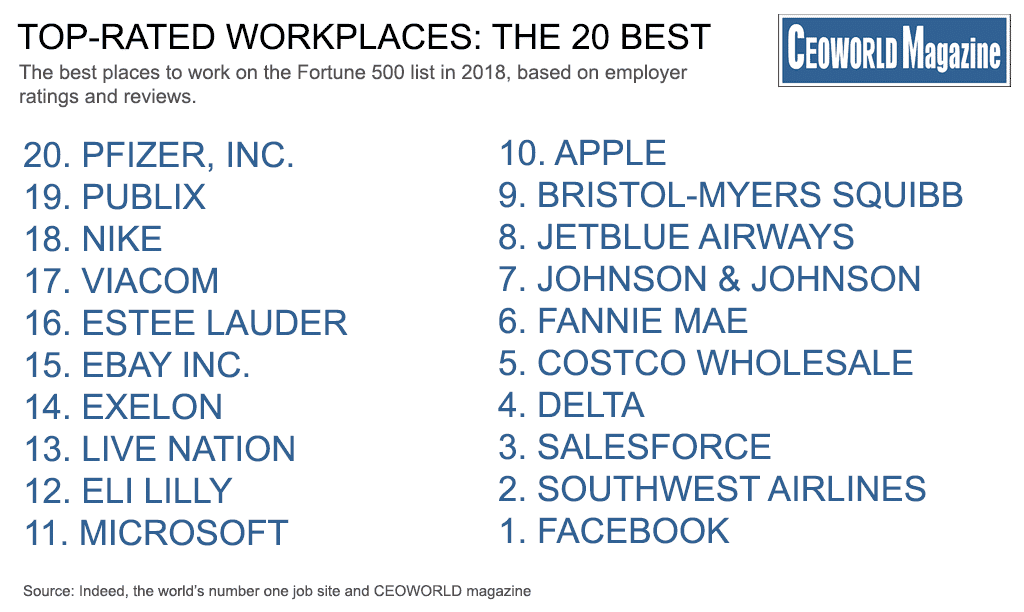 Dr. Amarendra Bhushan Dhiraj is the CEO and editorial director at CEOWORLD magazine, the leading global business magazine written strictly for CEOs, CFOs, top managers, company directors, investors, senior executives, business leaders, high net worth individuals, and the most globally powerful men and women.
Latest posts by Dr. Amarendra Bhushan Dhiraj
Leave a Reply