Reading List Collection 2018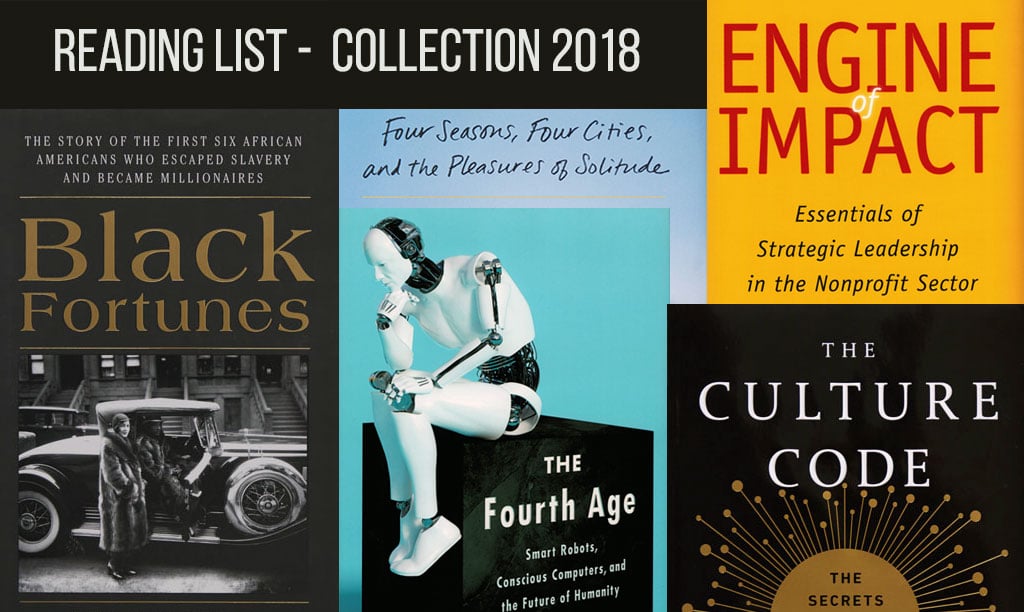 Here are some excellent titles to check out, recommended by the CEOWORLD magazine reporters and editors for successful CEOs, business leaders, other c-suite executives, and high-net-worth individuals. If you have other suggestions, let us know at info@ceoworld.biz
Recommended Books List For 2018:
Adaptive Markets, by Andrew W. Lo.
Alone Time: Four Seasons, Four Cities, and the Pleasures of Solitude, by Stephanie Rosenbloom.
Barking Up the Wrong Tree, by Eric Barker.
Black Edge, by Sheelah Kolhatkar.
Black Fortunes: The Story of the First Six African Americans Who Escaped Slavery and Became Millionaires, by Shomari Wills.
Britt-Marie Was Here, by Fredrik Backman.
Cocktail Chameleon, by Mark Addison.
Dollars and Sense, by Dan Ariely and Jeff Kreisler.
Everybody Lies, by Seth Stephens-Davidowitz.
Engine of Impact: Essentials of Strategic Leadership in the Nonprofit Sector (2017, Stanford University Press), by William F. Meehan III and Kim Starkey Jonker.
Factfulness: Ten Reasons We're Wrong About The World – And Why Things Are Better Than You Think, by Hans Rosling.
Finish, by Jon Acuff.
Hillbilly Elegy, by J.D. Vance
How Did We Get into This Mess?: Politics, Equality, Nature, by George Monbiot.
Insight, by Tasha Eurich.
Let My People Go Surfing, by Yvon Chouinard.
Measure What Matters: How Google, Bono, and the Gates Foundation Rock the World with OKRs, (2018, Portfolio/Penguin), by John Doerr.
New Power: How Power Works in Our Hyperconnected World — and How to Make It Work for You, (2018, Doubleday), by Jeremy Heimans and Henry Timms.
On Grand Strategy by John, by Lewis Gaddis.
Outliers: The Story of Success, by Malcolm Gladwell.
Pause, by Rachael O'Meara.
Principles, by Ray Dalio.
Reset, by Ellen Pao.
Rome: A History in Seven Sackings, by Matthew Kneale.
Shoe Dog, by Phil Knight.
Social Startup Success: How the Best Nonprofits Launch, Scale Up, and Make a Difference, (2018, Da Capo Life Long Publishers), by Kathleen Kelly Janus.
Superintelligence: Paths, Dangers, Strategies, by Nick Bostrom
The Alice Network, by Kate Quinn.
The Captain Class, by Sam Walker
The Code of Trust, by Robin Dreeke and Cameron Stauth.
The Culture Code: The Secrets of Highly Successful Groups, by Daniel Coyle.
The Four, by Scott Galloway.
The Fourth Age: Smart Robots, Conscious Computers, and the Future of Humanity, by Byron Reese.
The Hard Thing About Hard Things, by Ben Horowitz.
The Idiot, by Elif Batuman.
The One Device, by Brian Merchant.
The Myth of the Strong Leader, by Archie Brown.
The New Rules of Work, by Alexandra Cavoulacos and Kathryn Minshew.
The Space Barons: Elon Musk, Jeff Bezos, and the Quest to Colonize the Cosmos, by Christian Davenport.
The Spider Network, by David Enrich.
The Work: Searching for a Life That Matters, (2015, Spiegel & Grau), by Wes Moore.
Thinking Fast and Slow, by Daniel Kahneman.
Tippet Rise Art Center, by Peter Halstead and Cathy Halstead.
Tribe of Mentors, by Tim Ferriss
Unshakeable, by Tony Robbins.
You Are a Badass, by Jen Sincero.
Take a look at our favorites this year and see what catches your interest!