The Hub Of The Universe: What Attracts Brits To Boston?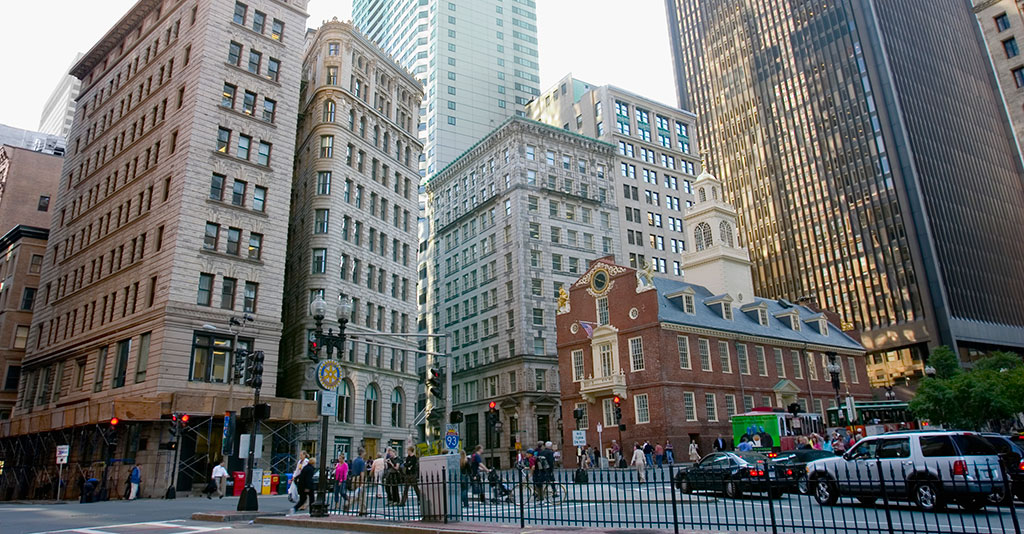 The Hub of the Universe is the sort of nickname that takes a lot of living up to. People will come to their conclusions as to whether Boston lives up to its grandiose moniker, but it's fair to say that the Massachusetts state capital holds a very strong attraction within the USA and beyond. Indeed, almost 30 percent of the city's residents were born overseas.
But where does this attraction come from – and what makes The City on a Hill such an attractive destination for Brits?
A world leader in education
It says a lot about Boston as a city that it was less than a decade after it was officially founded that Harvard University was established. America's oldest college (located in Cambridge) is renowned worldwide and attracts a large number of international students.
The Brainpower Triangle – Harvard, Massachusetts Institute of Technology and Tufts University – lead the way, but there are 54 colleges with approximately 250,000 students attending in total.
This is attractive for young people wanting to study at the world-leading establishment – many of whom come back later in life – but also to companies wishing to attract the best and brightest talent.
What are some top-ranked universities in Boston?
1. Massachusetts Institute of Technology (MIT)
2. Harvard University
3. Boston University
4. Tufts University
5. Boston College
6. Northeastern University
7. Brandeis University
8. University of Massachusetts – Boston.
Science sector shows Boston business at its finest
If high-class education sets the foundations for Boston's reputation, its industries pick up the baton and continue that through cutting-edge work.
Life science is a particular strength for the city, with significant biotech companies, research centers and training hospitals based around the city. The Massachusetts Life Sciences Centre is a government-funded investment agency with $1 billion of spending power to boost the sector.
This environment – and infrastructure – makes it the perfect place for product development, for example, a fact that has attracted the likes of Alacrita to the city (a business with a base in the UK and US).
What are some famous celebrities from Boston?
1. Michael Bloomberg.
2. Uma Thurman.
3. Bill Burr.
4. Ben Affleck.
5. Mark Wahlberg.
6. Matt Damon.
7. Denis Leary.
8. Casey Affleck.
9. Conan O'Brien.
10. Donnie Wahlberg.
11. Barbara Walters.
12. Paul Guilfoyle.
13. Edward Norton.
14. Taylor Schilling.
Culture helps Brits feel at home in Boston
Academic excellence and pioneering industries are clearly attractive, but there's more to it than that. It's also undeniably a 'good fit' for Brits heading across The Pond. Boston is, after all, often seen as the most British city in America and the red-brick Georgian and Victorian architecture certainly gives it a different feel to other US destinations.
Carpenter & Company chief executive Dick Friedman told The Times: "Boston feels British for the US. It's not as driven by flash, money, and power as New York. It never promotes itself. It's more intellectual and quiet. It's a conservative town, but politically liberal."
Brits can definitely feel 'at home' in Boston in a cultural sense and the relatively short flight time – compared to other US destinations – is an attraction from a practical perspective too, alongside the shared language that makes it easy to fit in and find your way around.
Such links are enhanced by the standard of living in Boston too. The American Fitness Index last year named Boston the fifth healthiest city in the country, while Deutsche Bank named it the eighth best city in the world for quality of life – the top US city in the survey. Clearly, Boston is not only a good fit for Brits but it's also a location that offers an attractive lifestyle too.
Whether it's culture, economy or education, Boston boasts an impressive resume. Maybe that nickname isn't so far off after all?
---
Have you read?
# Here Are The World's Top 50 Universities For Studying Mathematics: 2018 US News Ranking.
# 2018 ranking of the world's 10 best airlines.
# Interestingly, American Universities Continue To Dominate Global Ranking (6 Out Of The Top 10).
# 30 Countries With The Most Billionaires, 2018.
# World's 100 Most Influential Individuals, Time 2018 List.
Jessica Todd Swift is the deputy managing editor of the CEOWORLD magazine. She is a veteran business and tech blogger, journalist, and analyst. Jessica is responsible for overseeing newsroom assignments and publishing and providing support to the editor in chief.
Latest posts by Jessica Todd Swift
Leave a Reply