Envisioning the Future of Coworking Space Technology with ATLAS Workbase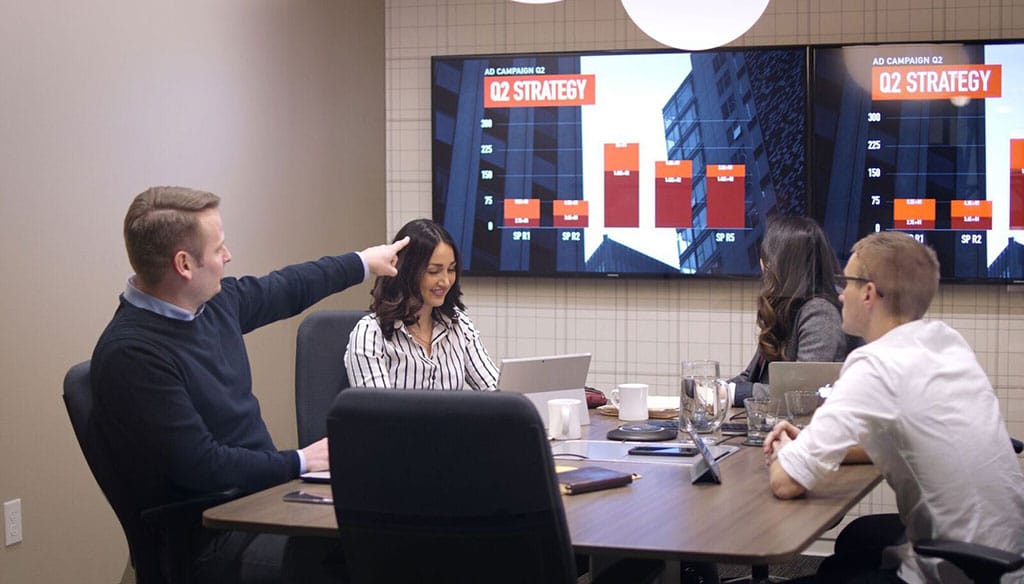 For Ken DeMaria, setting up and maintaining the technology for ATLAS Workbase has been more than just a job, it's a passion project. You'll find that this is not unusual for the staff of ATLAS Workbase, but it is especially the case with Ken.
"Oh, if you get me started I'll talk for hours," he says with a geeky grin, as though I wouldn't be fascinated to hear about his process of prepping the state-of-the-art technology for ATLAS Workbase members. After I assure him that this is exactly what I want, he jumps right into discussing the work he's done building the cutting-edge system that sets ATLAS Workbase apart from other coworking spaces.
Technology at ATLAS Workbase
"Coworking without technology is just a room."
According to Ken, the most critical technology provided by ATLAS Workbase is the WiFi. "First and foremost, high speed, low latency, the super reliable internet is the single most important thing that we offer from a technology perspective. We have a very high-density WiFi network." Without the reliability of the internet offered at ATLAS Workbase, there would be little point to the other amenities that members enjoy.
Ken designed the tech at ATLAS so that the term "Coworking" would no longer be limited to two people in one room, face-to-face. Coworking can now encompass one person in a meeting room in Seattle, collaborating with a group of people in a meeting room in New York, and another person jumping into the conversation from Arizona.
"Meeting spaces in the past have been defined as four walls with a table in the middle, and maybe a tv on one end. Now it's rooms or spaces, open or closed, outside or inside, with high technology access that allows people to do video conferencing work and collaboration in a variety of different modalities," says Ken.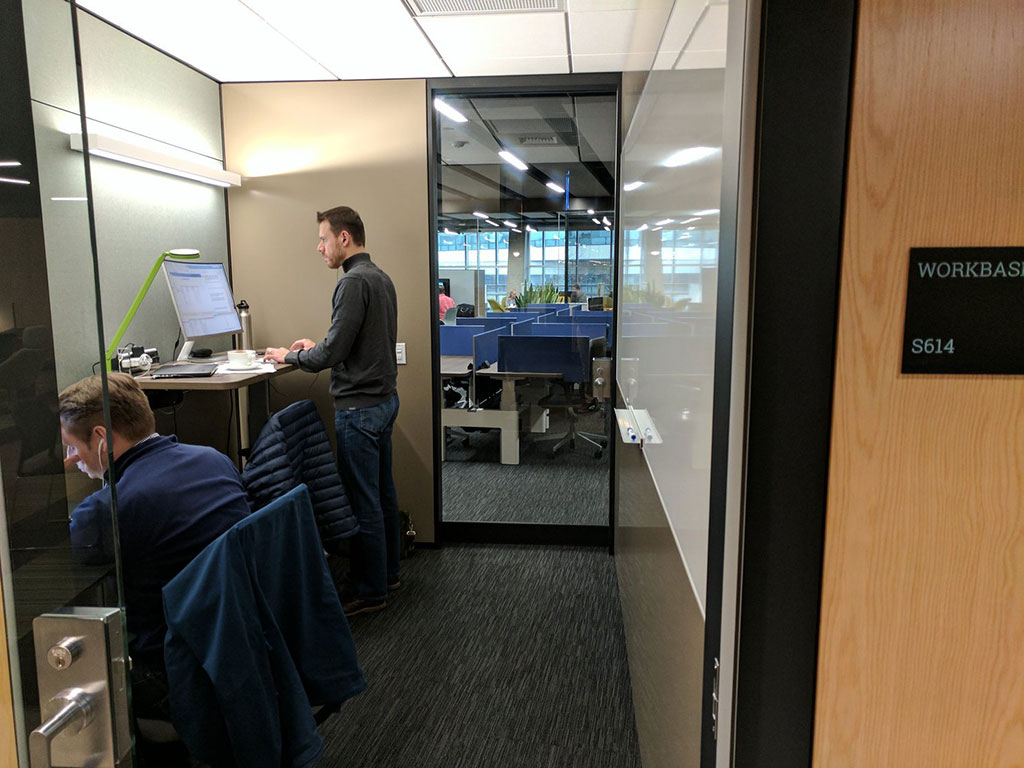 Meeting Room Audio Technology
We move on to discussing how the audio technology at ATLAS is a part of this new form of coworking. When asked, about his approach to audio, Ken laughs and says "Which one?"
This is amusing when considering ATLAS, because the audio technology is not just limited to the sound system that is set up to allow seamless audio teleconferencing in the meeting rooms.
It's also about the tech that limits the sound in the open floor plan to a buzz, without making it feel like you're working a tunnel, or surrounded by white noise. According to Ken this is done for purposes of "Masking the loudness, but not stopping people from knowing what's going on." Space is designed with double insulation on the walls, baffled ceilings, and noise insulation on the very top of the ceiling. V.I.A., a noise insulation product, has been thoughtfully placed in the walls, floor to ceiling, to regulate the noise levels in the open spaces.
"We've built spaces that are loud spaces, quiet spaces, meeting spaces, private spaces."
The purposefully crafted sound, coupled with the teleconferencing audio technology and high-quality microphones in every meeting space, makes it incredibly easy to have a face-to-face meeting with someone halfway across the world.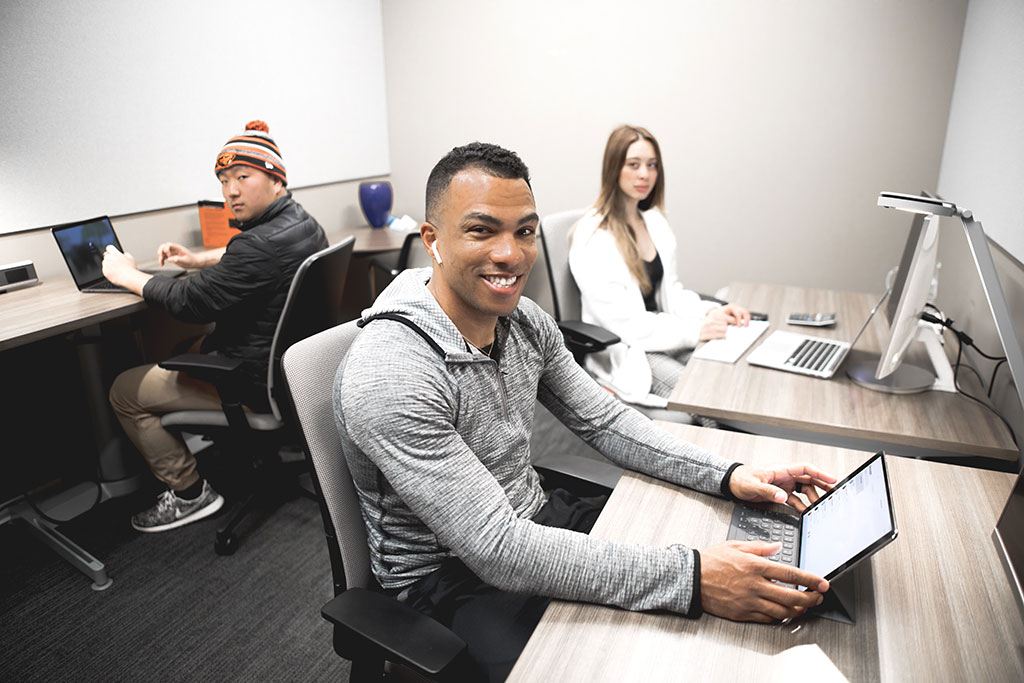 HD Video Teleconferencing Technology
For the HD video teleconferencing rooms, ATLAS Workbase uses Zoom Rooms. This software is now the standardized equipment for ATLAS after the team assessed and re-assessed the technology, based on ease of use, reliability, and member feedback. According to Ken, the purpose of Zoom Rooms is to make virtual meetings accessible, "I can't tell you how many people who have come here who have not been able to have a successful virtual meeting.
This was technology they didn't even know they needed. Virtual meetings are now turning into the way work gets done. What we're trying to do with these virtual meetings is to bring everyone into the room visually, so we can see body language and facial expressions. Screens bring someone on the other end into the room in a way that they're roughly the same size as a human."This is just one more example of how ATLAS is expanding the meaning behind the term "coworking"; Collaboration made more simple through technology.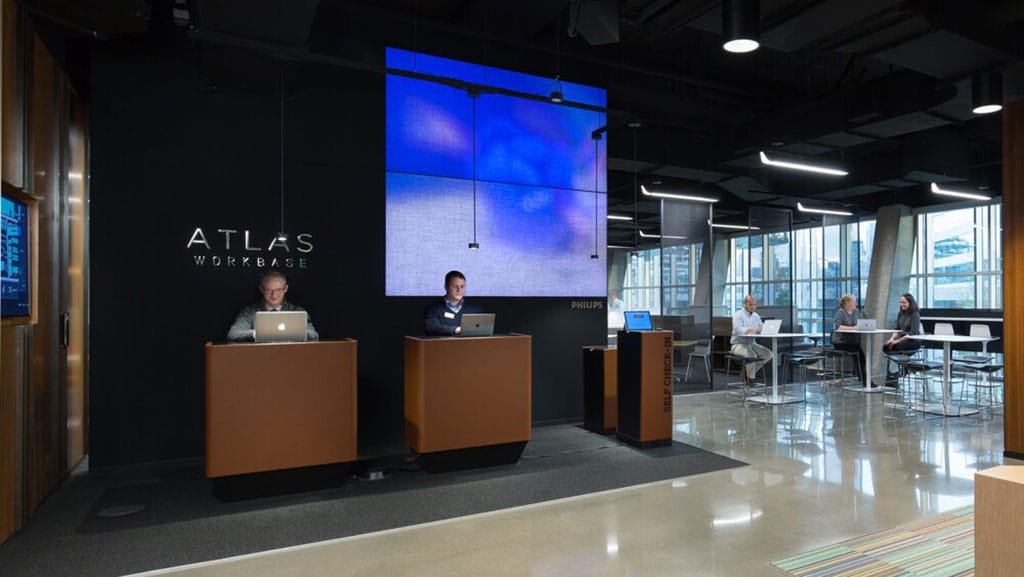 From what Ken is saying, it sounds like there's lot of exciting new technology on the horizon with an ATLAS Workbase planned expansion. They are looking into ways of broadening the virtual meetings to include virtual touch and sharing. Some possibilities include two hundred inch virtual whiteboards where one person can write on a whiteboard on one end, and then share their work in an ATLAS meeting space on the other side of the country. They are also considering other small-scale and large-scale touchscreen technologies like Microsoft Surface Hubs.
While we are wrapping up, Ken identifies the values that have driven his work at ATLAS, "At the end of the day, when you have a space where people feel relaxed and not distracted, they get a lot of work done and they feel happier doing it." When the purpose of a space like ATLAS is to make people happier in their day-to-day work, you know they are doing something right.
Take the next step in workspace evolution with ATLAS Workbase!
---
Have you read?
# Best Universities In The World For 2018.
# Best Fashion Schools In The World For 2018.
# Best Hospitality And Hotel Management Schools In The World For 2018.
# Best Business Schools In The World For 2018.
# Best CEOs In The United States For 2018.