Swiss Universities Shine In Latest Rankings, 8 In The Top 500.
Zurich up, Lausanne down! Swiss Federal Institute of Technology (ETH) in Zurich has been named the 7th best university in the world, according to the QS World University Rankings 2019. This is the highest place ever achieved by the federal technology institute ETH Zurich in the well-regarded table of the world's top academic institutions.
In total, 9 Swiss universities appear in the 1000 list, with 7 in the top 200. Lausanne's EPFL dropped to 22nd place after being ranked 12th in 2018. The University of Zurich in 78th place and the University of Geneva in 108th spot.
Six other varsities which made it to the world's top colleges and universities in the world for 2019 list are the University of Geneva (108th), the University of Bern (139th), the University of Lausanne (149th), and University of Basel (1608th), the University of St.Gallen – HSG (375th) and the Université de Fribourg (600-650th).
Best Global Universities in Switzerland for 2019:

Best Global Universities in Switzerland: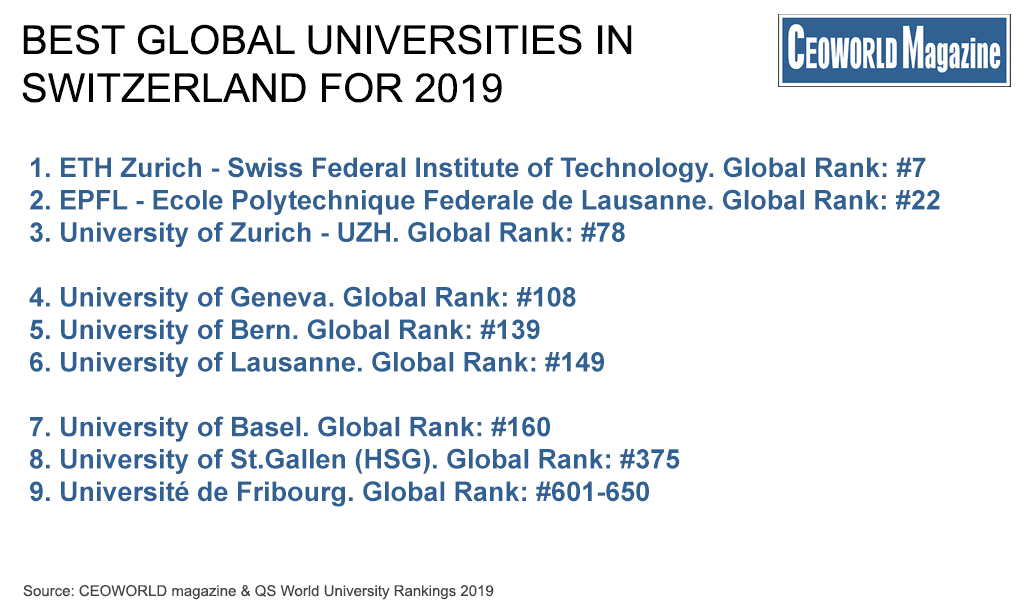 Dr. Amarendra Bhushan Dhiraj is the CEO and editorial director at CEOWORLD magazine, the leading global business magazine written strictly for CEOs, CFOs, top managers, company directors, investors, senior executives, business leaders, high net worth individuals, and the most globally powerful men and women.
Latest posts by Dr. Amarendra Bhushan Dhiraj
Leave a Reply