How to Create an Engaging Business PowerPoint Presentation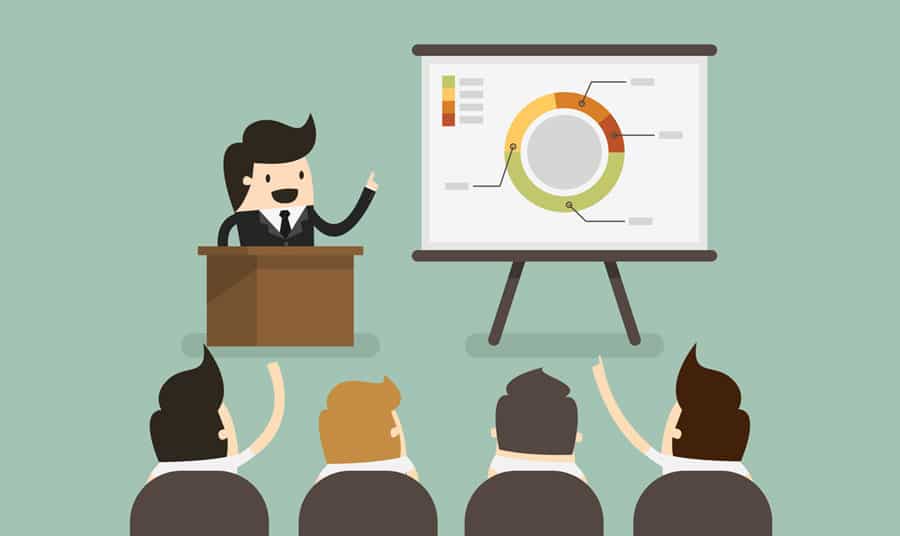 Everyone can learn modern web and presentation design. Moreover, for this purpose, it is not necessary to study tons of professional literature or attend expensive courses. It is enough to learn the basic rules and stock up a lot of successful examples, looking at which, you will draw inspiration. Yes, thanks to these actions, perhaps, you will not become a professional designer, but you will be able to create stylish pictures and presentations. Why do we speak about style in terms of business? Because visualization sells better than anything!
Don't Use Standard Ready-Made Templates
If you are truly willing to use them, this article will be of no use to you, because those templates have nothing to do with creativity. They are soulless, dull and everyone is tired of them. It is better to create something of your own. Moreover, now it is not necessary to have design skills to do so. There are lots of programs and services that will do all the work for you, and most of them are completely free.
Use a Good Combination of Colors
Mostly business presentations look awful in terms of the colors used. The most popular colors are dark or too plain. This is how it was dont in 90s, but the world had seriously developed till then. Of course, you shouldn't make a rainbow-like presentation, unless you try to sell something like Skittles, but you have to use bright and balancing colors to attract attention. It is also recommended not to use more than 5 colors in one presentation, and if you are not a designer it will be better if you set a limit on 3.
No More Shadows and Gradients! It's 2018!
Try to keep up with the times and design your slides so that they are not perceived as a relic of the past. After all, the level of trust of the audience to you as a specialist depends on the quality of this presentation. A good specialist always develops and follows new trends. A bad one — does not want to perceive anything new. Do you agree? Then strive for minimalism, meaning doing more with less.
Don't Use Shopworn Stock Images
Low-quality stock images will spoil the impression of your PowerPoint presentation, even if some smart ideas are presented on the slides. Please do not use them. It is better to spend more time, but find images that will be pleasant to watch. Such attention also shows respect to the audience. Don't use Google images of handshakes and smiling office-employees in cheap suits — they can only harm your business presentation, because people get irritated with those images already.
Follow the Basic Layout Rules
Do not align the text to the width. Large spaces between words occur because of this and the text itself becomes untidy and reading it causes difficulties. Do not overly broaden the lines. You will find it difficult to keep the audience's attention. The ideal line width is about 70-100 characters. Make a normal interval between the lines: not too large, but not too small. Intervals between paragraphs should be slightly more than the intervals between the lines.
Use different formatting to facilitate the perception of information: bulleted and numbered lists, bold allocation, etc.
There Should not Be a lot of Text On the Slide
Some speakers try to fit almost all of their speech into the presentation, and, instead of speaking and improvising, they read the text on the slides. The audience does not like this, it starts to get bored and loses an emotional rapport with the speaker. To avoid this, add a minimum of text to your slide and remember: the purpose of slides is not to help the speaker remember the text, but to strengthen emotions caused by what you are saying.
Very often in the speakers add footers with a logo, company name, phone, address, groups in social networks and other business information to each slide. In most cases, this is not justified. These elements "eat up" space and add unnecessary noise to the slide. In addition, all this information can be placed on the final slide, and if the custom business PowerPoint presentation is interesting enough, be sure, they will remember the name of your company and logo, and won't be lazy even to find you in social networks.
---
Have you read?
Total weeks of paid maternity leave available to mothers in OECD countries.
Study: IT woes are pushing employees out the door.
World's Most Luxurious Private Islands To Visit: Best-Kept Travel Secrets.
The C-Suite want a better understanding of their organizations to deliver a Purpose Beyond Profit.
The Blockchain Movement is Underway. What Should CEOs Know?
Jessica Todd Swift is the deputy managing editor of the CEOWORLD magazine. She is a veteran business and tech blogger, journalist, and analyst. Jessica is responsible for overseeing newsroom assignments and publishing and providing support to the editor in chief.
Latest posts by Jessica Todd Swift
Leave a Reply