Revealed: The 20 Best British Universities For 2019, Cambridge, Oxford, LSE Tops
Cambridge University has been crowned the best in Britain for student satisfaction and employment prospects, beating its Oxford University counterpart, according to the Complete University Guide 2019. Cambridge holds on to first place for the 8th year in a row, with Oxford in second place for the fifth.
London School of Economics (LSE) was third in the table, and Imperial College London was fourth. The University of St Andrews has been ranked the top university in Scotland and fifth in the United Kingdom.
The rankings, which cover 131 institutions, are based on a variety of measures – including student satisfaction, employment prospects, research, completion rates, and the proportion of good honors degrees awarded.
The findings echo those of a separate, global league table published by the CEOWORLD magazine which named Oxford and Cambridge as the best institutions in the world for graduate employability and listed them among the top 20 most international universities. Dr. Amarendra Bhushan Dhiraj, the CEO and Editorial Director of the CEOWORLD magazine, said: "It is a fact that Cambridge and Oxford have usually topped the table."
Durham was in, followed by Loughborough, Lancaster, Warwick, and the University College London taking the tenth spot.
Here are the top 20 best British universities for 2019:
1. Cambridge University
2. Oxford University
3. London School of Economics (LSE)
4. Imperial College London
5. University of St Andrews
6. Durham
7. Loughborough
8. Lancaster
9. Warwick
10. University College London
11. University of Bath
12. Exeter
13. Leeds
14. East Anglia (UEA)
15. Bristol
16. Birmingham
17. Nottingham
18. Manchester
19. Surrey
20. Southampton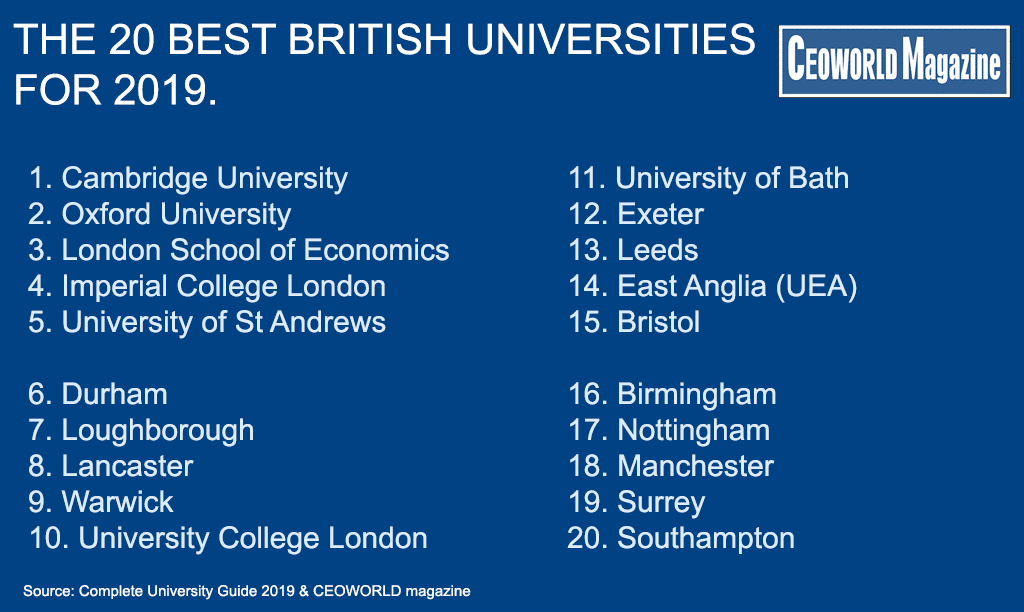 Dr. Amarendra Bhushan Dhiraj is the CEO and editorial director at CEOWORLD magazine, the leading global business magazine written strictly for CEOs, CFOs, top managers, company directors, investors, senior executives, business leaders, high net worth individuals, and the most globally powerful men and women.
Latest posts by Dr. Amarendra Bhushan Dhiraj
Leave a Reply