Ranked: The 20 Most And Least Free Countries In The World, 2018
Freedom (civil liberties and political rights) is a fundamental human right. When it comes to personal freedom, it's no surprise that tied for first place are the northern European countries of Finland, Norway, and Sweden, according to Freedom House's report 2018, which ranks nations according to civil liberties and political rights
Perhaps unsurprisingly, the United States, also known as "The Land of the Free," only managed to come in at number 53 in the ranking.
In fourth place is Canada, whose young Liberal leader Justin Trudeau is the envy of disgruntled progressives in the United Kingdom and the United States. The Netherlands is behind Canada in the fifth spot
Australia comes sixth in the overall rankings. Luxembourg, a founding member of the EU and seat of the European Court of Justice (ECJ), ranked number 7 on the list. It is one of the smallest sovereign states in Europe and has a population of a little over half a million. Other countries in the top ten include New Zealand (No. 8), Uruguay (No. 9), and Denmark (No. 10),
Uruguay, which has a reputation for liberal legislation, including legalized cannabis – is the only South American country to make the top 20.
Oh, and in case you're wondering, the world's least free country is Syria, followed by South Sudan, Eritrea, North Korea, Turkmenistan, Equatorial Guinea, and Saudi Arabia.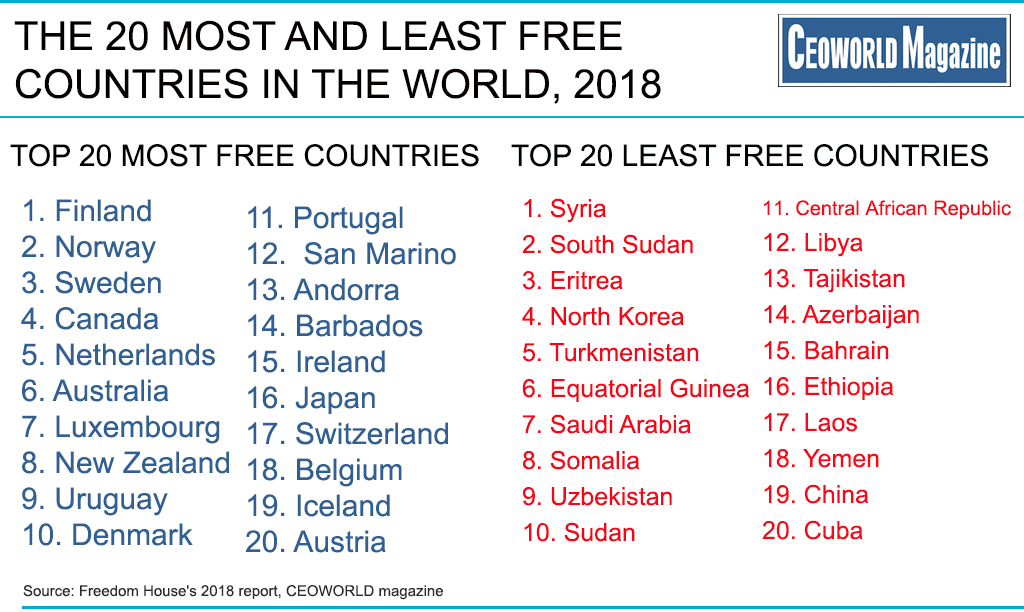 Here are the 20 top performing countries on the planet:
1. Finland
2. Norway
3. Sweden
4. Canada
5. Netherlands
6. Australia
7. Luxembourg
8. New Zealand
9. Uruguay
10. Denmark
11. Portugal
12. San Marino
13. Andorra
14. Barbados
15. Ireland
16. Japan
17. Switzerland
18. Belgium
19. Iceland
20. Austria
Here are the 20 most tightly controlled countries on the planet:
1. Syria
2. South Sudan
3. Eritrea
4. North Korea
5. Turkmenistan
6. Equatorial Guinea
7. Saudi Arabia
8. Somalia
9. Uzbekistan
10. Sudan
11. The central African Republic
12. Libya
13. Tajikistan
14. Azerbaijan
15. Bahrain
16. Ethiopia
17. Laos
18. Yemen
19. China
20. Cuba
Dr. Amarendra Bhushan Dhiraj is the CEO and editorial director at CEOWORLD magazine, the leading global business magazine written strictly for CEOs, CFOs, top managers, company directors, investors, senior executives, business leaders, high net worth individuals, and the most globally powerful men and women.
Latest posts by Dr. Amarendra Bhushan Dhiraj
Leave a Reply