World's best and the worst airports for 2018
Changi International Airport is the best airport in the world for 2018, according to a survey of global travelers by eDreams. Switzerland's Zurich Airport progressed to second place after coming in at No. 3 in 2017. It was followed by Istanbul Ataturk, Copenhagen and Munich airports which filled the rest of the top five.
All the airports in the second half of the top ten list were in Europe: Dusseldorf, Frankfurt, Madrid-Barajas in Spain, Italy's Rome Fiumicino and London Heathrow in the United Kingdom.
This was based on reviews from more than 50,000 passengers who gave their feedback about which airports from around the world are the best and the worst.
Here are the world's ten best-of-the-best airports for 2018
Singapore Changi Airport (SIN), Singapore — 4.47/5
Zurich Airport (ZRH), Switzerland — 4.18/5
Istanbul Atatürk Airport (IST), Turkey — 4.16/5
Copenhagen Airport (CPH), Denmark — 4.14/5
Munich Airport (MUC), Germany — 4.11/5
Düsseldorf Airport (DUS), Germany — 4.03/5
Frankfurt Airport (FRA), Germany — 4.02/5
Madrid–Barajas Airport (MAD), Spain — 3.99/5
Rome Fiumicino Airport (FCO), Italy — 3.97/5
London Heathrow Airport (LHR), United Kingdom — 3.95/5
The 10 BEST airports in the world, 2018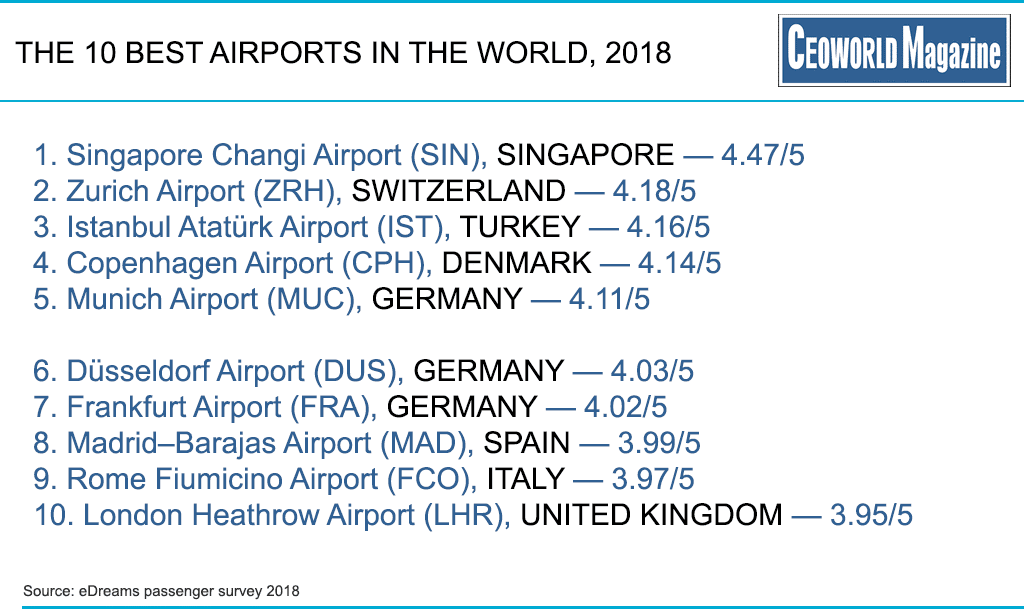 And the 5 Worst-of-the-worst airports in the world, 2018
Casablanca Mohammed V airport (CMN), Morocco — 3.19/5
Rome Ciampino airport (CIA), Italy — 3.21/5
Berlin Tegel airport (TXL), Germany — 3.30/5
Berlin Schoenefeld Airport (SXF), Germany — 3.33/5
London Luton airport (LTN), United Kingdom — 3.56/5
Dr. Amarendra Bhushan Dhiraj is the CEO and editorial director at CEOWORLD magazine, the leading global business magazine written strictly for CEOs, CFOs, top managers, company directors, investors, senior executives, business leaders, high net worth individuals, and the most globally powerful men and women.
Latest posts by Dr. Amarendra Bhushan Dhiraj
Leave a Reply