Australia Is All Set To Take Over Russia's Economy In The Near Future
According to Austrade (Australian Trade and Investment Commission), the Australian economy is 13th largest in the world.
Over the next five years, Australia's annual GDP growth is estimated to be 2.9% that is the highest among the major highly developed economies of the World.
The CEBR (Centre for Economics and Business Research) has predicted that by 2026 the Australian economy will rise and Australia will be the 11th largest economy in the world.
At the same time, the Russian economy is expected to decline from the 11th position in 2017 to 17th position in 2032.
The Australian Trade and Investment Commission also points out that Australia has the largest and uninterrupted economic growth among the major developed world. Australia is becoming the best place to invest and do business.
According to the Australian benchmark report, Australia is becoming the best of the best in the areas of economic growth, innovation, industries, workforce, location, trade, and commerce.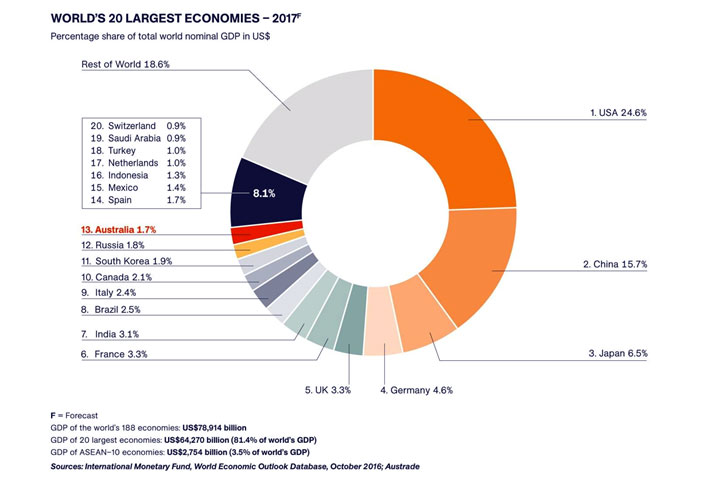 Continuous Escalation
Being World's 13th largest economy, Australia is showing a consecutive economic growth for 26 years now. It has recorded no annual recessions from the year 1992 to 2016 which is indeed a thing to note.
Globally significant Industries
Whether it is the field of education, healthcare, or tourism Australia is providing professional services and is rising continuously. Australia manages to attract huge amounts of international students making it the third most popular destination for studying abroad. Not only education, it is the 11th most popular tourist destination in the world. A leading producer of natural resources and agricultural commodities Australia is now a globally successful country.
Skilled Workforce
Australia has a multicultural population which includes highly skilled and educated workers. The credit for this can be given to the exceptionally well education and training system of Australia. The Australian Benchmark Report states that, on an average, more than 40% of Australian workers are having a tertiary qualification and about 30% of the skilled workers come through EA Migration Skilled Assessment. The budding education sector also plays a major role in providing a skilled workforce to the country.
If this scenario continues Australia is predicted to beat the Russian economy in the near future. Australia's recent GDP is 1.2 trillion US dollars which are quite close to that of Russia which is 1.3 trillion US dollars. Russia, on the other hand, is facing a financial crisis and is lagging behind in the race.
Russia is dependent on Oil Revenues
Russia has failed to expand its economy for the past years and it majorly relies on the oil revenues. With the prices of oil falling down, Russia is dealing with losses and low economic growth as a result.
A Decline in the Ruble
The Ruble has dropped nearly 50% against the dollar since 2015 which is affecting the standard of living in Russia. A decrease in supply and increase in prices of goods and commodities has been a common scenario in Russia due to the Western Sanctions. These sanctions have limited the access of Russia to the international markets. All this has led to another consequence that is the rise of poverty in Russia. Facts suggest that the number of poor in Russia has increased to 19.2 million in 2015 from 3.1 million which is indeed a daunting number.
Other issues
The Russian workforce is not as productive as that of Australia. Moreover, a recession in the private sector jobs is making the situation worse. The well-educated workforce of Russia is leaving the country in search of better jobs and opportunities. Russia has been considerably unsuccessful to improve its economic conditions. An increased spending on defense and booming corruption have been affecting the country.
The Australian economy is doing exceptionally well but is there any challenge?
Challenges due to growing population
A huge number of students and skilled workers are heading towards Australia and its population is expected to rise rapidly in the coming years. According to the Australian Productivity Commission, Australia's population is expected to rise from 23 million in 2012 to 38 million by 2016. To manage this growing population Australia needs to invest more in the infrastructure and asset building. Whether it is housing, transportation, tourism, or jobs, an efficient planning system is required to keep the nation rising and productive.
Refining the Future Workforce
Not only in language, Australia needs to prepare the workforce for the pioneering and technologically sound world. Whether it is math, science, physics, chemistry, or research, Australia needs to prepare and lift its performance. The technology is changing rapidly all across the globe and hence, Australia needs to have highly skilled and adaptive workforce to continue its economic ascent.
Securing the Environment
With significant growth in population and urbanization, Australia needs to prepare itself for their impacts. Measures need to be taken to maintain the quality of living and the environment of Australia. City plans are needed to ensure urbanization without congestion. Australia needs to look after its diversified nature as well and not only its human population for the well-being of the whole country.
As it is said, every challenge brings new opportunities and provides a chance to grow. Similarly, Australia needs to seize the opportunities that may arise with every challenge. The economic and infrastructural base of Australia is strong enough. All it needs to do is improve its systems and bring up reliable economic policies to enhance the productivity and sustain its economic escalation.
---
 Have you read?

World's Best Countries To Do Business In 2018.
Top CEOs And Business Leaders On Twitter: You Should Be Following.
Rich List Index: The World's 100 Billionaires; Meet The Richest People On Earth.
Written by: Prateek Agarwal, an experienced blogger and ed-tech enthusiast with a passion for writing. He is currently working with CDRReport which has given him a helping hand in learning about Australian culture & its economic growth.
Respond