World's 24 Best Retirement Destinations For American Retirees In 2018
The Central American country Costa Rica jumped from No. 4 in 2017 to No. 1 in 2018's Global Retirement Index by International Living, an organisation that helps people look for retirement and relocation opportunities.
Mexico came in number two in the world in the website's 2017 rankings and South Florida also loaded the rest of the top 10 — Miami, Orlando, Tampa, West Palm Beach, Key West, Fort Myers, Fort Lauderdale and Bradenton.
Asian countries that made the list were Malaysia (No. 5), Thailand (No. 14), Cambodia (No. 16), Philippines (No. 21), Vietnam (No. 23) and Bali in Indonesia (No. 24).
The index ranks the top 24 retirement havens worldwide, based on 12 variables such as Buying & Investing, Benefits & Discounts, Climate, Cost of Living, Development, Entertainment & Amenities, Fitting-In, Governance, Health Care, Healthy Lifestyle, Visas & Residence, and Renting.
Here are the 24 best destinations for American retirees in 2018:
Costa Rica
Mexico
Panama
Ecuador
Malaysia
Colombia
Portugal
Nicaragua
Spain
Peru
Italy
Honduras
Malta
Thailand
France
Combodia
Belize
Bolivia
Ireland
Uruguay
Philippines
Dominican Rep
Vietnam
Indonesia (Bali)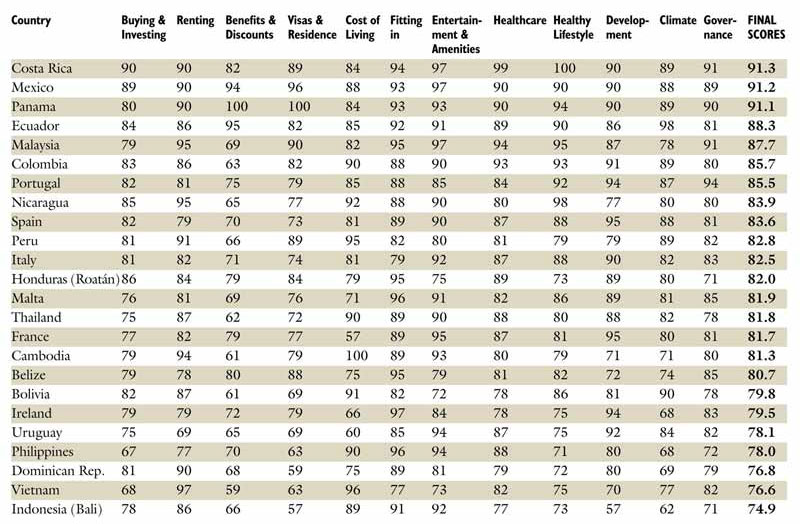 Dr. Amarendra Bhushan Dhiraj is the CEO and editorial director at CEOWORLD magazine, the leading global business magazine written strictly for CEOs, CFOs, top managers, company directors, investors, senior executives, business leaders, high net worth individuals, and the most globally powerful men and women.
Latest posts by Dr. Amarendra Bhushan Dhiraj
Leave a Reply