World's 10 Biggest Economies In 2032 [Infographic]
China's economy is likely to overtake the United States as the world's No. 1 in 2032, according to the stats, produced by Centre for Economics and Business Research (Cebr), a London-based consultancy.
The UK-based think tank revealed what they expect to be the world's 10 biggest economies in 2032, with the United States sitting in 2nd behind China.
India, Japan, and Germany make up the rest of the top five ahead of Brazil (No. 6) and the United Kingdom in 7th.
Consultancy also predicts, in 2032, three of the top four biggest economies in the world will be Asian – China, India, and Japan.
World's 10 biggest economies in 2032
China
United States
India
Japan
Germany
Brazil
United Kingdom
South Korea
France
Indonesia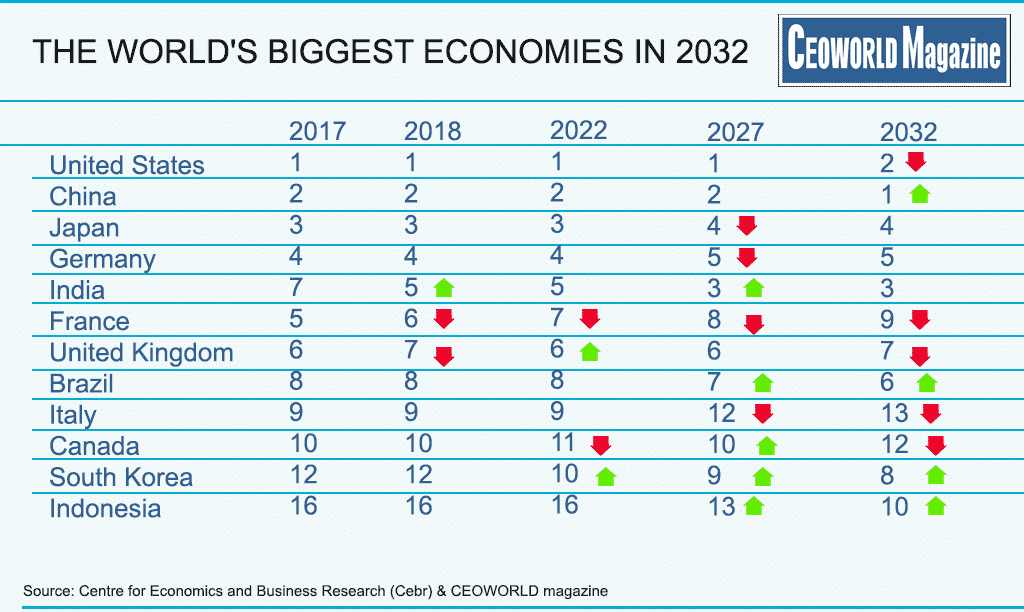 Currently ranked 7th, India's economy is set to overtake overtake France and the United Kingdom in 2018 to become the world's 5th-largest in terms of the United States dollar.
The World Economic League Table tracks the size of different economies across the globe and projects changes over the next 15 years.
Dr. Amarendra Bhushan Dhiraj is the CEO and editorial director at CEOWORLD magazine, the leading global business magazine written strictly for CEOs, CFOs, top managers, company directors, investors, senior executives, business leaders, high net worth individuals, and the most globally powerful men and women.
Latest posts by Dr. Amarendra Bhushan Dhiraj
Leave a Reply