The World's Highest-Paid Supermodels For 2017, Forbes List
For nearly 15 consecutive years, Gisele Bundchen held the number 1 spot as the world's highest paid supermodel. Kendall Jenner, half-sister of Kim Kardashian-West, has knocked Gisele off the top spot for the first time since 2002, bringing in $22 million, as compared to Bundchen's $17.5 million, according to Forbes.
The Keeping Up With the Kardashians star, Kendall Jenner is the top-earning supermodel of 2017!
With $6 million in earnings, Bella Hadid also made her debut appearance on the list – landing her in the 9th spot.
Her sister Supermodel Gigi Hadid made the cut for the 2nd year in a row, with $9.5 million in earnings placing her at number 5. Adriana Lima took the 4th spot, earning $10.5 million.
And coming in at No. 10 on the list is model Ashley Graham, who earned $5.5 million this year.
The World's Highest-Paid Supermodels For 2017
Kendall Jenner: $22 million
Gisele Bundchen: $17.5 million
Chrissy Teigen: $13.5 million
Adriana Lima: $10.5 million
Gigi Hadid: $9.5 million (tie)
Rosie Huntington-Whiteley: $9.5 million (tie)
Karlie Kloss: $9 million
Liu We: $6.5 million
Bella Hadid: $6 million
Ashley Graham: $5.5 million
The World's Highest-Paid Supermodels For 2017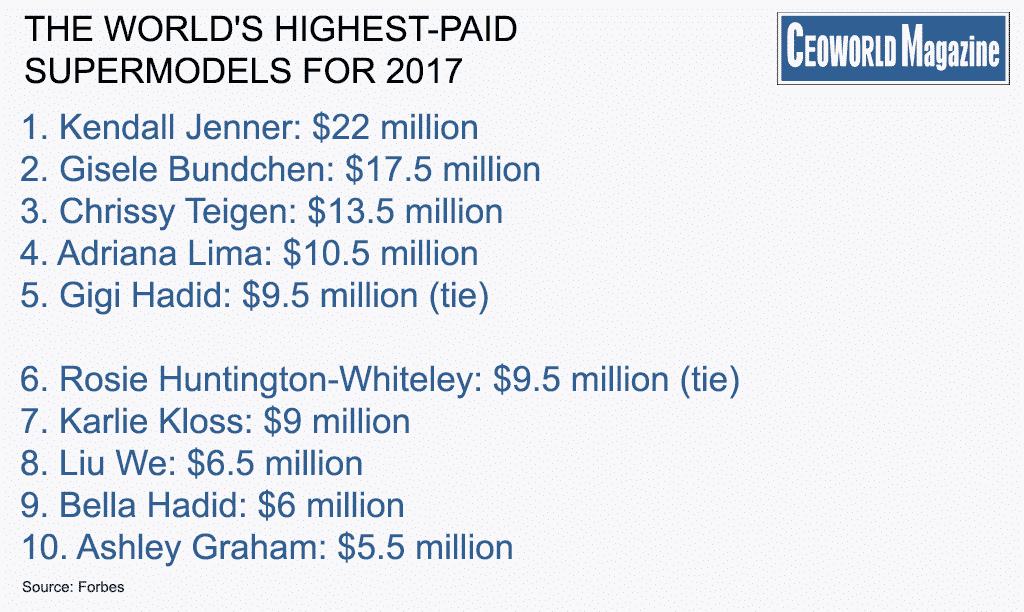 Jessica Todd Swift is the deputy managing editor of the CEOWORLD magazine. She is a veteran business and tech blogger, journalist, and analyst. Jessica is responsible for overseeing newsroom assignments and publishing and providing support to the editor in chief.
Latest posts by Jessica Todd Swift
Leave a Reply