Travel gurus have revealed their top 10 countries to visit in 2018
The travel gurus at Lonely Planet have revealed their list of the top 10 countries to visit next year in its annual "Best in Travel" publication 2018.
Topping the list of countries to travel in 2018 is Chile, followed by South Korea and Portugal.
The new rankings placed Djibouti in fourth ahead of New Zealand into fifth; while Malta ranked sixth, and Georgia seventh.
Overall, among the top 10 countries, the eighth, ninth, and tenth positions are held by the Mauritius, China, and South Africa.
Top 10 countries to visit in 2018:
1. Chile
2. South Korea
3. Portugal
4. Djibouti
5. New Zealand
6. Malta
7. Georgia
8. Mauritius
9. China
10. South Africa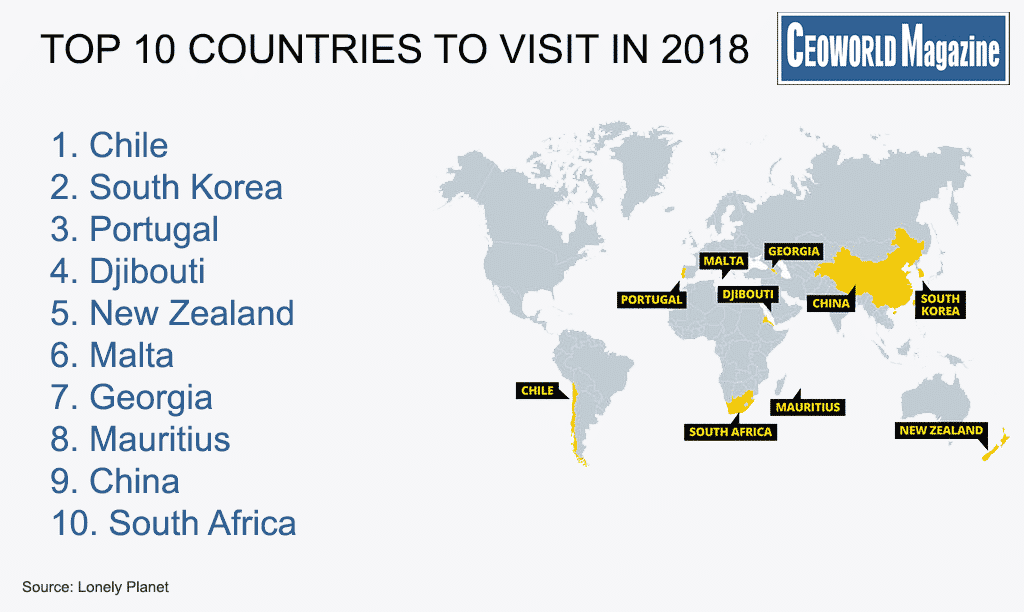 Top 10 cities to visit in 2018:
Seville, Spain
Detroit, USA
Canberra, Australia
Hamburg, Germany
Kaohsiung, Taiwan
Antwerp, Belgium
Matera, Italy
San Juan, Puerto Rico
Guanajuato, Mexico
Oslo, Norway
Top 10 regions to visit in 2018
Belfast and the Causeway Coast, Northern Ireland
Alaska, USA
Julian Alps, Slovenia
Languedoc-Roussillon, France
Kii Peninsula, Japan
Aeolian Islands, Italy
Southern USA
Lahaul and Spiti, India
Bahia, Brazil
Los Haitises National Park, Dominican Republic
Dr. Amarendra Bhushan Dhiraj is the CEO and editorial director at CEOWORLD magazine, the leading global business magazine written strictly for CEOs, CFOs, top managers, company directors, investors, senior executives, business leaders, high net worth individuals, and the most globally powerful men and women.
Latest posts by Dr. Amarendra Bhushan Dhiraj
Leave a Reply