World's Top 20 Most Attractive Cities To Businesses And People, 2017
London has been deemed the world's most attractive city to businesses and talents in 2017, according to the Institute for Urban Strategies of the Mori Memorial Foundation. The UK's capital beat rivals New York (No. 2), Tokyo (No.3), and Paris (No. 4) to top the Global Power City Index 2017.
The report, evaluates the "magnetism" of 44 major cities around the world for attracting creative people and business enterprises – across 6 key measures including accessibility, cultural interaction, economy, environment, livability, and research and development.
Singapore ranked number 5 on the list, followed by Seoul, Amsterdam, Berlin, Hong Kong, and Sydney.
World's top 20 most attractive cities to businesses and talents, 2017
London, UK
New York, US
Tokyo, Japan
Paris, France
Singapore
Seoul, South Korea
Amsterdam, Netherlands
Berlin, Germany
Hong Kong
Sydney, Australia
Los Angeles, US
Frankfurt, Germany
Beijing, China
Vienna, Austria
Shanghai, China
Stockholm, Sweden
San Francisco, US
Zurich, Switzerland
Toronto, Canada
Copenhagen, Denmark
20 most powerful cities in the world 2017 [Infographic]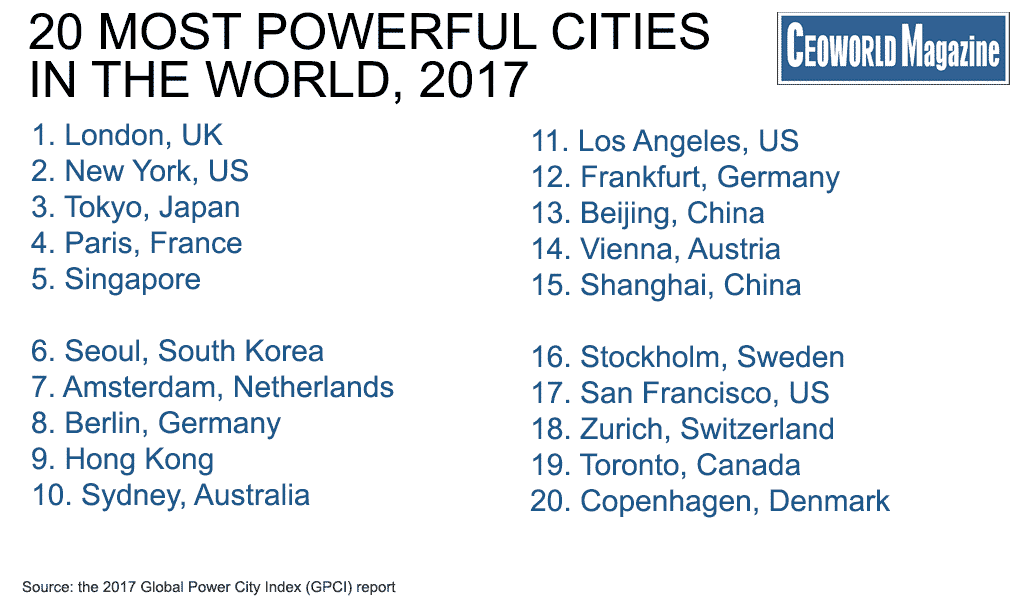 Dr. Amarendra Bhushan Dhiraj is the CEO and editorial director at CEOWORLD magazine, the leading global business magazine written strictly for CEOs, CFOs, top managers, company directors, investors, senior executives, business leaders, high net worth individuals, and the most globally powerful men and women.
Latest posts by Dr. Amarendra Bhushan Dhiraj
Leave a Reply