The Top 10 Most And Least Safest Cities In The World, 2017
The Japanese capital, Tokyo once again has topped the Economist's safe cities index chart as the safest city in the world. Tokyo ranked No. 1 with a total score of 89.80, followed only by Singapore and Osaka.
Joining Tokyo, Singapore, and Osaka in the top 5 safest cities in 2017 are Toronto and Melbourne. Completing the top 10 are Amsterdam (Netherlands), Sydney (Australia), Stockholm (Sweden), Hong Kong and Zürich (Switzerland).
The Top 20 Safest Cities In The World For 2017
Tokyo, Japan
Singapore
Osaka, Japan
Toronto, Canada
Melbourne, Australia
Amsterdam, Netherlands
Sydney, Australia
Stockholm, Sweden
Hong Kong
Zürich, Switzerland
Frankfurt, Germany
Madrid, Spain
Barcelona, Spain
Seoul, South Korea
San Francisco, US
Wellington, New Zealand
Brussels, Belgium
Los Angeles, US
Chicago, US
London, UK
The Top 10 Least Safest Cities In The World For 2017
Karachi has been ranked the least safe of 60 major cities of the world, followed by Yangon and Dhaka.
Karachi, Pakistan
Yangon, Myanmar
Dhaka, Bangladesh
Jakarta, Indonesia
Ho Chi Minh City, Vietnam
Manila, Philippines
Caracas, Venezuela
Quito, Ecuador
Tehran, Iran
Cairo, Egypt
The cities index ranks 60 cities across the world based on 49 indicators, including digital security, health security, infrastructure security and personal security.
Infographic: These Are the World's Most and Least Safe Cities 2017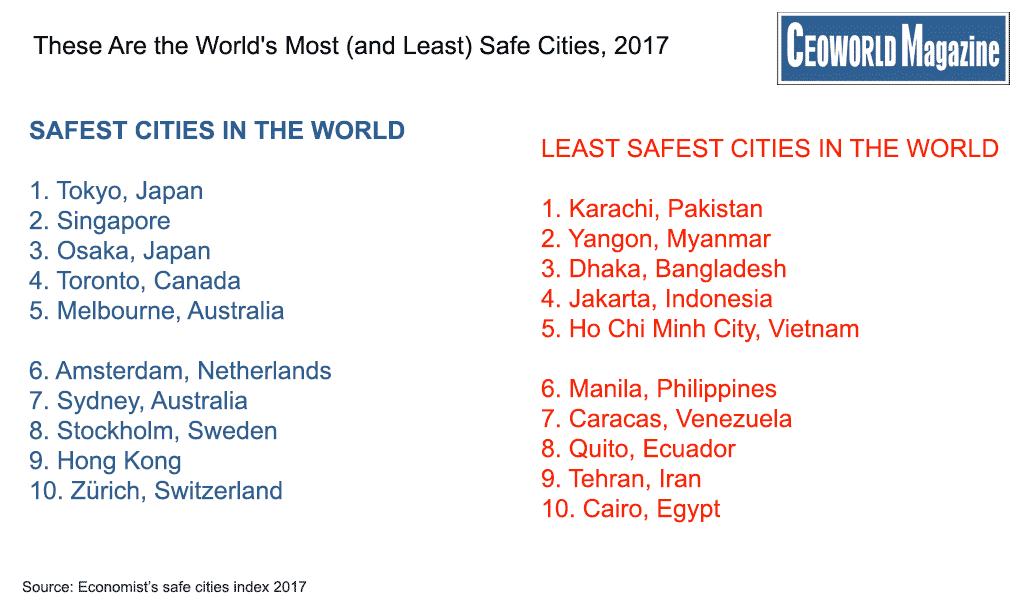 Dr. Amarendra Bhushan Dhiraj is the CEO and editorial director at CEOWORLD magazine, the leading global business magazine written strictly for CEOs, CFOs, top managers, company directors, investors, senior executives, business leaders, high net worth individuals, and the most globally powerful men and women.
Latest posts by Dr. Amarendra Bhushan Dhiraj
Leave a Reply