$2.6 trillion: Combined Wealth Of China's 2,130 Richest People Is More Than UK GDP
At $2.6 trillion, the combined wealth of China's 2,130 richest people is roughly the same size as the GDP of the United Kingdom – the world's 5th largest economy.
With a fortune of $43 billion, Xu Jiayin, also known as Hui Ka Yan, chairman of real estate developer Guangzhou Evergrande Group, has emerged as wealthiest man in China, according to the Hurun report. Pony Ma Huateng, founder and CEO of Tencent took the 2nd spot on the list, with a net worth of $37 billion.
Alibaba's Jack Ma took third place with a net worth of $30 billion, followed by Country Garden's Yang Huiyan (net worth: $24 billion) and real estate magnate Wang Jianlin (net worth: $23 billion).
According to Hurun rankings, a Chinese equivalent to the US magazine Forbes list, the number of Chinese billionaires in dollars soared from just 53 to 647 in just a year. More than 2,000 Chinese people have amassed wealth of over $300 million.
Top 10 Richest People In China, 2017
1) Xu Jiayin (Evergrande Group) – $43 billion
2) Pony Ma Huateng (Tencent) – $37 billion
3) Jack Ma (Alibaba) – $30 billion
4) Yang Huiyan (Country Garden) – $24 billion
5) Wang Jianlin (Dalian Wanda ) – $23 billion
6) Wang Wei (SF) $22 billion
7) Li Yanhong & Ma Dongmin (Baidu) – $19 billion
=8) He Xiangjian & He Jianfeng (Midea) – $17 billion
=8) Yan Hao & family (China Pacific Construction) – $17 billion
=10) Ding Lei (Netease) – $16 billion
=10) Li Shufu & Li Xingxing (Geely) – $16 billion
Infographic: Top 10 Richest People In China, 2017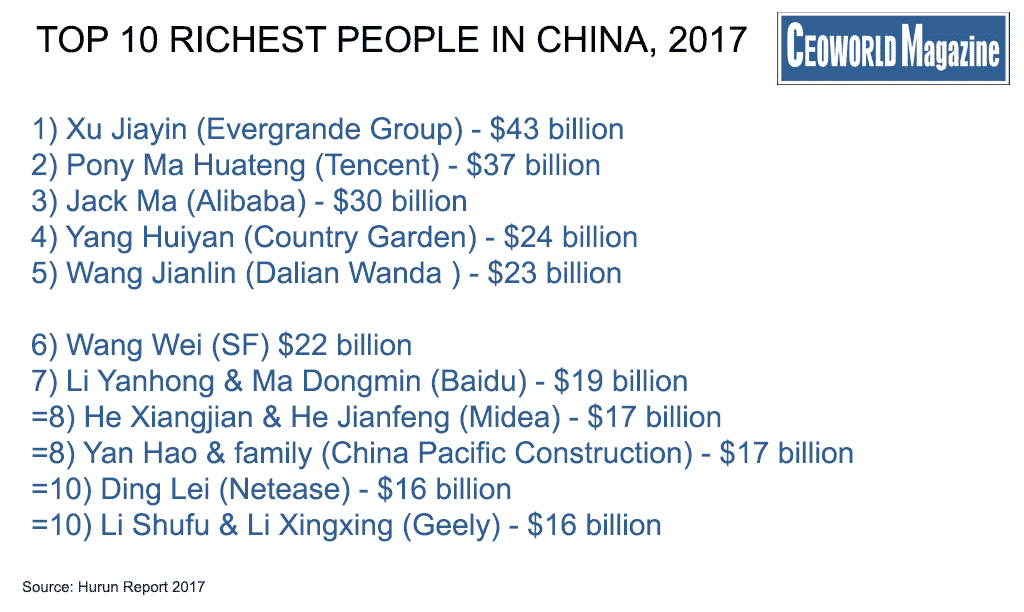 Dr. Amarendra Bhushan Dhiraj is the CEO and editorial director at CEOWORLD magazine, the leading global business magazine written strictly for CEOs, CFOs, top managers, company directors, investors, senior executives, business leaders, high net worth individuals, and the most globally powerful men and women.
Latest posts by Dr. Amarendra Bhushan Dhiraj
Leave a Reply