These Are The 50 Most Food-Secure Countries In The World For 2017
Ireland has been named the most "food-secure" country in the world, according to the 6th annual Global Food Security Index – a global ranking of how well nations can feed their citizens.
Congratulations, Ireland.
The United States, which previously topped the list, finished in 4th and Austria 2nd. France and Germany came in 3rd and 5th place, respectively, in the world's most food-secure countries.
The 2017 rankings placed Switzerland in 6th ahead of the United Kingdom into 7th; and Canada into 8th; while Denmark ranked 9th, and Sweden 9th.
Overall, among the top 15 most food-secure countries in the world for 2017, the 11th, 12th, 13th, 14th, and 15th positions are held by the Netherlands, New Zealand, Finland, Australia, and Norway
Data from the United Nations last month show that the number of people suffering from hunger rose by about 38 million to 815 million, or 11% of the world's population, in 2016.
These are the 20 most food-secure countries in the world for 2017
Ireland
Austria
France
United States
Germany
Switzerland
United Kingdom
Canada
Denmark
Sweden
Netherlands
New Zealand
Finland
Australia
Norway
Belgium
Japan
Portugal
Singapore
Spain
These are the 50 most food-secure countries in the world 2017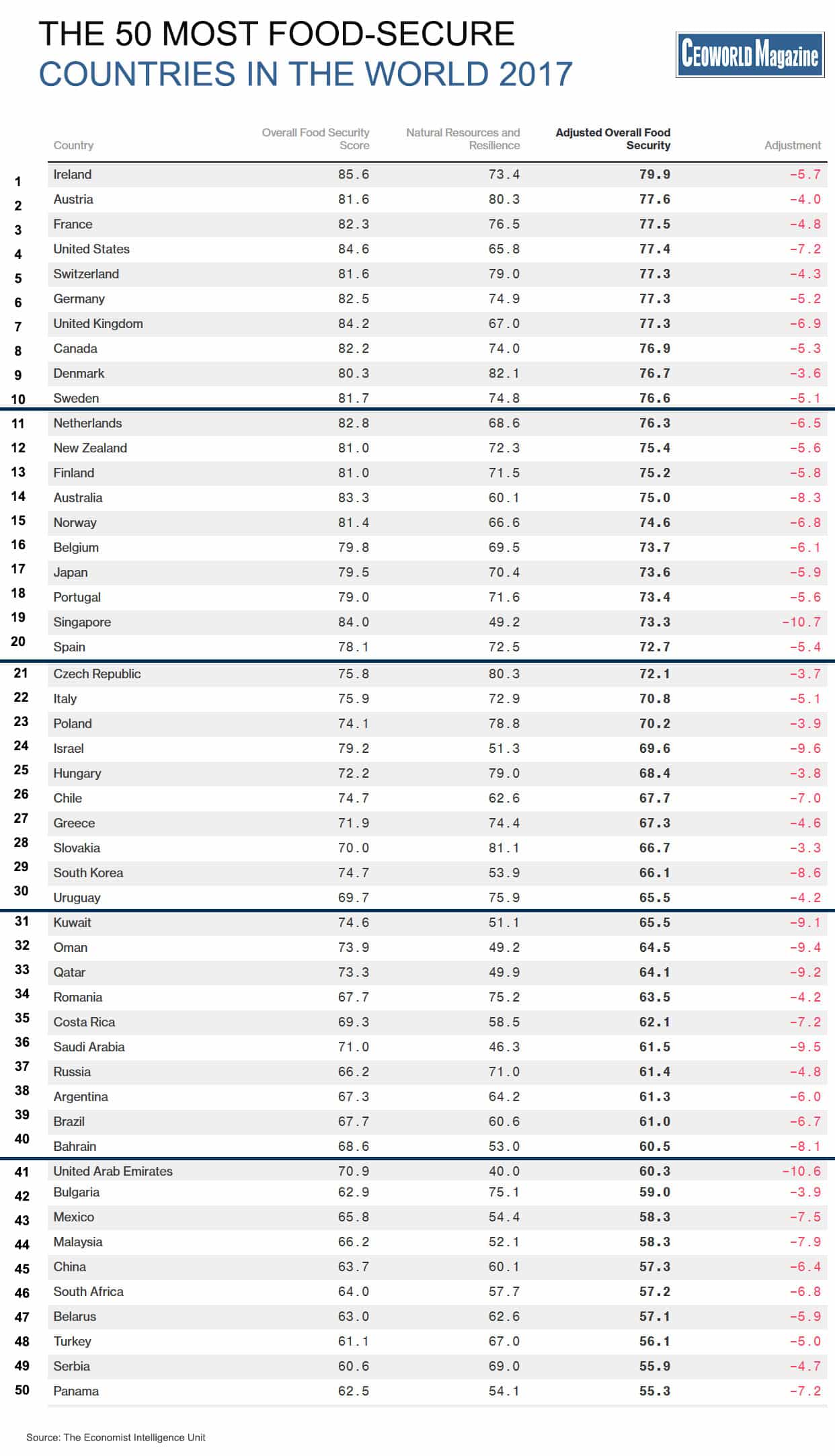 Dr. Amarendra Bhushan Dhiraj is the CEO and editorial director at CEOWORLD magazine, the leading global business magazine written strictly for CEOs, CFOs, top managers, company directors, investors, senior executives, business leaders, high net worth individuals, and the most globally powerful men and women.
Latest posts by Dr. Amarendra Bhushan Dhiraj
Leave a Reply